One Room Challenge Spring 2022 Week 7 – The Finishing Details
With the wallpaper and trim all complete, we could finally install the sink and toilet and get this bathroom operational again! But first, if you missed the last few weeks you can catch up on those here:
Week 1/ Week 2 / Week 3/ Week 4 / Week 5/ Week 6
This post may contain affiliate links. That means if you purchase anything from these links I earn a small commission, at no extra cost to you! This helps support my blog, so thank you!
This Week's Progress
This past weekend, I spent a whole day installing the sink, I was DETERMINED not to call any trades in for this bathroom and that included a plumber. But dang, no one told me how difficult it could be to install plumbing behind a pedestal sink, never mind when you haven't done it before. After many, many trips to the hardware store, muscling it into place by myself (vintage cast iron pedestal sinks are many things but lightweight isn't one of them!) and finally turning the water on to test it….. It leaked!!! Not the sink itself, and not the faucet or the supply lines, only the drain, thankfully. I swallowed my pride and called my brother-in-law to come over to take a peek at the issue and he tightened a few things up for me and got it fixed. My vintage sink dreams have come true!! (If you missed it – I found this vintage Kohler sink on Facebook Marketplace about a year ago, it came out of a 1940's farmhouse and it was in perfect condition, and it was $75! I wasn't sure how I was going to use it but I was pretty sure I couldn't pass that up.)
I added a vintage-style faucet from Kingston Brass in polished nickel, because it looked like something that might have been on this sink originally. It had similar features to the bathtub fixtures I installed, with the cross handles and gooseneck, and I just love its squatty cuteness so much.
I also installed a curtain track for the shower curtain – I am so happy with how this little detail turned out! The track is hidden behind the crown moulding "valence" I installed and it functions perfectly. My mom is working on making me a floor-to-ceiling shower curtain (the one in the photo is just a liner) and I'm hoping the fabric will tuck in behind the valence a little, stay tuned! (Note: If you plan to do a ceiling-mounted shower curtain, I think it's important to note that it does block a lot of light from the bathroom. We have a light in the shower, but if you don't have one in there, it might not be the most practical solution. We actually didn't have a light there but when we changed the fan out, we changed it to one with a light for this very reason.)
Coming Next Week
I am still waiting on these lights from Huey Light Shop, they are supposed to ship this week and my fingers and toes are crossed that they arrive on time – aren't they the cutest little lights you ever did see? They are wood and ceramic, hand-made and made to order right here in Canada, and I'm so excited for them!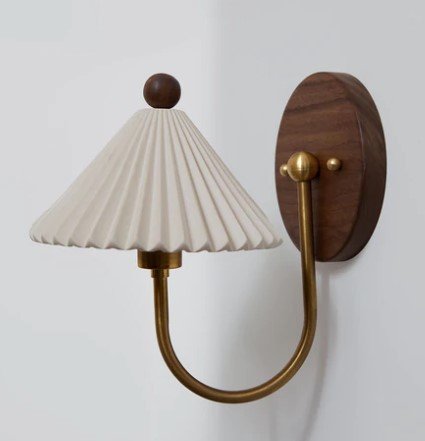 I'll be installing some of the other finishing touches in the next week including some fantastic gifted art from Minted! I was so excited to have the opportunity to partner with them, they curate a limited selection of prints from Independent artists all over the world. I had such a hard time choosing art for my space because I loved so many pieces. When my art arrived, it included a little write-up on my artist and a certificate of authenticity for my limited edition prints. The framing was so beautifully done including mounting hardware, I have seriously never owned art this special and well framed! I chose three different frames, sizes and matte choices to mix it up and I'm so in love with these beautiful prints from these talented artists.
I just can't wait to see these up in the bathroom. Before I finally chose these three prints, I had quite a list of my favourites going and since I can't buy them all – I included a round-up of some of my favourite Minted prints here! This is just a taste, art is so personal and this is what I loved, but feel free to go to Minted's site and see what speaks to you! If you do find something, use the code ERINART10 to get 10% off your purchase!
That's it, time to finish this space off and get ready for the big reveal next week! Be sure to swing by the One Room Challenge website to catch up on everyone else's progress! Thanks for following along!