Introducing Erin Zubot Design
Today is a very exciting day around here – the day I announce that Erin Zubot Design Ltd. is officially open for business! Now instead of just designing my own spaces, I will be designing for you, too!
My Design Backstory
I have always had a passion for design, there is no doubt about that. I have always tinkered with paint and furnishings, but in 2012 we took on a huge project – designing and building our own custom home. It was a ton of work both physically and mentally, but I realized through that process how much I enjoyed interior design and construction. We designed the exterior, the floorplan, the details on all the millwork, the kitchen, the finishes, every single tiny detail. I loved every minute of it. I especially loved working with the finish carpenter, who was a real craftsman in his field, to come up with details that were well thought out and special. I told my husband that I wanted every room to have something special about it, and it did! I loved that house very much, but working on that design and being the General Contractor while also working full time as an engineer and having two small kids was very difficult to manage time-wise. When we were finished, I put my love for design aside for a bit while I focused on the family, and took a much-needed break.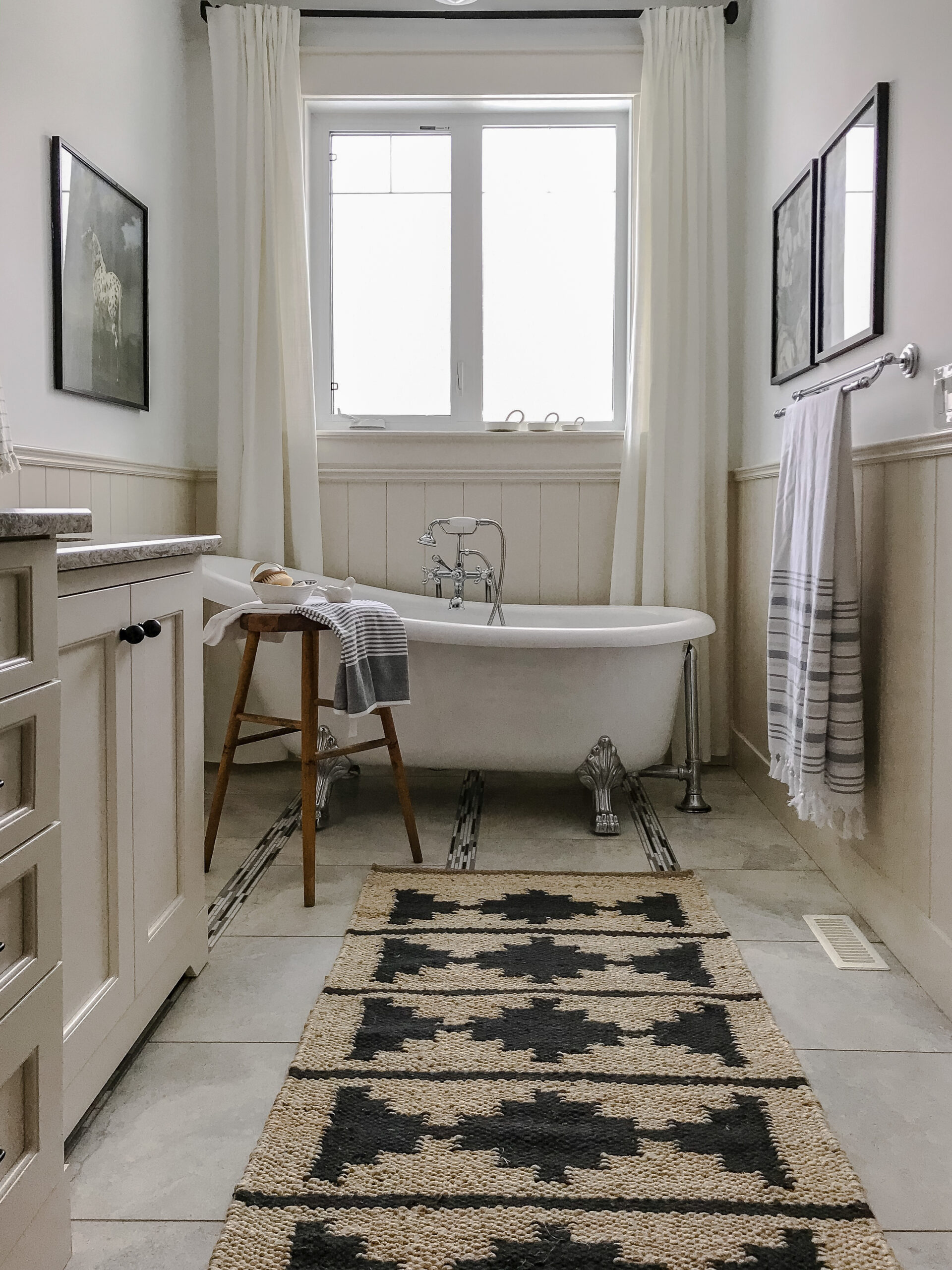 A passion like that can not be stifled for long! After a few years, I started tinkering with the design of that house again, changing paint colours, and working on furnishings, and I decided that I would take an Interior Design course "for fun". I worked on an online course over the course of about 6 months and earned a diploma in Interior Design from the Interior Design Institute. I realized as I was taking the course how much I already knew just by studying interior design informally – through magazines, books, even Pinterest and Instagram (when that became a thing). I started an Instagram account and started posting my projects there. It was fun to "show the world" what I was up to, to show off this hobby of mine beyond the friends and family who visited my home.
As our kids were growing up, and we were getting older, we were finding our needs were changing when it came to our home. We were starting to think that it might be a good idea to downsize from our dream house to have more financial freedom, as well. It was a difficult decision to make but at the same time, it wasn't. With my kids being a little older and needing us less and less, I really wanted to spend more time on my favourite pastime – design – and I told my husband that no matter where we moved, I could make it beautiful and I was up for the challenge!
We moved into our current house in 2020 and it was a challenge indeed. People have asked us what we saw in this house, especially considering we are changing so much of it, but it had a good size yard, a nice functional layout for us and overall, besides cosmetic fixes, it met all of our needs. When we were house hunting, I actually shied away from newer homes and homes that had been previously renovated as I really wanted the challenge of designing another house, this time, as a renovation (and mostly through DIY, to boot!)
Making Time for Erin Zubot Design
I was posting all of my makeovers on Instagram and I started to get more and more inquiries as my following grew. Did I do design work? The answer was always no… I just could not do it, with my full-time engineering job and working on renovations on our own house, and spending time with the family, it was just not something I had time for. But it always was something I wish I had time for, because not only do I love doing design work, but I also found through my Instagram and Blog that I really love to help people too.
As my kids are entering the college phase and thinking about what they are going to do with their lives, I keep having conversations with them about doing something that they love, not just something that is going to give them a good paycheck. I try to explain to them that there is more to life than money, and if you love what you do, you will never work another day in your life. As I was giving this advice to my kids, I realized it is not advice that I have followed myself. I decided to put my money where my mouth is, and take the leap into full-time design work.
Erin Zubot Deisgn Ltd. was born. If you know me at all, you know I rarely half-ass things! I am an all-or-nothing kind of person. So I took a leave from my job as an Engineer and incorporated my business, I'm working on website design and learning how to do my own accounting. Will I make mistakes? I'm quite sure. But I have committed myself and if this business fails, it will not be because I didn't give it my all. If I just continued living my life the way it was, I feel like I would always wonder if it could have been something different. So we are about to find out!
Why should you hire me?
Why should you hire me? Good question. One I've been asking myself these past few months as I pondered this decision. What do I have to offer that sets me apart?
Working as an engineer for these past 20+ years has really honed my attention to detail and project management skills. How will that be built, how will that be finished, and what details will really bring the design together? How long will it take, and what is the schedule? Those are things I'm constantly asking myself when I put a design together. I work out all the details, ahead of time, and make sure they all work together seamlessly before proceeding to the next step. Working out all the details upfront means less hiccups and a more cohesive design for you that actually works!
Although I love a modern traditional look in my own home, I love and appreciate many other design styles. My training at the Interior Design Institute helped me hone the core principles of design that never change, no matter the style! So whether you are looking for California cool, boho eclectic, or mid-century modern, I am able to work in any style as the principles of design are the same.
So give me a call, I've made time for you! You can check out my Services page!