The Modern Traditional Guest Bathroom Reveal! -One Room Challenge Spring 2022
It's reveal day! Over the course of the last 8 weeks, this modern traditional guest bathroom was renovated from top to bottom and I'm so excited about how it turned out. My goal was to make this boring bathroom a little more fun, bring in a lot more character but in a timeless, maybe-it-was-always-like-this kind of way. But first, if you missed the last few weeks you can catch up on those here:
Week 1/ Week 2 / Week 3/ Week 4 / Week 5/ Week 6 / Week 7
This post may contain affiliate links. That means if you purchase anything from these links I earn a small commission, at no extra cost to you! This helps support my blog, so thank you!
Table of Contents
So what did I do? First, I always like to remember where it started. Sad, stained linoleum, a boxed-out fluorescent light, water-stained popcorn ceiling, laminate counters and pink shower tile.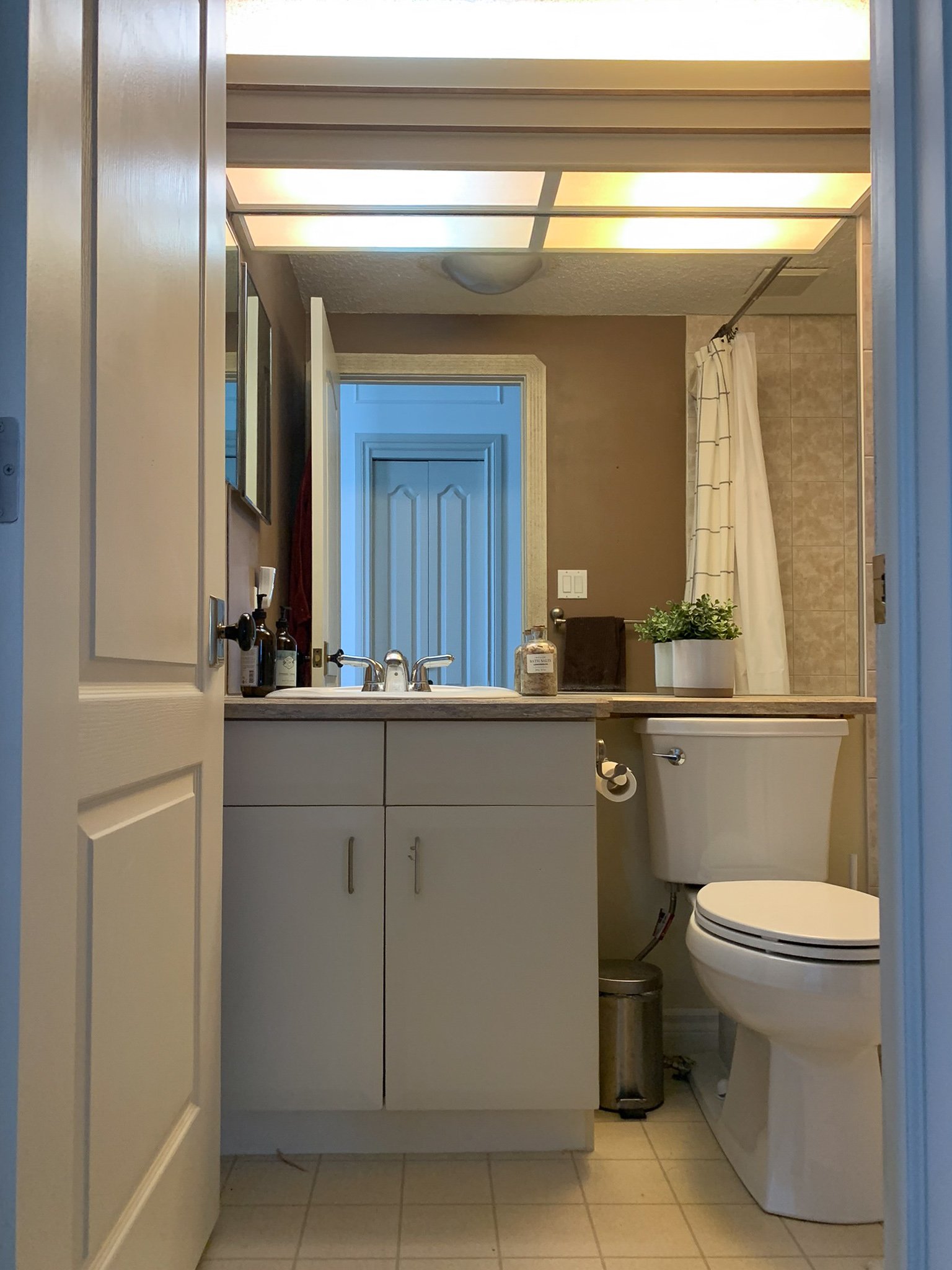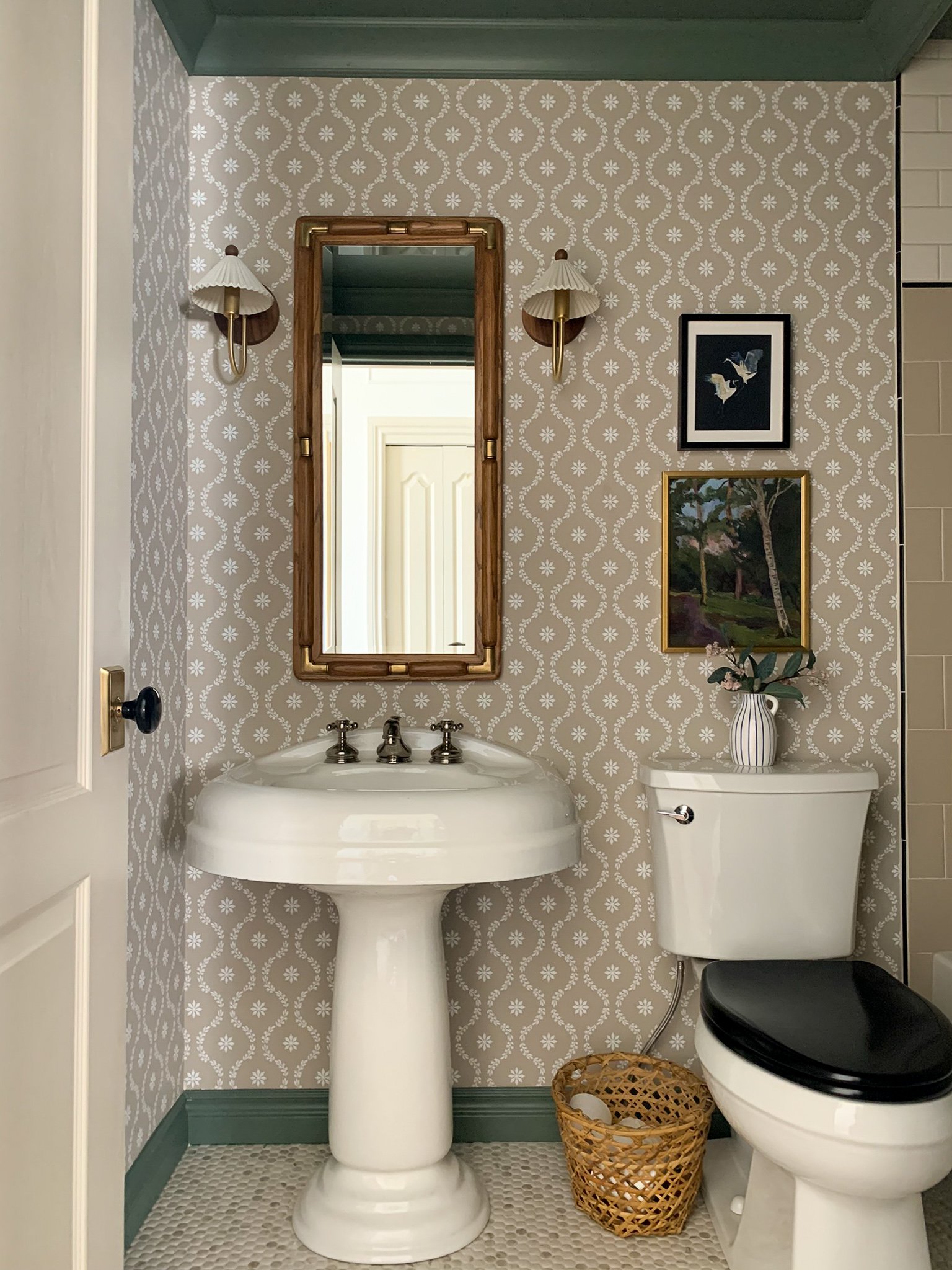 Collected Finds for a Modern-Traditional Makeover
It all started with the sink, which I found on Facebook Marketplace for $75. It was taken out of an old farmhouse, and the owner estimated it to be about 75 years old, and it was in near perfect condition. I stashed it away for almost a year in my parent's basement while we worked on other projects, but I was dying to start this little bathroom renovation and install it. When deciding what room to tackle for the Spring One Room Challenge, finishing this modern traditional bathroom so I could install this sink was a no-brainer! This is a guest bathroom, and we really didn't have much stored in the old vanity and so it was an easy decision to switch to a pedestal here.
I also gathered a few more things over the course of the past year, like the Cole and Son Wallpaper that I snagged on clearance. I also picked up a very cool vintage mirror (likely from the 80's or 90's) that had an unfortunate honey oak finish on it but very cool lines and brass details and thought that paired with the vintage sink, it could be pretty cute! I stripped the finish off of it and refinished it with a mid-tone stain ("Special Walnut" by Minwax) and it's every bit as special as I thought it could be.
Tile for a Modern Traditional Bathroom
The design came together pretty easily after that. I talked about the tile pattern for the shower in this post, and how I decided to tile right over the existing tile! I was nervous about how that might turn out but it was easy and a huge time and money saver, I think it turned out great! I used simple, inexpensive subway tile but mixed it up with varying shapes and colours to add interest. I also replaced my old fixtures with new trim pieces, I was able to replace only the pretty bits that show in only a few minutes and with nothing but a screwdriver! You can read more about how I tiled right over my existing tile and how I changed my plumbing fixtures (without doing any plumbing) here!
On the floor, I went with a soft marble look porcelain penny tile at the last minute and I'm so happy with that choice. It is a soft, subtle pattern that supports the rest of the bathroom without being too overwhelming. I talked about tricks to installing penny tile in this post.
Lighting for the "Modern" part of Modern Traditional
My plan for the lighting was these very special, brass and walnut handmade right-here-in-Canada beauties from Huey Light Shop. I have been so excited to see these in person since the moment I saw them online and they did not disappoint! The craftsmanship is incredible, from the handmade ceramic shade, to the walnut base and accents, to the unlacquered brass base. These are so special, don't you think they are right at home in this room?
Art
How about art in the bathroom? Heck yes!! I partnered with Minted on this project and I chose three very special pieces of art to install in this space and they are stunning. Minted works with artists to print and frame their work, and you customize the frame and matting choices. I chose this print called "Evening Walk" by Catilustre with a gold frame and no matte in 11×17", this print called "Crane Dance" by Nina Leth in an 8×10" with a mat and black frame, and this print called "Quiet Woman" by Susanne Kasielke in 11 x14" with a float mount and a walnut frame, all with UV non-glare glass and archival materials. I love how the art brings in some colour and interest in the otherwise neutral space. (You can receive 10% off your purchase at Minted with the code ERINART10!)
Ceiling Mounted Shower Curtain
I decided to try something a little different with my shower curtain, installing a track on the ceiling and then hiding the track with strategically placed crown moulding. It worked out great and it really helps my floor-to-ceiling shower curtain look even more custom. I talked a little more about that in this post!
Speaking of floor-to-ceiling shower curtain – my mom made me this curtain – twice!! I originally asked her to make it nice and wide so it would be really full, but after I hung it with the shower curtain liner, it really wasn't hanging that nicely and I realized I should have made it the same width as the liner. My mom had to basically re-make it, and she was such a trooper about it. I definitely owe her one! If you are wondering how to make your own shower curtain, I have a tutorial about how to make one here.)
Paint and Colour Choices for this Modern Traditional Bathroom
I decided to go with green trim, ceiling and door to bring in a little colour to this otherwise pretty neutral space. The green is fun and if I ever get tired of it, it's easy to change. I carried it through to the ceiling and all of the painted surfaces. The colour is Valspar Lush Sage and I used a satin finish on the doors and trim, and a flat finish on the ceiling. Speaking of ceilings…. this one has come a long way! It was previously popcorn-covered and water stained from a leaking skylight, and we covered it up with a new layer of drywall. So much better!!
Modern Brass Hardware
I decided to bring in some simple modern brass hardware. Most of my choices were somewhat traditional, so bringing in a little modern touch like this hardware gives the design a bit of an edge, in my opinion.)
Budget Breakdown
This bathroom was completed pretty affordably, as I always try to do, with a few splurges here and there, some vintage finds that add a lot of character (without adding a lot to the bottom line!) and some basic building materials made to look a little better with some creative installation! Here's roughly what I spent:
Vintage Sink – $75 (Facebook Marketplace)
Vintage Mirror $20 (Facebook Marketplace)
Wallpaper – $214
Trim and Crown – $200
Tile and Tile Supplies – $1400
Paint – $65
Art (Gifted) – $450
Sconces (Gifted) – $850
Hardware (Towel Rod, Hooks, TP Holder) – $165
Shower Curtain Track, Curtain Fabric and Liner – $226
Shower Trim Kit – $430
Sink Faucet – $320
Fan with Light – $220
Toilet – $300 (Replaced last year but I included in this budget)
Toilet Seat – $95

Total: $5030
Sources
Paint (Trim and ceiling) – Valspar Lush Sage
Tub and Shower Fixtures (without handle)
Subway Tile Beige 6×6 Tile (Urban Putty Matte), Cream 3×6 Tile (Biscuit Matte), Jolly Trim (Matte Black)
Wallpaper (Here, out of stock at the moment but available in this similar colourway)
Sconces (or direct at Huey Light Shop)
Abstract Landscape Art "Evening Walk"
Doorknob (Similar) (Actual knob is Emtek Ebony knob with Rectangular Rosette in Antique Brass, available by special order)
Before and After
A reveal post from me wouldn't be complete without a few satisfying before and after side by sides, right?
I would like to thank Huey Light Shop and Minted for their generous gifts that made the room!! I feel very fortunate to have the ability to work with dream brands like these and showcase their amazing products in my designs.
This is the very special 10-year anniversary of the One Room Challenge and my 5th time participating! I always enjoy being a part of such a collaborative, fun event, and I'd like to thank the One Room Challenge for all the work they do to organize this event, year after year! Be sure to swing back to the One Room Challenge Website and check out the hundreds of other amazing reveals this season!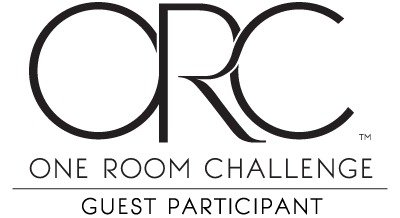 You might also like: