When to Splurge and When to Save on a Rug
Whenever I'm working with a design client, I would say the most common advice I have is "add a rug". The question always comes up about price, as rugs can be an investment. What type of rug, how big should it be? And the biggest question of all, when to splurge and when to save on a rug? I'm going to go into the answers to all these questions below based on my experience, and round up a few of my favourite rugs in all categories. There are some ways to save on rugs and still get high quality. There are rooms where you really don't need to drop your firstborn's college fund on a rug. Basically, my motto in life is "put a rug on it" and so I thought it was high time I wrote about it and shared all my secrets!
This post may contain affiliate links. That means if you purchase anything from these links I earn a small commission, at no extra cost to you! This helps support my blog, so thank you!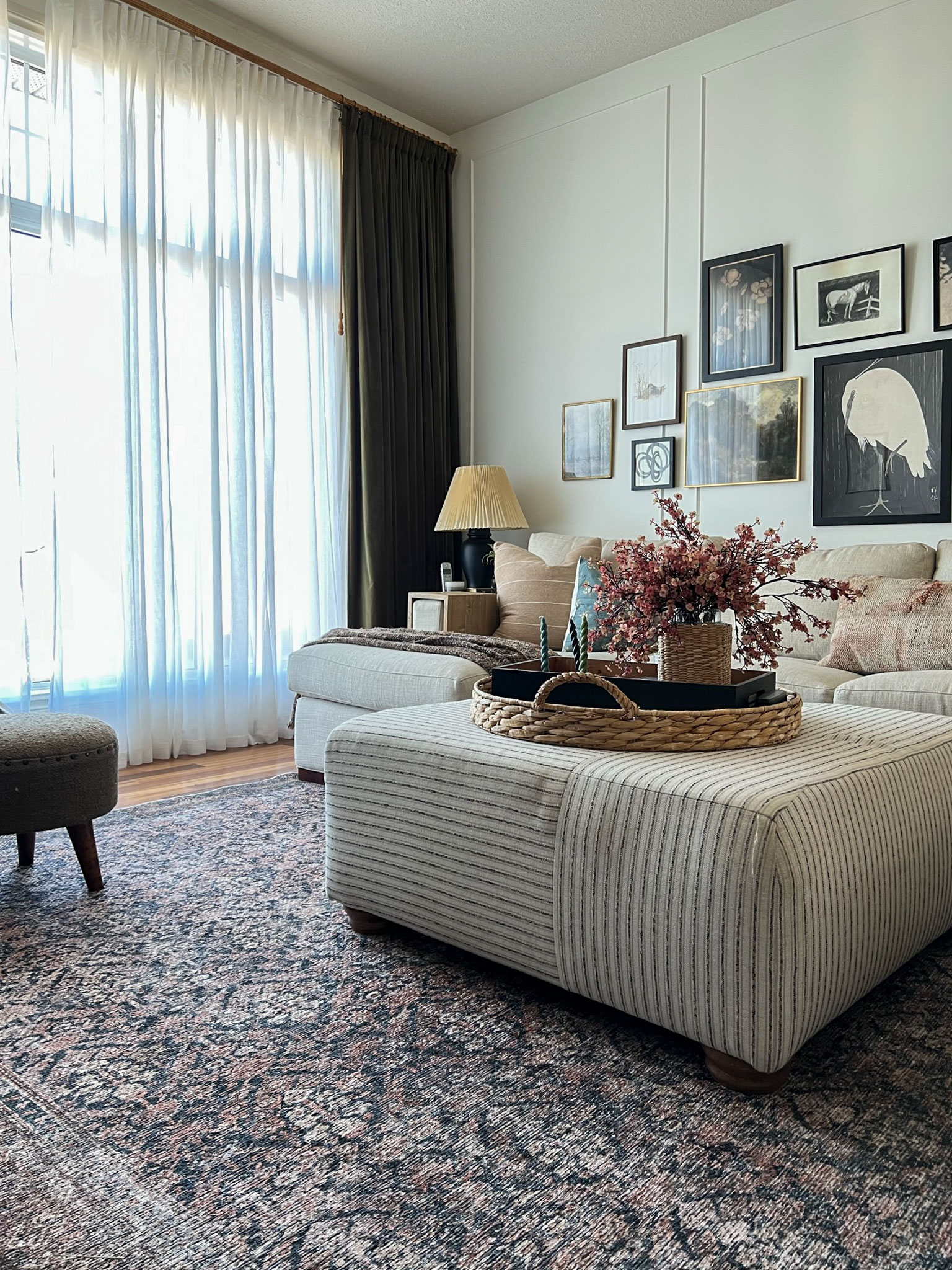 Table of Contents
Rug Type is Directly Related to Rug Cost
There are many types of rugs out there and many different price points. Why do they vary so much? Mainly, the different prices are due to two things, the material (what is it made from) and the way it is made (handmade versus machine and how labour intensive the process is.) Its important to understand these things when you are considering when to splurge and when to save on a rug.
Materials
When considering when to splurge and when to save on a rug, it's important to consider the material that the rug is made of as that will highly impact the cost. Here is a look at the most common rug material types.
Wool – I would say in general, wool is the best choice for rugs. Wool is naturally resistant to stains and soils and is easily cleanable. Wool is also naturally resistant to crushing and wear and "bounces back" faster than other fibres. That antique rug in your grandma's basement that she's had for 50 years? I guarantee that is made from wool. If you want something to stand the test of time, wool is the one.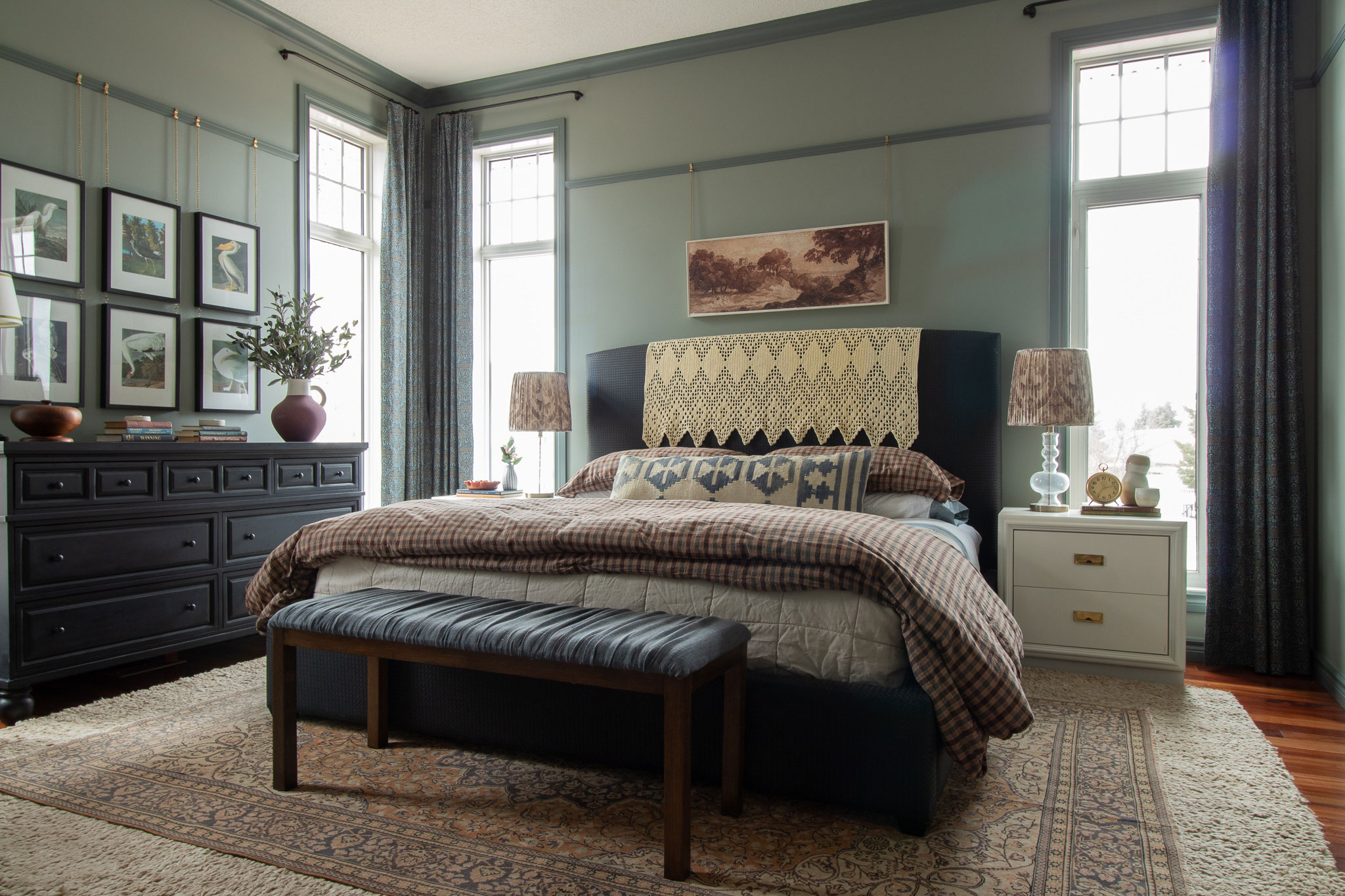 Synthetics – synthetics are more cost-effective way to make rugs, so it's important to talk about it when we are talking about when to splurge and when to save on a rug. Synthetics include fabrics like nylon, polypropylene, polyester, etc. When making rugs by machine, using more cost-effective and strong materials like synthetics speeds up the process and lowers the cost. They wear down faster in high-traffic areas and are not as cleanable as wool, generally. However, synthetics have come a long way in recent years and sometimes it makes sense to use them.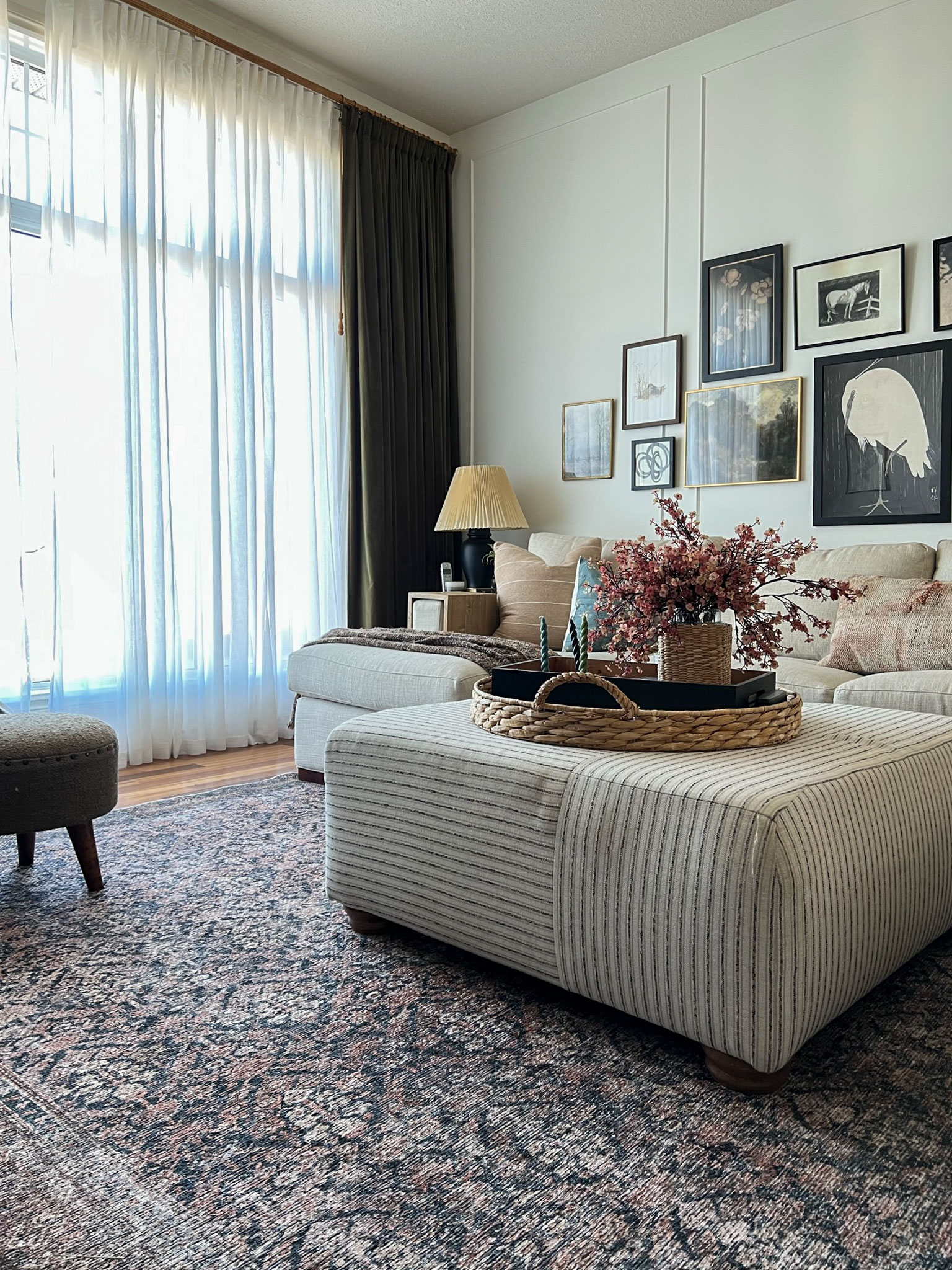 Natural Fibres (Jute/Sisal) – natural fibre rugs like jute and sisal are other types of rugs that have their place. They are naturally woven from plant materials and are more sustainable (and also biodegradable!) Natural fibre rugs generally come in a solid natural colour and occasionally in a different pattern or colour that is dyed into the rug. They are not really good with water and can stain and can not be easily cleaned if something is spilled. Sisal generally is more durable than jute, but jute is a little softer. Jute and sisal are generally quite cost-effective and are a great alternative to more expensive options. These types of rugs need to be handled gently as they can become unravelled if they are vacuumed with a beater bar, for example.
Other – there are a few more materials that can be used to make rugs like silk or cotton, but these are less common.
Manufacturing Process
The thing that really sets a rug apart in price, and something to think about when you are considering when to splurge or save on a rug, is the manufacturing process.
Hand Knotted rugs – hand-knotted rugs are made by an actual human (or several humans) that individually knots each fibre. By hand. Did I mention these are tied by hand? I find that incredible! These rugs take months for several weavers working on the same rug at once and require skilled craftsmanship. The price and quality of these rugs go up based on the number of knots per square inch. Considering the labour involved in this, you can understand why these rugs are so expensive. Hand-knotted rugs are almost always made from wool and they are made to last a lifetime or several lifetimes. They are considered heirlooms and art pieces, as no two are exactly alike.
Hand tufted rugs – Hand tufted rugs are similarly made by hand but hooked onto a backing using a tool. These are a little faster to make and so are generally a little more affordable than hand-knotted rugs, but still high quality. If made from wool, this type of rug can shed quite a bit when new.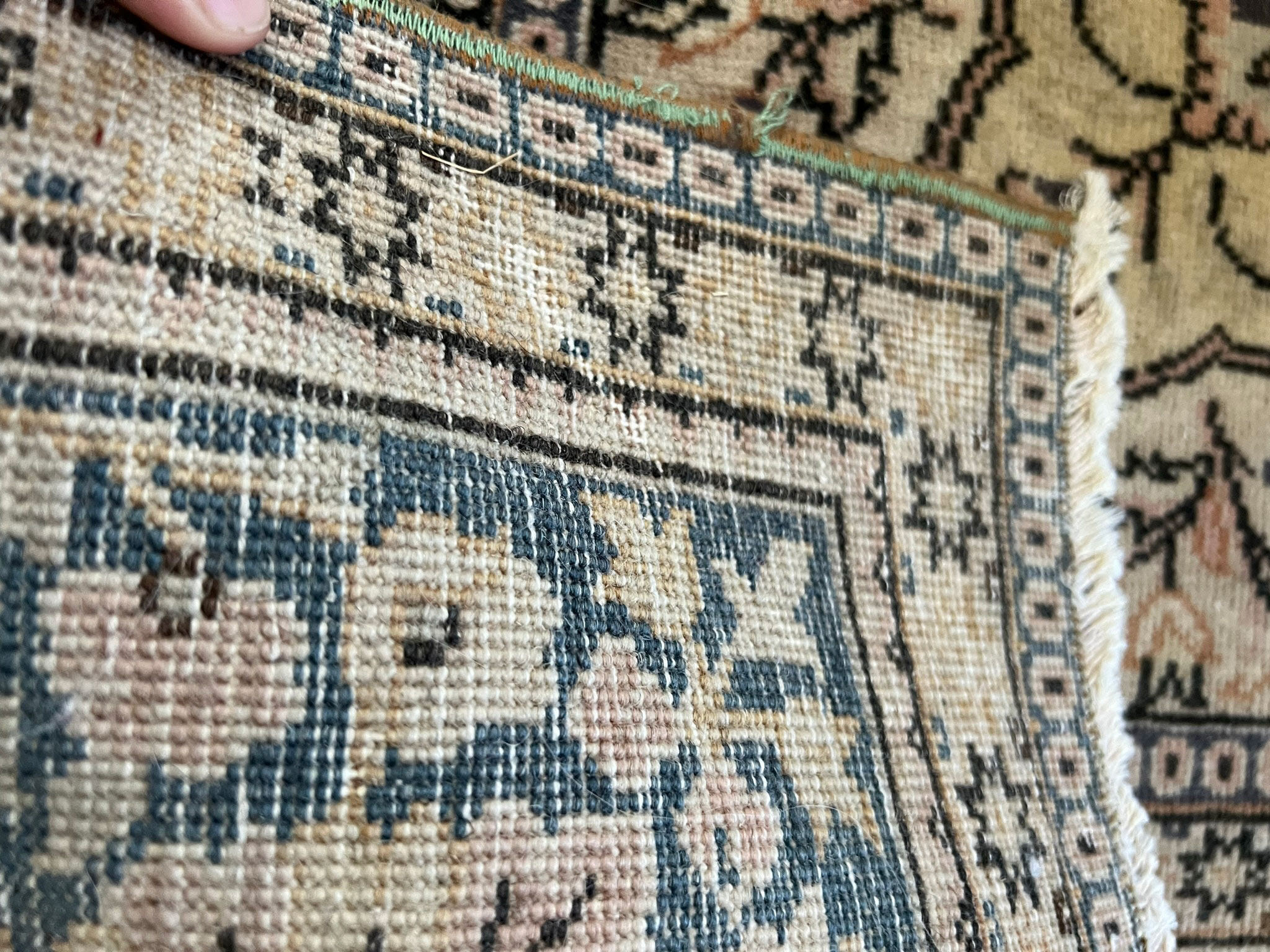 Woven flat weave – woven rugs are usually made on a loom and can be done by machine or by hand. This is a rug that is woven together and produces a flat weave rug with no tuft. These look the same on the front side or the backside. These types of rugs are relatively easy to make compared to a tufted or knotted rug and so the price reflects that, but if made out of a good quality material like wool, they can last a long time.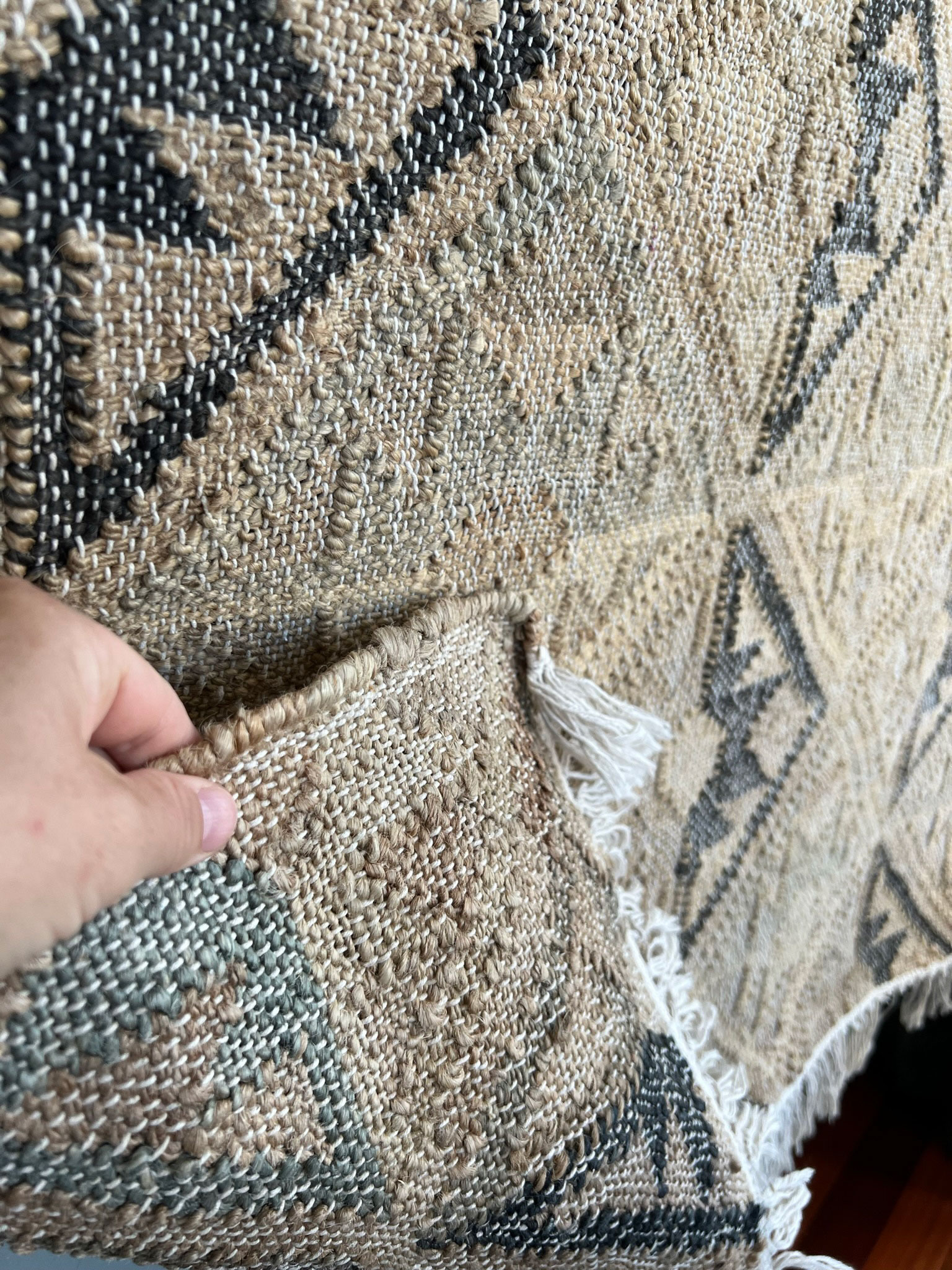 Machine-made – Tufted rugs can also be made on a machine. These can be any type of material – wool or synthetic. Generally, because these are made much faster and mass produced they are not considered heirloom quality and will not last as long. Some machine-made rugs that are popular today are actually printed rugs, which means that the rug is flat woven and a backing added and then a design is actually printed on top. These types of rugs are also much less expensive because of the ability to mass produce them.
Vintage Rugs
One type of rug that get a lot of buzz are vintage rugs, and I have several.  What is a vintage rug?  Usually, it is a hand-knotted (or sometimes hand-tufted) wool rug that is decades or more old.  The reason they are still around is because of the material used to make them (wool) and the process (often hand knotted or hand tufted), so they are of high quality and made to stand the test of time. It is a common misconception that vintage rugs are delicate – they are the opposite! They have been used and abused for dozens of years already and so it's likely they will continue to perform well for even more decades to come.  Because of the popularity of vintage rugs in recent years, there are a lot of places to look for vintage rugs and the prices vary wildly, but in general, a lot of vintage rugs are going to be considered a splurge.  There are shops that curate the best vintage rugs and rule out any that have excessive wear or imperfections, but sometimes you can find a gem on sites like Etsy that are straight from the country of origin.  
How big should my rug be?
If you are asking yourself "is my rug too small for this room" then I can tell you right now the answer is probably yes. You need to make sure that your rug is big enough to fill the space, no matter how nice your rug is it's going to look terrible in a room that it's too small for. If you are wondering when to splurge and when to save on a rug and thinking you can get that high-quality rug in a smaller size, just don't do it! (The one exception to this is if you layer rugs. You can get a large-sized rug in a neutral like a sisal that is less expensive and layer that small special rug over it.)
In most rooms, your rug should be big enough that all the furniture in the room can sit on it (at least with the front legs.) My number one design pet-peeve is the "rug island" where there is a little 5×7" rug with the coffee table on it and nothing else. If you can find a rug that fills your room within a foot or two of the walls, that is the optimal size in a living room, in my opinion.
In a bedroom, I like to have a rug that is at least as wide as the bed and both the nightstands.  Then, the rug can be situated in front of the nightstands (not under them) and under the foot of the bed.  Usually, a 9×12' or an 8×10′ is required for a king-sized bed (if the size of the room allows it) and two good-sized nightstands, or an 8×10' for a queen.  
In a dining room, ensure that the rug is big enough that the chairs can pull out and still be on the rug, there is nothing worse than having a chair half-on and half off a rug when dining! The chairs can get caught on the edge of the rug when pulling the chairs in an out and its annoying for whoever is in the chair and also can damage the rug. I know this first hand, as you can see below my dining room rug should have been longer. (Do what I say, not what I do!)
Rug Costs
Now that you know a little more about the different types of materials, manufacturing processes and different size options, you can probably imagine which rugs are going to cost the most. Obviously, the ones that take months or years to make by hand are going to be at the top of the list and sometimes, that is going to be the one you want. But not every room in your house needs an heirloom piece, right? And let's face it, most of us are not rolling in dough but we still want a pulled-together room. So I'm going to break it down room by room. I'll also give you some ideas for how to save even when I think it should be a splurge.
Where to Splurge and Where to Save on a Rug – what Rooms?
In general, I like to save on a rug in two places – in locations that don't get a lot of foot traffic, and in locations where a high-quality rug would blow the budget. Let's go through room by room and I will tell you where I like to splurge and where I like to save on a rug, shall we?
Bedroom – Save
A good place to save on a rug is in a bedroom. Unless you spend a lot of time running around the bed (ok that's weird?) then you generally aren't going to walk on it a lot. Most people don't really eat or drink in the bedroom either. A synthetic rug is probably ok for a bedroom and can save you a ton, as you generally need a pretty good-sized rug in a bedroom. It certainly won't be a rug you pass down to your children but it should last a good long while in a location like that.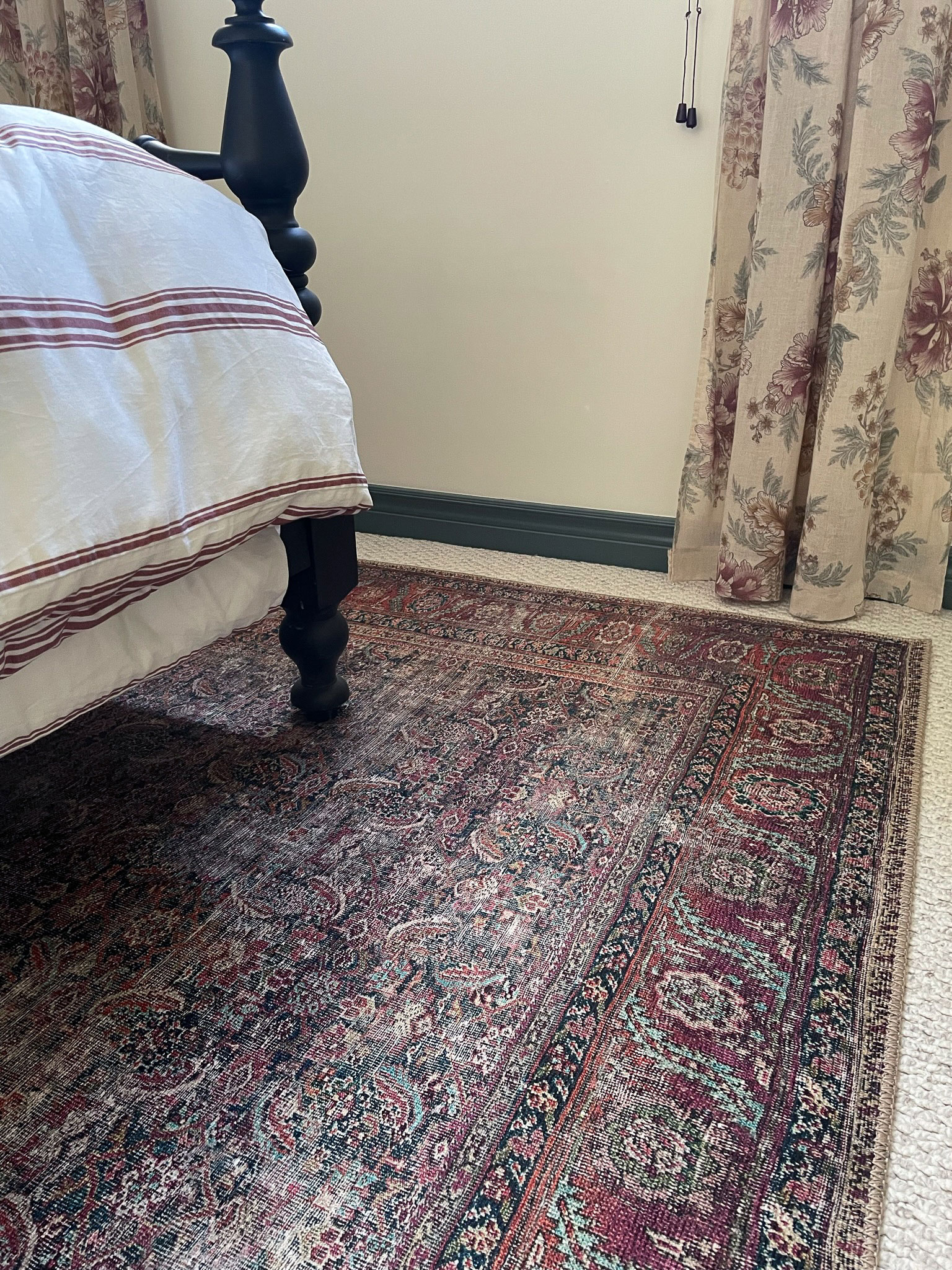 Living Room – Save or Splurge
Save – Other low-traffic areas might include a living room (depending on how you use your living rooms and how much of a thoroughfare it might be in your home). I ask my clients to evaluate how they use their space and be honest about foot traffic, spills and the possibility of pet accidents. If choosing a synthetic rug, go for one with lots of pattern on it so that if you do happen to spill a little red wine, stains might be more hidden. In a living room, sometimes you have a huge room and a small budget and a large wool rug will eat up your entire furniture budget for a room, and so for the simple reason of cost, you need to go synthetic. Hey, I totally get that. I have several synthetic rugs in my house for that very reason including in my living room. I have had several throughout the years and I have some favourites that are both cost-effective and wear pretty well, which I will round up at the end of the post.
Splurge – OK I know I just said to save on this one but I also think that if you can afford it, the living room is actually a decent place to put a nice rug. It may not need the wear and stain resistance but it's also probably the most used and visited room in the home by both yourself and guests, so maybe this is one place you really want to go all out. How can you make this a bit more affordable? Consider layering a high-quality but smaller rug with a large size neutral rug under it. You can also scour the depths of sites like Etsy or Ebay until you find a hidden gem – I promise they are out there!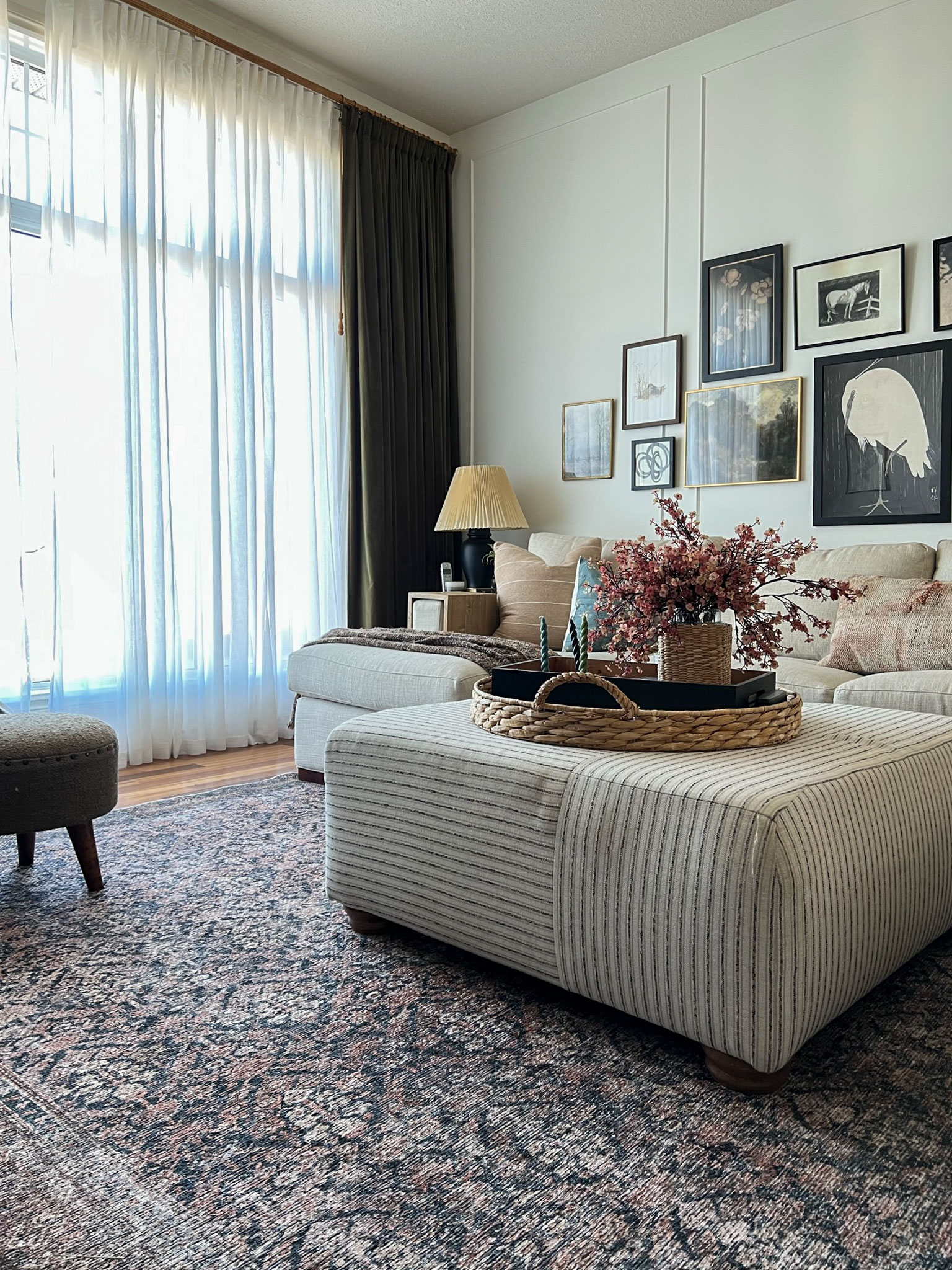 Formal Dining Room – Save
Save – Not everyone has a formal dining room anymore but if you do, I think this is a good place to save. You don't use this space every day, you aren't walking around on it all that much, I think a rug in here can last a long time. Just go for a high pattern so you can hide the lasagna you spilled last Sunday. Or, just make the kids eat in the kitchen, ha! All kidding aside, I've had a rug under my everyday table for YEARS, even when my kids were quite small and I've yet to throw a rug out because of an accident.
Casual/ Regular Dining – Save or Splurge
Splurge – so in a dining space that is used for every day, you might want to skip a rug altogether. But if you want a rug, go for a high-quality wool rug that is going to be easy to clean. I would also choose a low pile rug here so the goldfish crumbs aren't lost in the depths of the pile.
Save – An alternative to a splurge rug in the casual dining space is a good quality indoor/ outdoor rug – those can be taken outside and hosed down. A few years ago those indoor/outdoor rugs looked a lot like plastic but they have come a long way.
Kitchen – Splurge
Splurge – I love a kitchen rug or runner. Kitchens are generally full of a lot of hard surfaces and solid colours so a rug is a good way to soften the look and feel and bring in a little pattern. I had a synthetic rug in my kitchen at one point and it didn't even last a year. Now I have a wool vintage rug in the kitchen and you have no idea how many things I've already spilled on it for it to clean up beautifully each time. It has a shaved pile and so crumbs don't get lost in there either.
The only "save" alternative to this might be one of the new, washable rugs that have come on the market but I don't have any personal experience with those so I can't say if I would recommend them or not. The nicer indoor/outdoor ones generally don't come in a runner or smaller size either.
Hallway – Splurge
Splurge – a hallway that gets a lot of traffic will look worn pretty fast with a synthetic rug, so spend a little money here. Because a hallway rug is smaller you don't have to spend that much to get a great rug.
Ways to save while still having a good quality rug include finding a vintage runner, using jute or sisal (hallways are a great place for these rugs in my opinion as they aren't likely to be stained or wet) or using flat weave wool, which will clean up nicely and are not prone to wear, and a are more affordable than a tufted rug.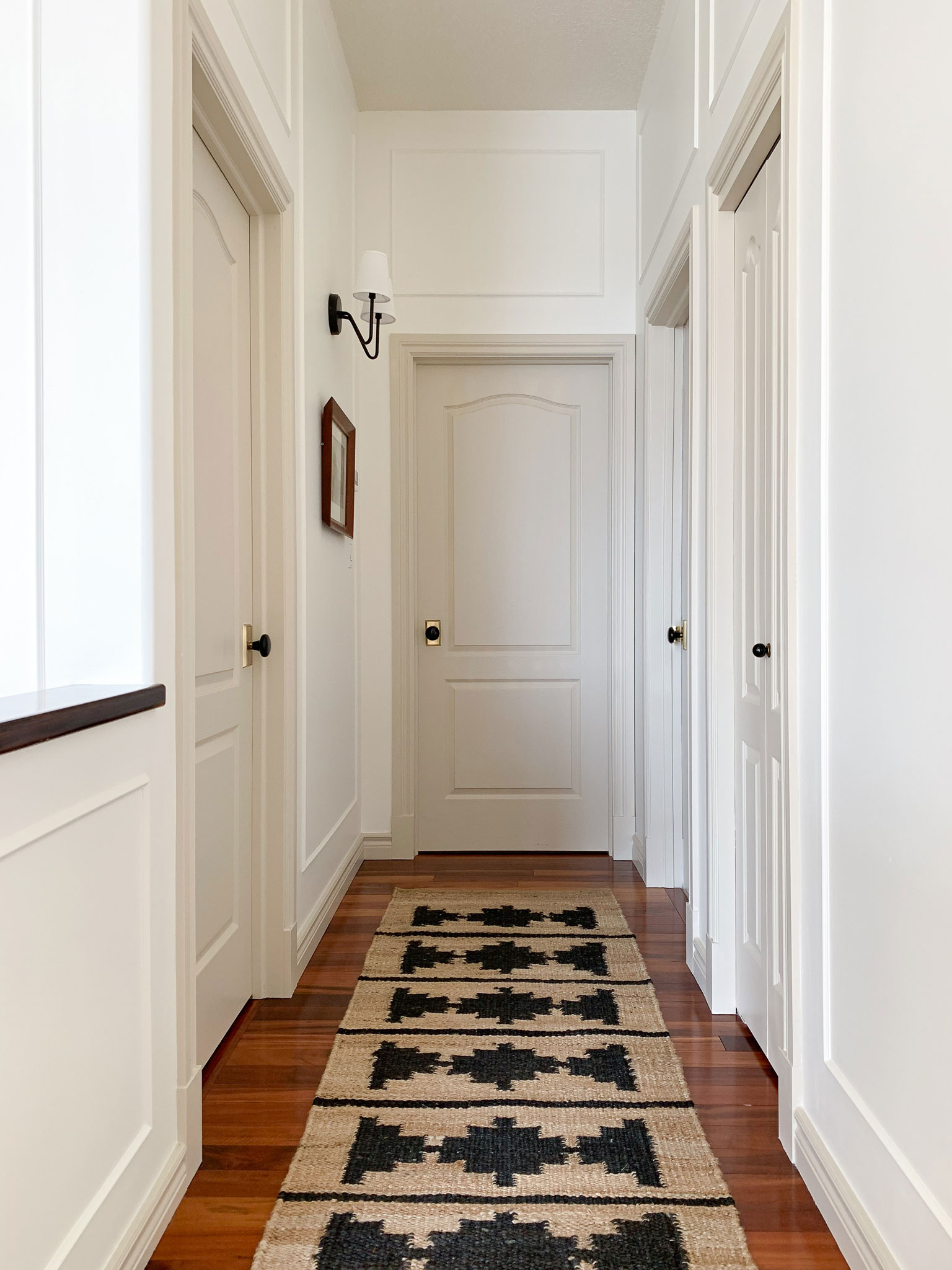 Entryway – Splurge
Splurge!!!! Definitely, a wool rug in an entryway will serve you well. In both of my entryways, I have vintage wool rugs and they have held up awesome even in my Canadian climate where people often come in with wet and dirty shoes, especially in the winter. Again, a low pile will vacuum up nicely. I haven't even found that I have needed to clean these entry rugs with more than a vacuuming (I'm sure they are quite dirty so I'm planning to try cleaning these myself – stay tuned!)
Rug Round Up for Splurge and Save Rugs of all Types
If you are ready to buy a rug that is big enough for your room and have decided what type works best for you, I've rounded up a few of my favourite rugs in all the categories I talked about. I am going to focus on the less expensive ones (because finding good inexpensive rugs is my superpower) but I will throw in a few splurge-worthy rugs here and there!
Stores I love to shop at for rugs include Rejuvenation (they have great flat weaves and hand tufted rugs), Etsy (for vintage, flat woven or jute) and shops like Wayfair or Amazon for Synthetics.
Flatwoven
I like a flatwoven rug in a utility space like a dining space or hallway. They don't get worn down and are easy to keep clean as they don't lose crumbs in a pile. They can be less expensive because they are easier to make than a piled rug. I have an old flatwoven wool rug from Ikea (that they no longer sell) in my office and I've had it for years, an office chair rolls right over it. I also have a flatwoven rug hanging on the wall as art (and also hiding my TV – you can read about that here!).

Natural Fibre
Natural fibre rugs make a good layering piece when you want to add another rug on top. They are also a good quiet rug when you have a lot of other things going on in a room but you still want a little natural colour and softness that a rug adds. Jutes and sisals are not overly soft so arent the best choices for places like a bedroom or a living room when you want something cozy. This is the jute I have in my dining room and I have this one in my hallway.

Wool Tufted
If you want something that is going to last, a really special rug, this is what you want. I like a wool tufted rug in a space like a living room where it's going to be seen and appreciated the most and has some nice softness to add that cozy factor.

Vintage
There is no place I wouldn't put a vintage rug, honestly. Any room! I have one in each entryway, one in my kitchen, one in my bedroom (layered over a neutral wool rug) and one in my daughter's bedroom.

Synthetic
I would put a synthetic rug in a bedroom or living room where there is less traffic and less chance of spills. I have this one in living room, this one in my basement rec room, and this one in my guest room. I think of all the types of synthetic rugs, the ones I prefer are the printed Loloi rugs as they are easy to keep clean, soft, lie flat and they have some great designs in their extensive collection.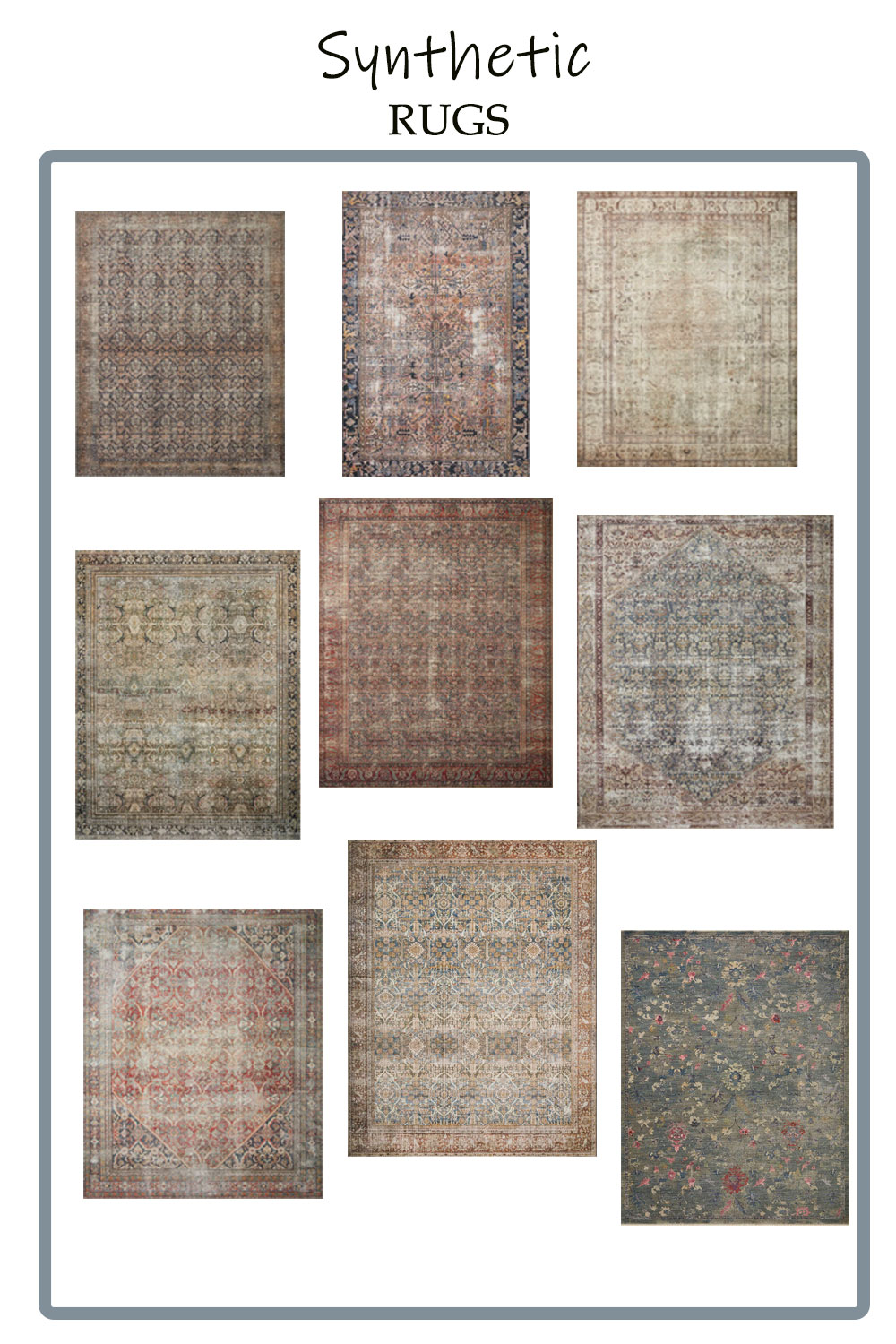 Indoor-Outdoor
You can use these outdoors, obviously! But also, the indoor/outdoor rugs have come such a long way that I would consider using them in a dining space too where you are worried about spills.

You might also like: