One Room Challenge Spring 2020 – Week 5 and 6 – Marketplace Finds and Playing with Pattern
If you have clicked over from the One Room Challenge Website, welcome! I'm glad you are here! I am an interior designer and serial DIY'er based in Red Deer, Alberta, Canada! You can catch up on my One Room Challenge project in the last week's posts here:
Week 1/ Week 2/ Week 3/ Week 4
Be sure to follow along on Instagram for more behind the scenes, and subscribe to the blog at the bottom of this post so you don't miss the weekly updates!
With the cancellation of Week 5's post, there is a lot to catch you up on this week! Last week's post was going to be about the furniture, and this week's post was going to be about textiles – so I'm going to combine these this week.
This post may contain affiliate links. That means if you purchase anything from these links I earn a small commission, at no extra cost to you! This helps support my blog, so thank you!
Furniture
Originally this room had a queen sized bed frame and an old door hung on the wall as a headboard. The bedside tables I was using were outdoor metal tables that really weren't nightstands at all, and are now living their best life on my deck.
At any rate, when I thought about the room I knew I had to think about getting a real bed and nightstands, so I started with my favourite source for unique and affordable furniture – Facebook Marketplace!
Now here is the thing – I had a few ideas about what I wanted for a bed but nothing specific. Because when you are searching for something second hand, you have to be OPEN. Open to painting, refinishing, re-imagining, rethinking your whole plan. I had a few ideas that were circulating in this old head of mine including finding a simple headboard and doing a refinishing/ upholstering job on it like this one , as I had originally intended to go for a more modern look with the furniture. I was also open to something that might have been great right out of the gate without out much work (wouldn't that be nice) like a gorgeous antique. But I just started searching. Every day. My search included "Headboard" "queen" "queen bed" "bed" "bed frame" and basically any iteration I could think of that might lead me to a gem. I also opened up my search to Edmonton and Calgary (each larger centers about 1.5 hour drive away), knowing that for the right bed I would be willing to travel. I found a lot of options, I saved them, I squinted at them, I looked at Pinterest for ideas on how I could hack them. I found a gorgeous antique spindle bed (below) that I almost went for but ultimately it was a double size, and I didn't think it would work with my queen mattress.
But then I found this guy – it reminded me so much of an Ethan Allan bed that I really loved and I knew I could make it over! Bonus – it was only $40! It was located in Calgary (3 hour round trip) so I talked my husband into going on a road trip after work one day with his truck and we set off to pick it up.
I had also been casually browsing nightstands and came across a set – also for $40! It had a very 90's light pinky-yellow finish on them but the shape of them was so great, and I loved the idea of their square more modern lines to offset the curves of the bed. I found these guys the exact same day as the bed and picked them up in a small town on the way to Calgary! The Facebook gods were smiling at me that day.
So here's a dirty little secret – I picked these up in JANUARY, and I have been stalking Marketplace for months previously. Finding second-hand goods is not fast, it's not easy, and it is not for everyone. But when you find what you are looking for it can be SO rewarding. Vintage and second-hand finds are often so unique compared to what you find at your local furniture store of trending decor. Which means a home that feels layered, unique to you and full of personality. An added bonus is that you often find much higher quality pieces than you could normally afford for the same amount of money. I found out when I got those $40 nightstands home (they were $40 total – so $20 each!) that they are made by Stanley, a fairly high-end furniture company and I found a similar set selling on Charish for $700!!
OK, so you may be looking at these pieces wondering what the heck I even saw in them. The bed has a cool shape but I did not like the shiny, fake-wood finish on it. It was nothing that a quick coat of paint couldn't fix though! I filled in the dentil moulding detail at the top with plastic wood, as I did not feel like that detail added anything to the piece and I wanted to simplify it. The bed also had metal rails for the sides which I thought might show when I made the bed, so I bought a couple of pieces of primed 1×6"s and used a construction adhesive to glue them to the existing metal rails to cover those up.
Then I gave it a light sand and brush painted it with General Finishes Milk Paint in Lamp Black and topped it with Flat Out Flat top coat. Why did I paint this with mineral paint instead of spraying it? I'm not entirely sure. I had some General Finishes Milk Paint left over from painting my dresser and I really loved the depth of that color and thought I would use the paint up. But with all the detail and scrolls on this bed it certainly would have been much easier and faster to spray it. However, it turned out beautifully and I'm super happy with how gorgeous it looks now in it's new darker form. Doesn't it look so much like the Ethan Allan stunner?
The nightstands were a yellowy-pink wood veneer that would have been very difficult to refinish. I don't generally like to refinish veneer, it is too thin to sand if sanding is needed. Refinishing is sooooo much work I like to keep that to those very special solid wood pieces, and I also had my existing antique dresser in the room and so I did not want to include too many wood pieces. So painting it would be. For these pieces, I opted to prime using my favourite Shellac Based Primer and then paint using my sprayer and Benjamin Moore Advance paint in a semi-gloss. (If you want to know more about my process for painting furniture or cabinets, check out THIS post). They turned out perfectly!
The hardware on the nightstands was so cool – they were solid brass and just needed a little cleanup. I gave them a little scrub with some Barkeepers Friend and they look amazing!
So with the furniture all taken care of, I will turn my attention to the textiles!
Textiles
When shopping for bedding for this space I knew this room was going to be pattern-heavy and I really love to mix patterns. Mixing patterns can be daunting but there are some general rules I think about if I am going to do it. They are:
Stick to a colour palette. Once you have set your colour palette for the room, staying within that will help your mixed patterns look cohesive and not random or busy. I have green, dusty pink, beige and black, so I stuck with those colours. Note these colours are all a part of the main inspiration, which in my case, was the wallpaper.

Vary the scale. Make sure that if one pattern has a large scale, others are medium and small. My large scale is on the bedding, the medium-scale is the wallpaper and small scale is the rug.

Vary the pattern type. Make sure you don't have all florals, for example. If you have a medium-toned floral (like my wallpaper) balance that with a large scale geometric (like my duvet).
So I set out to find the perfect pattern mix for my room and with so many specific needs in mind, there was really only one place for me to look, and that was Spoonflower. if you have never heard of Spoonflower, they are a company that allows artists to create designs for printing on fabric and wallpaper and they make them available to everyone. They also allow you to design your own and have it printed on their wide range of fabrics, wallpapers and even home decor products. There are literally thousands of designs on Spoonflower! Their home decor line allows you to print your design, or one of the designs available on their site from the thousands of designers, onto sheets, duvets, pillows… the list goes on! They even have shower curtains! There is a huge variety of fabric types and three different types of wallpaper. The amount of customizing that can be done is truly limitless.
I reached out to Spoonflower to see if they wanted to work with me on my bedding and I was SO thrilled when they said yes. I now had the ability to really customize the bedding to exactly what I needed. Spoonflower is a huge sponsor of the One Room Challenge and is generously extending One Room Challenge readers 20% off of all Spoonflower Home Decor products through June 30, 2020, with code ORCS2020!
I narrowed my designs down to these gorgeous cross sheets with a subtle pattern, a perfect off white color to work in my room and a sage green to coordinate perfectly with my walls.
I wanted a large geometric red stripe for my bedding but the one I really loved had a really bright white background, which is a bit too much for my off-white color palette. So I messaged the designer and she adjusted the background color slightly for me and now it works perfectly in the space! THIS is the link to the duvet cover, and HERE are the matching shams.
I also ordered a navy blue lumbar pillow – which is a bit of a wild card in the room so I am hoping it grounds the light bedding a little. It is not yet available on Spoonflower's site as it's a new product, but I will update this post when it is!
This is a pattern extravaganza and I really hope that I have incorporated enough neutrals in the space to make this all work! Fingers crossed it all comes together well, it certainly looks fabulous all piled together on the nightstand!
The curtains I had in the room before I kept and just updated by adding some beige linen fabric I picked up at IKEA to the bottom. (Or… my mom did, she's my personal seamstress if you don't already know that! Thanks mom!) I originally did this because the curtains were not long enough, but I recently saw Shea McGee had very similar curtains in her master bathroom so I feel validated. Lol!
I picked up a little extra of the beige linen and my mom sewed me a couple of solid Euro Shams to tie in the beige and break up a little of the pattern. I also picked up THIS blanket at IKEA when I was grabbing the fabric. I was drawn to its colour – it is really the perfect dusty pink to compliment the striped duvet cover.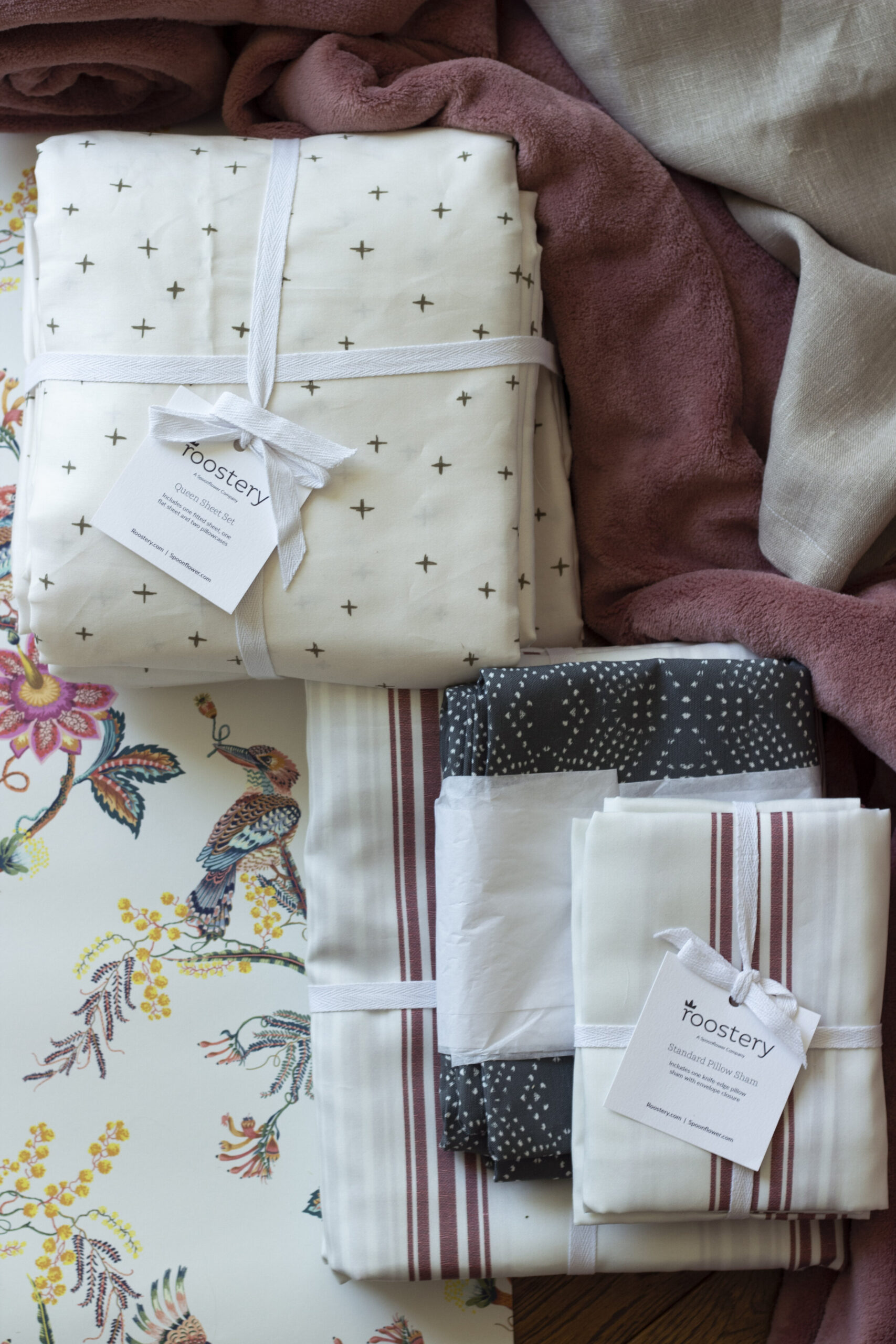 Are you curious about how all this crazy pattern and colour are going to come together? Me too!! I'm super excited about it though, as this room is definitely pushing my creative boundaries but I am very excited about where this is headed. Hopefully, at the end of all of this, I will be able to use this room to inspire others to push their boundaries a little, because that is where the best designs are born.
I just wanted to give a HUGE thank you to the generous brands I have partnered with who provided sponsored items for this makeover. I'm so grateful that they saw enough potential in me and my little blog. I hope to do their fabulous product justice in the coming days!!
That's all for now, be sure to come back next week when I am talking accessories!! So many of you mentioned that you loved the lamps in my mood board and I've been sitting on the biggest secret about those for far too long and I can not wait to let you in on the deets!! If you want to catch some sneak peeks follow me on Instagram (@erinzubotdesign), I'll be sharing a lot of behind the scenes there. Also, check out the other designers HERE or click the ORC Logo below, there is a great lineup of both featured and guest participants and there is a lot to catch up on. See you next week!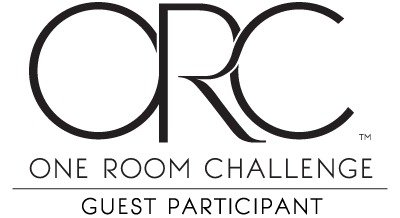 CLICK THE IMAGE TO BE REDIRECTED TO THE ORC WEBSITE!