Updating our 90's Home on a Budget
A Before and After (or progress) and What's Next!
We have been in this house for just over two years and I thought it was high time for a status report! We have been updating our 90's home on a budget and working out way through the entire house, room by room. This year, I want to look back on all that we've accomplished so far in this current house and talk about what might be on the horizon – this year, or in the coming years! What has been done in our home, and what is left to do?
Hopefully, this will give you a few ideas on easy ways you could update your spaces if you have something similar! (There were a lot of '90s homes built and I really don't think it was a great era for design in general!)
This post may contain affiliate links. That means if you purchase anything from these links I earn a small commission, at no extra cost to you! This helps support my blog, so thank you!
Table of Contents
Biggest Impact for Home Improvement Projects in a 90's Home – The Hit List
There are a few things that homes of this era (or any new-to you home) might have in common and some simple ways you can update your home on a budget. Before I get into our makeovers, let's go over a few of these because for us, these made the biggest difference and really affect the look of your home, overall:
1 – Paint – The biggest impact you can make on a space is definitely a fresh coat of paint. It is the easiest thing to change and makes such a huge difference in the look and feel of a space! The previous owner had painted our home all dark browns and reds and the floor was also sort of brownish red, so I knew that painting was going to be huge (and it was!). Never underestimate the power of paint!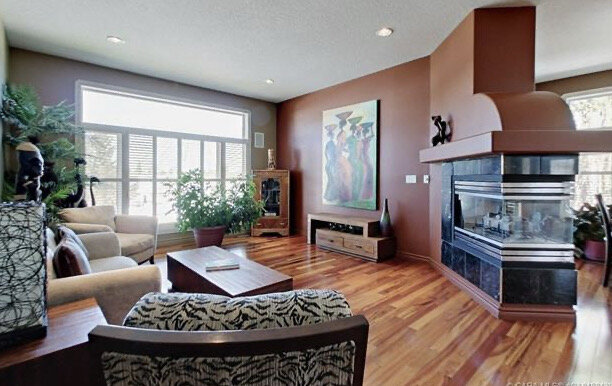 2 – Light Fixtures – all of our light fixtures were very dated and typical of the 90's era. Swapping out lights for more up to date new fixtures makes a world of difference! I've been changing the light fixtures as we renovate room by room. Some of our light fixtures were actually built in bulkheads with fluorescent lighting in them, and removing those was a bigger hassle but so worth it!
3 – Nooks, ledges, cut outs – I don't know what it is about that era but they loved their art niches, their little cut outs, their ledges high up on the wall. These are dust collectors and really scream 90's – most newer homes (or even older, traditional homes) don't have those types of features. This one is a little harder to deal with but SO WORTH IT! We framed over and drywalled up all of the niches and cut outs in our home and it made a world of difference!
4 – Plumbing fixtures – you can swap out old dated plumbing fixtures pretty easily! You can even change the shower head, diverter and tub spout in your tub if you stick with the same brand without requiring extensive plumbing.
5 – Update door handles and hardware – depending on what you inherited in your new to you home, you might want to consider updating the door hardware. New hardware and a fresh coat of paint on your interior doors make them look brand new!
5 – Remove angles – in the 90's they loved their angles – angled corner pantries, angled walls, angled islands. When completing any renovation if you have the chance to remove angles for a more clean look, that is always going to update the space. If you are undergoing a 1990s kitchen, for example with an angled island like mine, consider replacing the island with a straight one.
These simple fixes (well, some of them were simple!) made the biggest difference. In our home, we ended up with a complete overhaul in some of the rooms, but still, we always try to keep the budget in mind! So here is what we've done so far!
This post may contain affiliate links. That means if you purchase anything from these links I earn a small commission, at no extra cost to you! This helps support my blog, so thank you!
Before and After – Projects we've Completed so Far!
We moved into this house in the fall of 2021, and I did a little house tour and explanation of why we moved here if you want to catch up!
We completed the formal dining room first thing when we moved in and it's been wonderful. In the future, I could see updating some of the furniture or painting or adding wallpaper but not ever revisiting the major structural changes and major renovation we did like removing the pillars, the hanging drywall box and closing up the weird opening that was in the wall!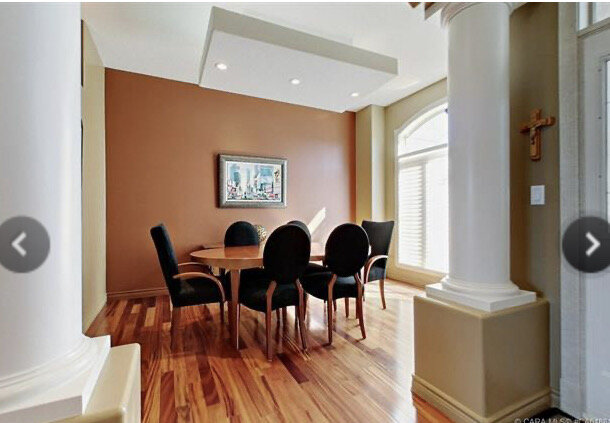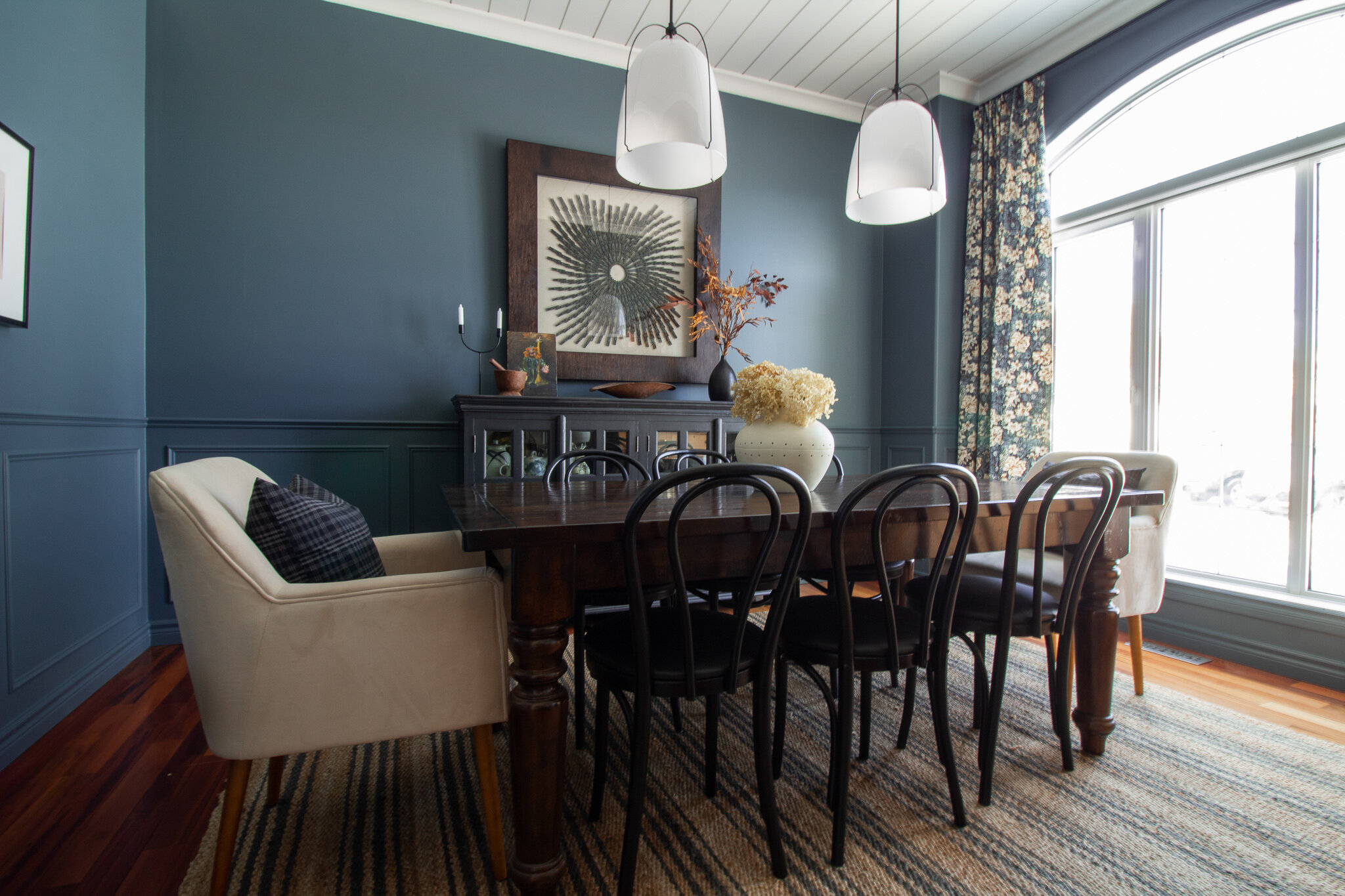 Then there was what I like to call the "main floor reno" which basically meant removing weird ledges, openings and niches, adding box trim moulding pretty much everywhere and painting all the walls and trim. That was a huge, messy project to live through but it also had the biggest impact on the house because it impacted the entire home! And it was a lot of work, but not a lot of money since we DIY'ed it all.
I would have liked to replace the hardwood floors because they are not my favourite, but they were in good condition and were expensive when they were installed, and we thought we could make them work with a better color palette. The new colors make a huge difference in how the floors look!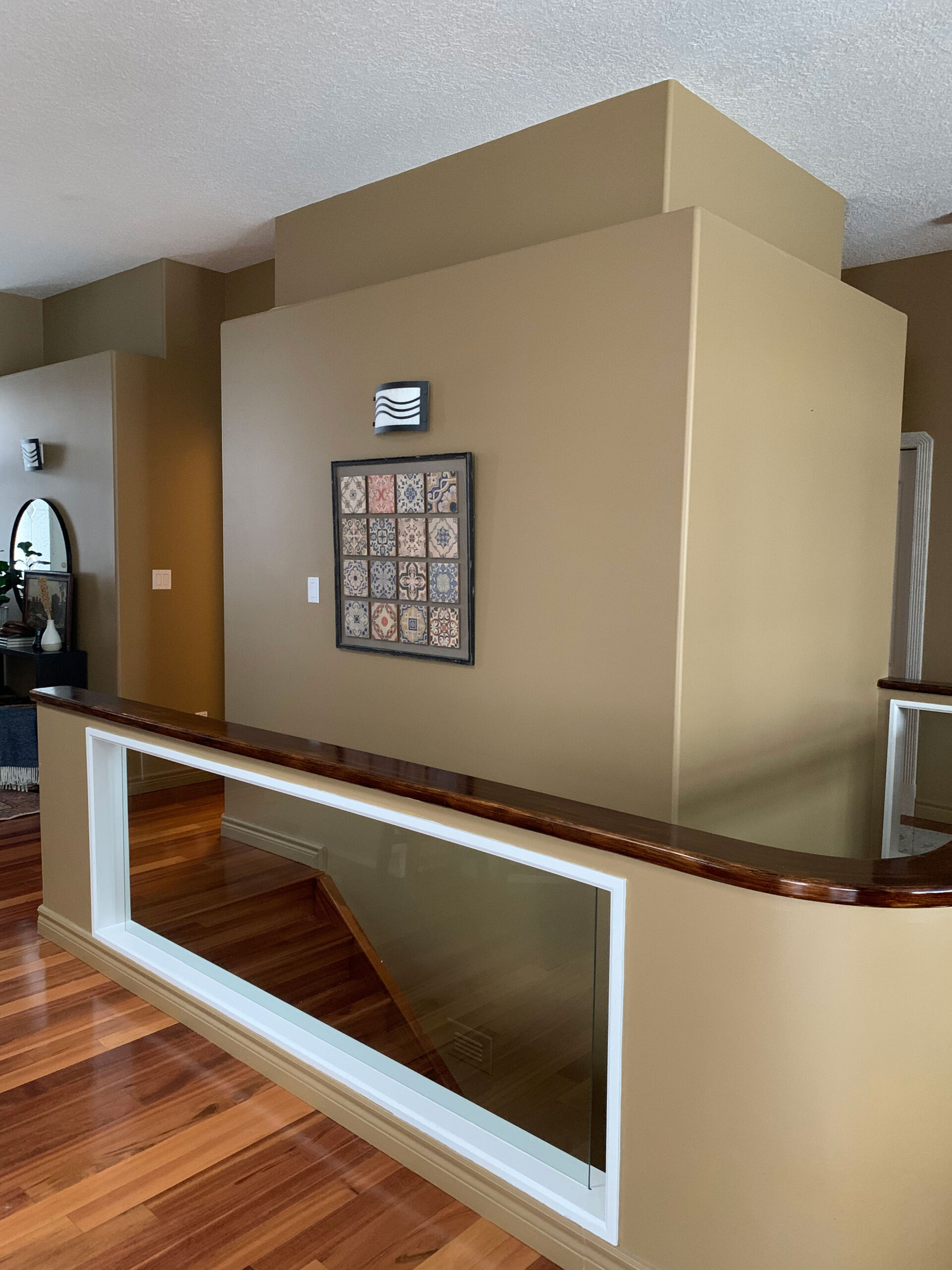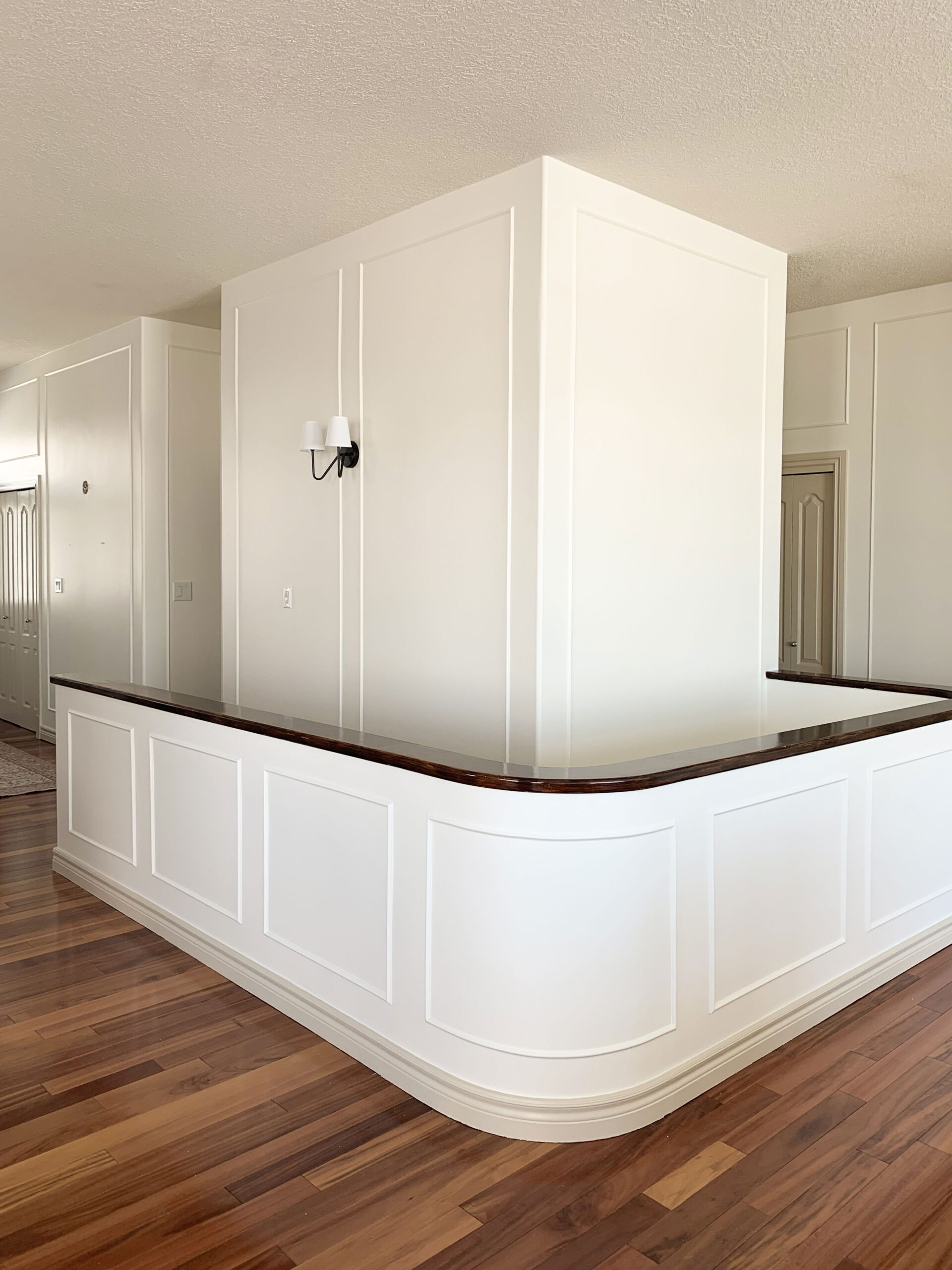 After that, we completed the living room renovation – which involved removing the three-sided fireplace and installing a new electric fireplace on a different wall using an antique mantel. The three-sided fireplace that was in this room before made trying to layout furniture in this space so awkward, and it had to go! The new fireplace provides a better focal point for the room and makes it much easier to lay out furniture. (Pro tip: Consider the layout and function of any room FIRST before you tackle anything cosmetic. There is no point in something being pretty if it doesn't function well!).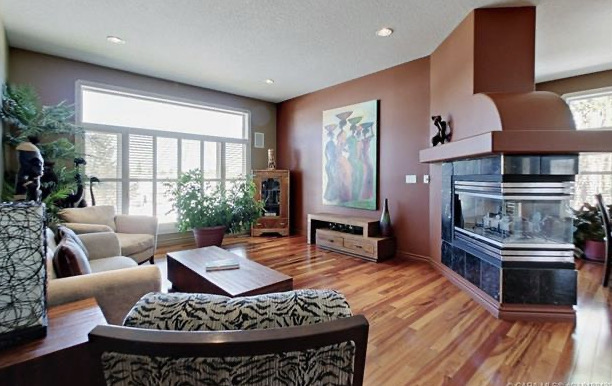 While we were working on the main room updates, the hallway ended up getting a makeover too with new paint and hardware on all the doors!
In my daughter's room, we scraped the popcorn ceilings and painted, we made a light fixture out of cedar shims and since then, she's been in charge of the decorating. At some point, I'm hoping she "hires" me for a makeover but I'm not holding my breath!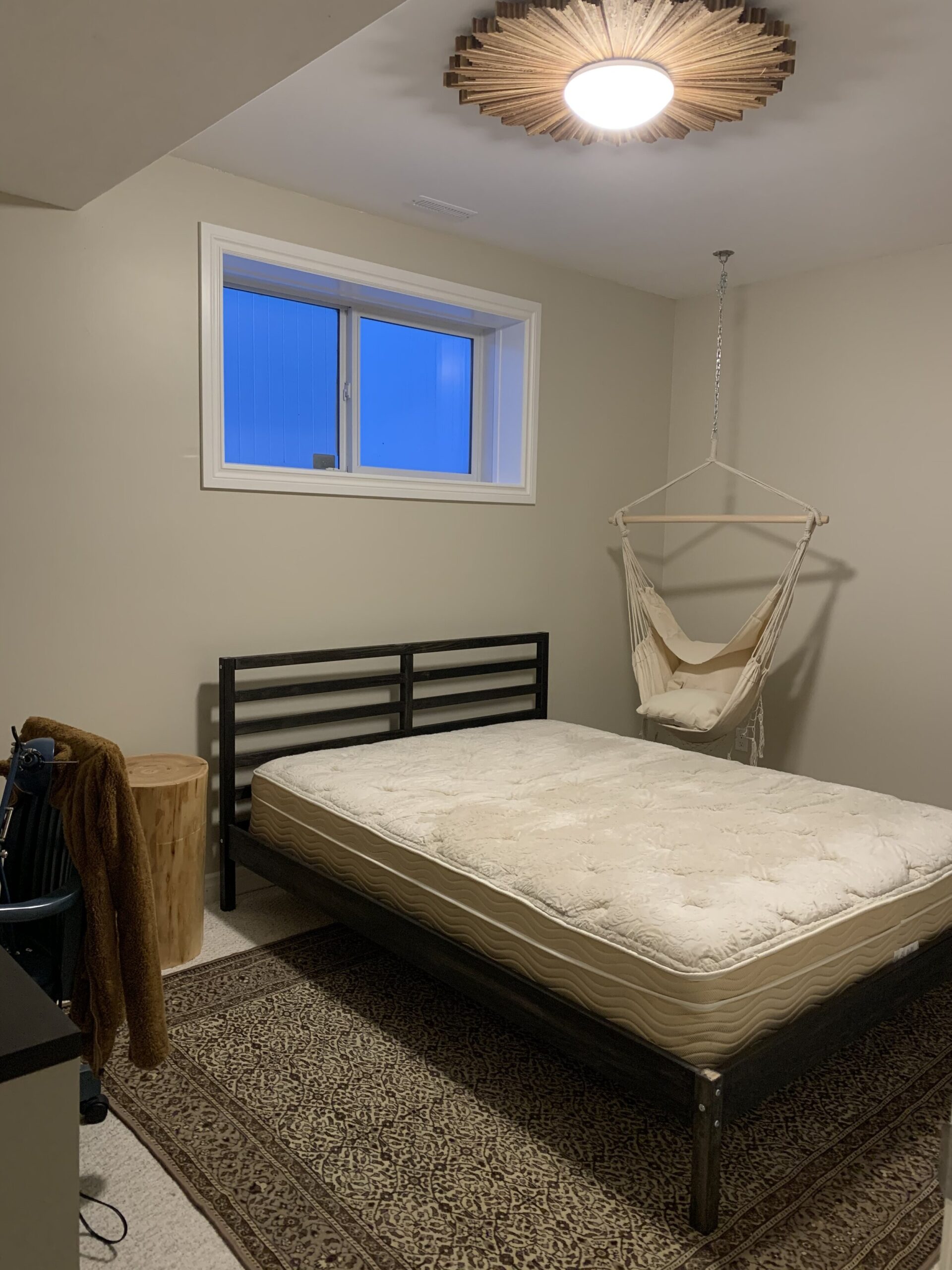 We completed our bedroom next, which has my favourite colour palette in the whole house. I love the paint too much to ever change it.. but never say never! Now that the door was added to the bathroom, the walls closed up, and the picture rail added, any changes in here will once again just be decorating.
The kids bathroom was the next on the list! I was careful to choose timeless tile and hard fixtures to hopefully stand the test of time, and went a little bold with the colour! If we ever tire of the purple, it won't take much to give this room a whole new look.
It was right around this time that we started working on adding a second garage in the backyard. In 2021 all that was involved was levelling the yard and building the foundation but it still seemed to take all summer!
While I was in the midst of kitchen planning I worked on my stairwell – added some moulding, painted risers and added a runner.
Then came the kitchen remodel!! This project was the biggest DIY we tackled and the one I think we are the proudest of. We originally planned to reuse the existing cabinets and rework the angled island, but after a lot of discussions and thought about improving the layout, decided to go with a full reno.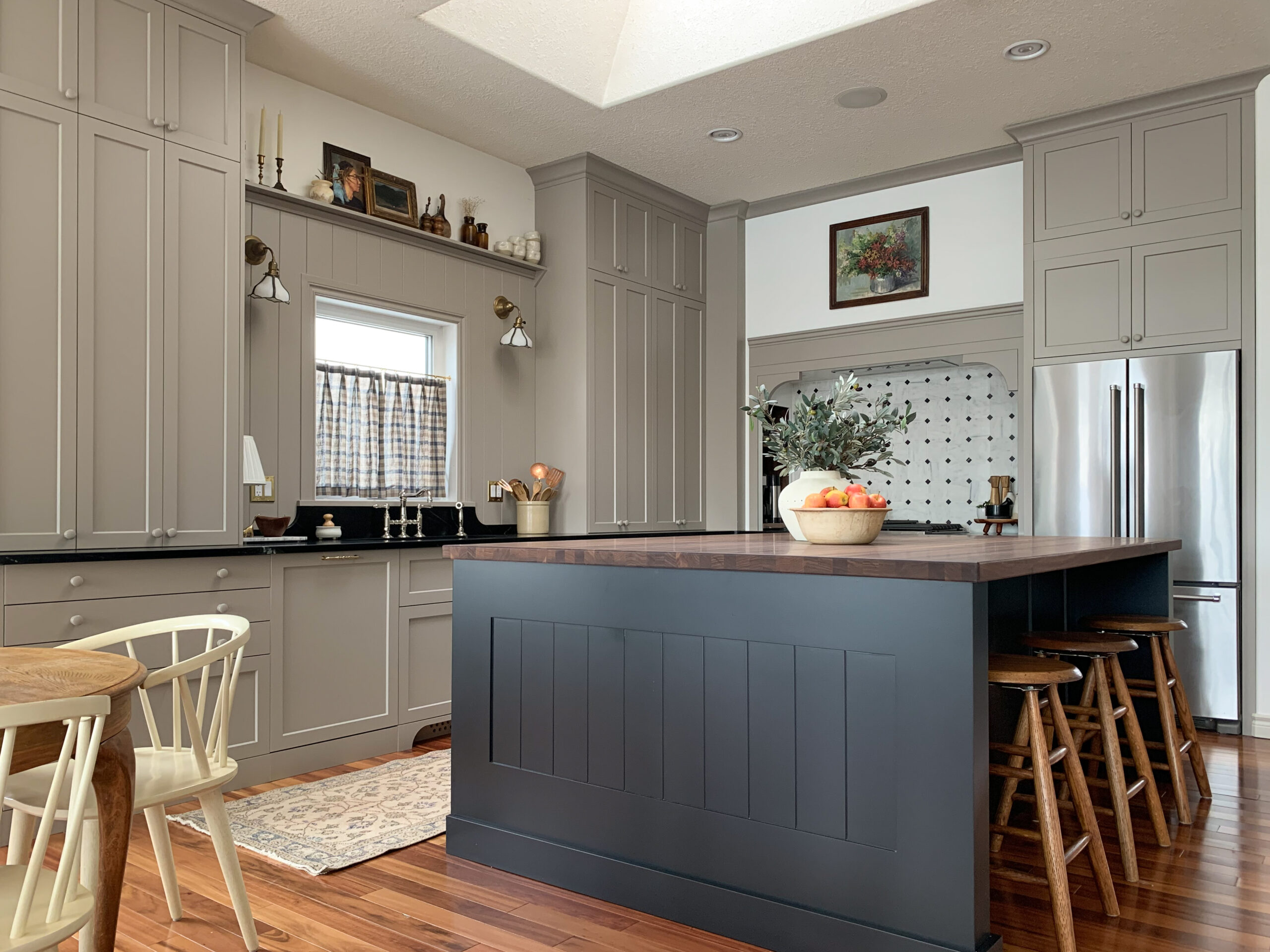 When my son moved out, we renovated his room into a guest room. There were a few changes we made to the cabinetry in there, added a peg rail to the wall, removed the popcorn ceiling and then painted a fun colour! He has since moved back in, but someday he may leave again and then I may switch this room up again (or just put it back as it was, since it didn't exist like that for very long!)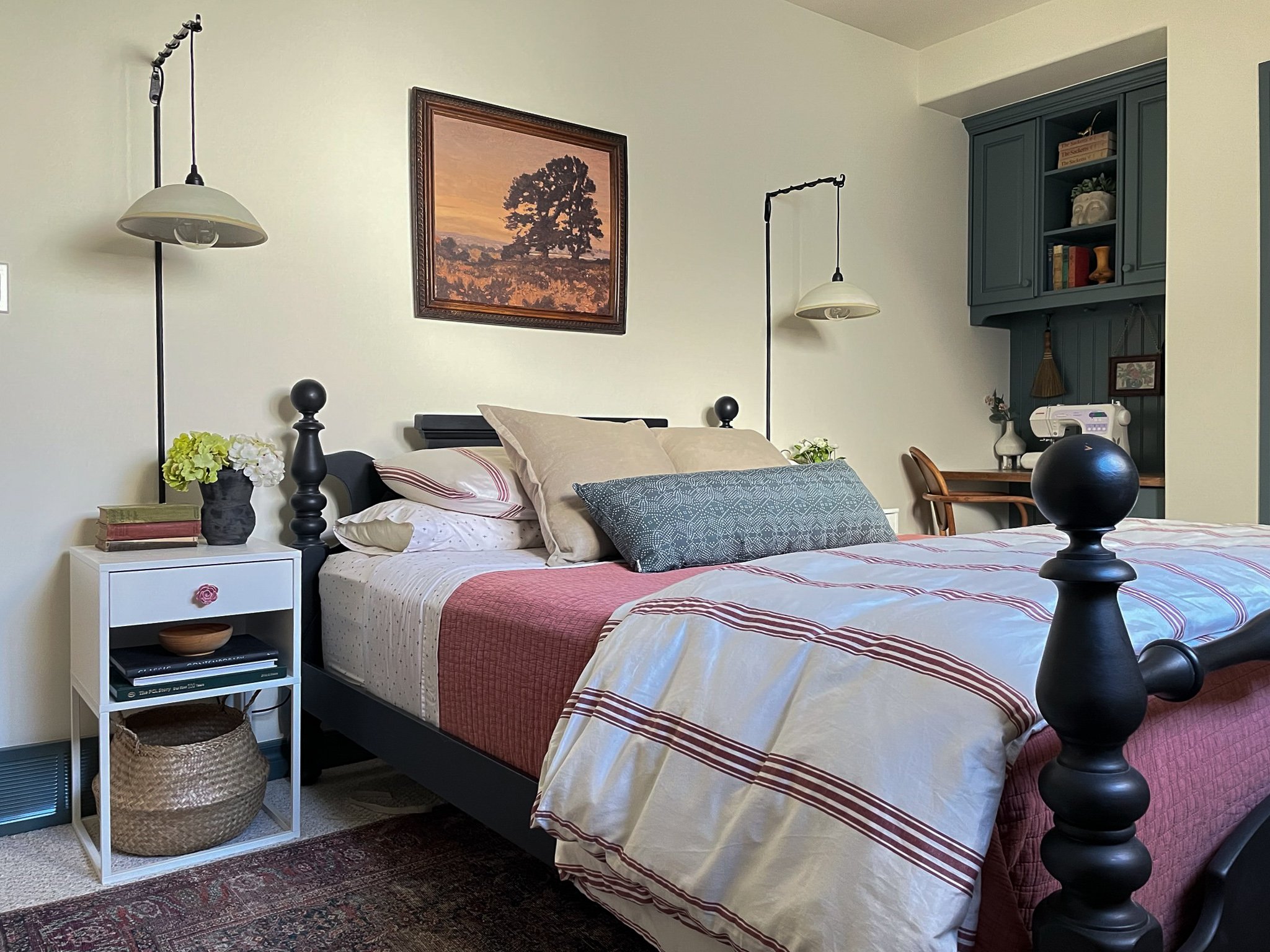 We then renovated the second bathroom in our house, the hall bathroom which is located on the main floor. It's a very small bathroom so I had a little fun with patterns and colour in here! Right now, I love this bathroom too much to consider any changes.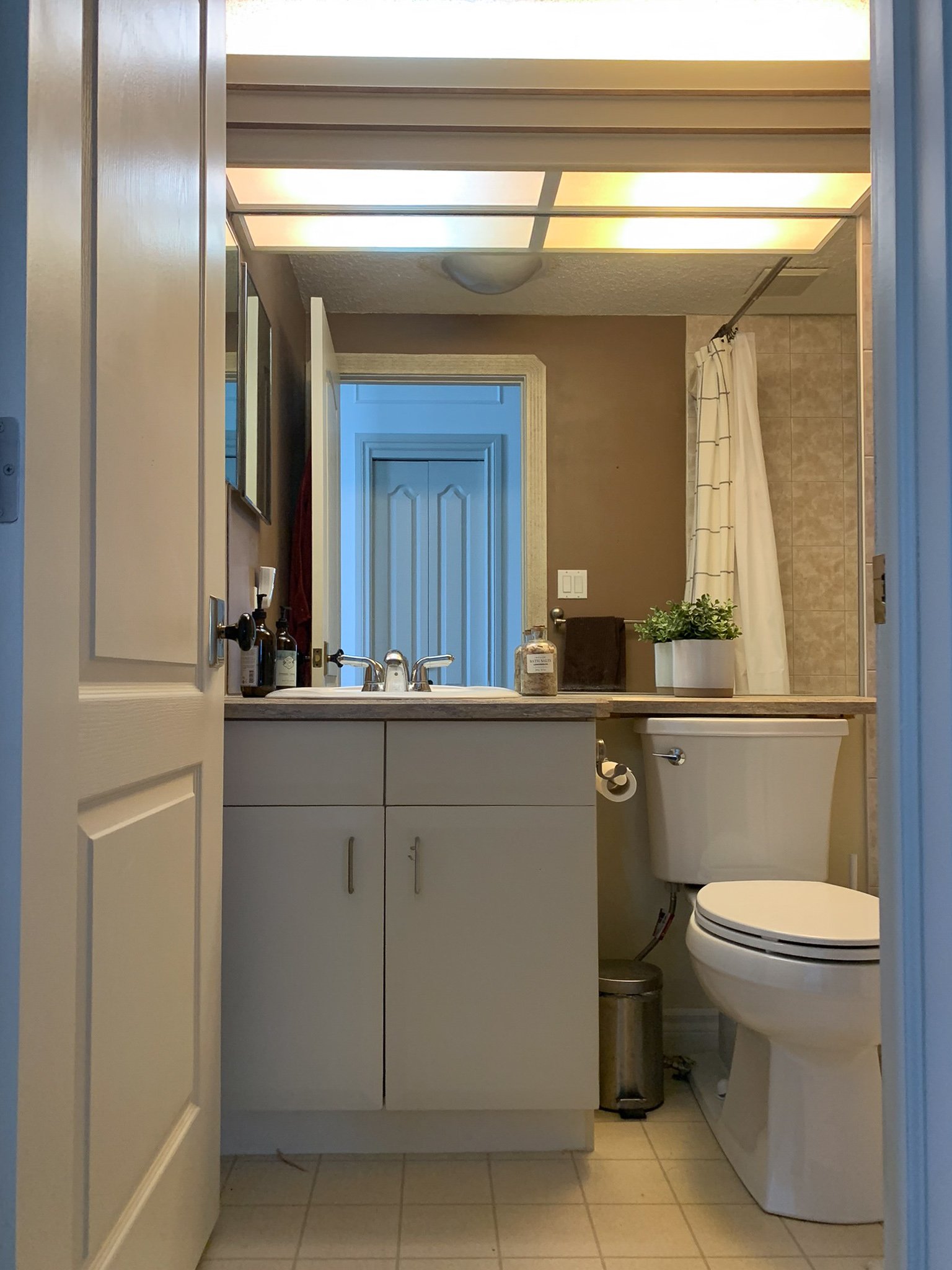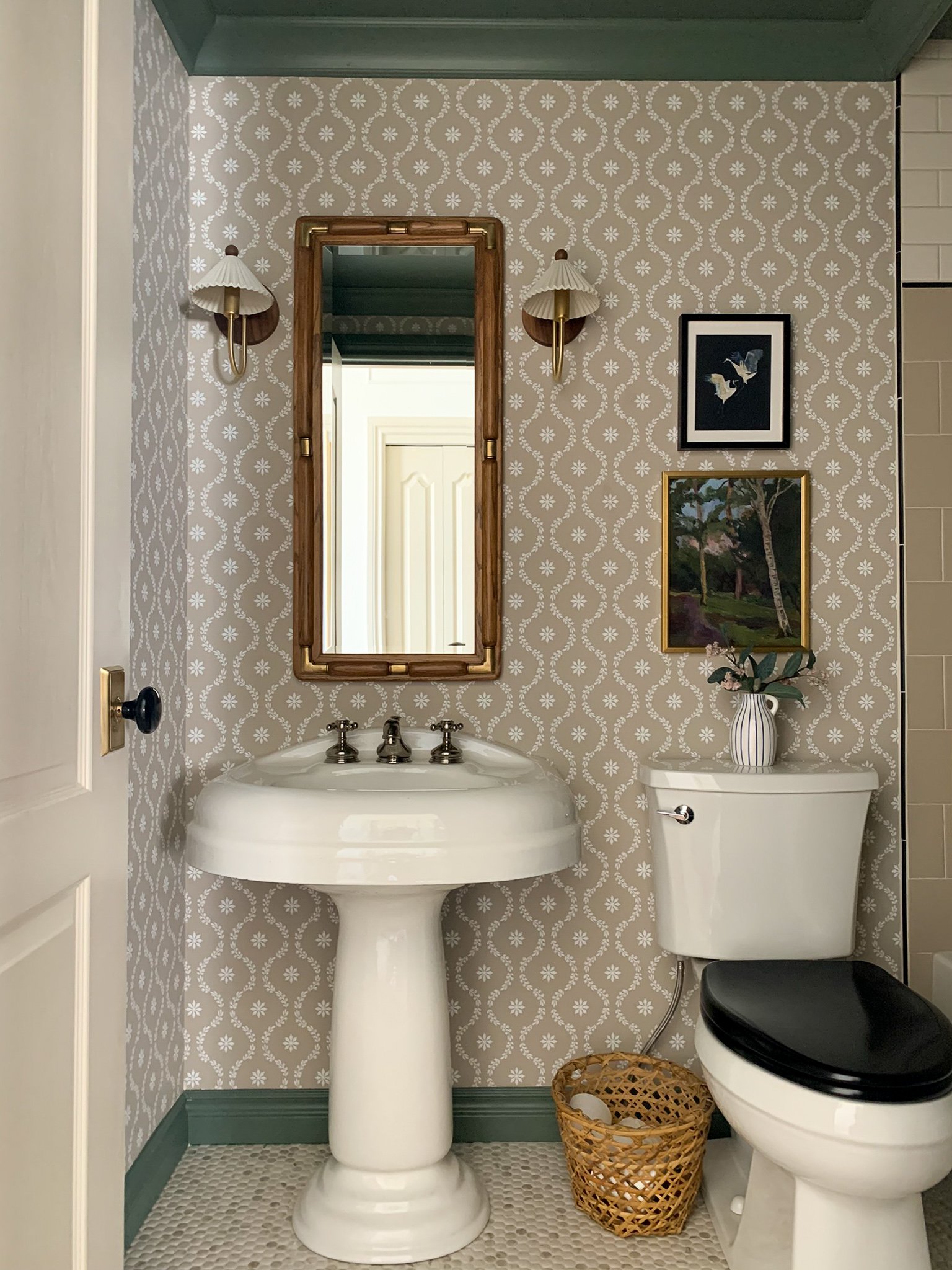 During our second summer here, the walls went up in the garage and the outside was finished, finally!
Next up was the laundry "room" and hallway – not really "rooms" but still they needed attention. Painting the walls and trim and reconfiguring the closet- slash- laundry room made such a big change and was a really quick update!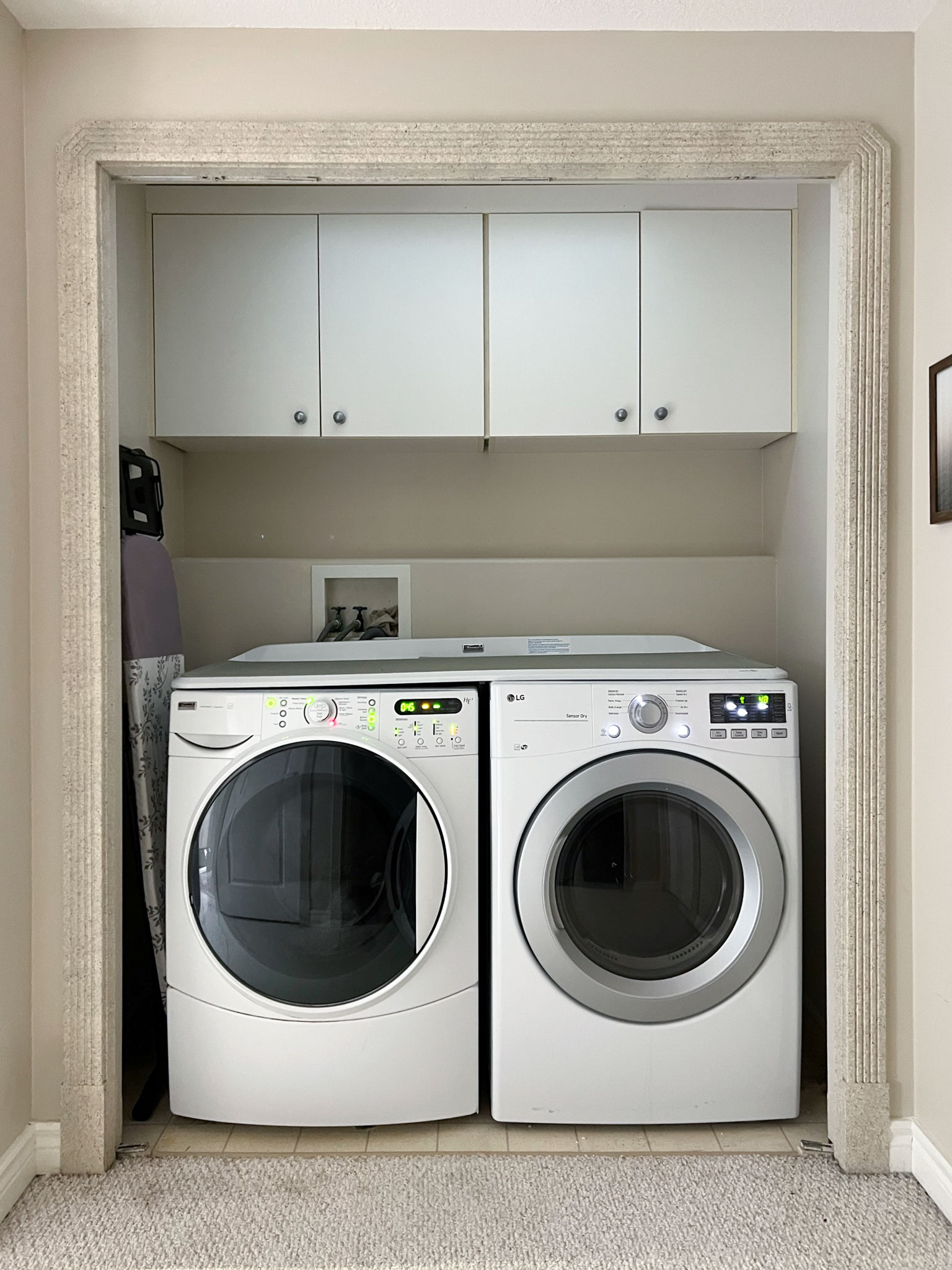 Finally, the mud room! What a difference changing this room made to our daily life! The built-in bench and hooks are always piled high with coats and shoes. Despite all the visual changes, I think the biggest difference that we made in here was simply changing the door swing! Besides the layout changes, removing the dingy linoleum and replacing with new flooring is maybe the most impactful.
What is Left in Updating our 90's Home on a Budget?
The Ensuite
The first project we are planning for 2023 is our ensuite. We left the ensuite until now for a couple of reasons. First of all, I was really stumped as to what I wanted to do with it. We wanted to fix some layout issues but there were some obstacles that were making that really difficult, like the large window and skylight and underfloor heating that we don't want to mess up! But I finally had a breakthrough layout-wise and I'm excited to say the design is rolling right along!
Some of the items for the ensuite have a long lead time so I'm making sure that everything is well on its way before we start tearing that up, so it might be a little while before I can work on that project too much. I will let you know more about the schedule once things start arriving! Last winter we put in a new window to replace the oddly shaped glass block window that was really dating the space, so at least that part is done!
The Office
One thing I would like to work on this year is my home office. I spend a ton of time in here and I know it could function so much better (and look so much better!) That big cabinet is a murphy bed which is pretty cool but also doesn't allow for much storage in here, and my sample drawer is getting out of hand, so I really need to improve the storage.
I need a permanent location for my double monitors and floating the desk in the middle of the room doesn't make a lot of sense when you have a lot of electronics.
I'm still brainstorming what I want in here but I'm hoping this is a room we tackle in 2023. If we do, it will mean that we have renovated every single room on the main floor and that's pretty amazing!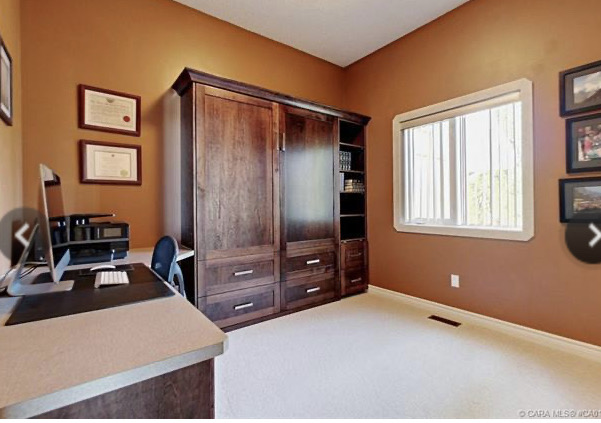 The Theatre Room
Did you know we had a theatre room? We almost forget about it, we seldom use it. It has sponge painted walls and a screen with a 4:3 ratio. (Hello, 90's!) I want to rip out the old screen and replace it with a proper 16:9 screen and then just generally update the whole room.
The larger scale plans for this room include revamping the built-in cabinetry we have in here along with a few other ideas I have, but I may just do a phase one on this to get the screen working and maybe get rid of that sponge paint so we use this room again!
The Back Garage
As much as I don't want to include this one on the list, this one is important to my husband and very high on his list. The garage was built over the last two summers but the inside is still a work in progress. It is insulated and the electrical has been done, but it needs the gas line added for heat, and then drywall. After that, he has to paint, add cabinets (we saved our old kitchen cabinets for here!), he wants to include a french cleat wall, and generally turn it into a man cave. There are also a few things to do on the outside still like eavestroughs and a concrete driveway.
I will likely continue to help on and off but probably won't be that involved in the project, but it will take him away from the bigger projects I might want to do around here so I need to keep that in mind before I plan too much!
Landscaping
When we tore up the yard for the garage we made quite a mess of the nicely landscaped yard we inherited. We messed up the irrigation system and the plants and the grass. We need to fix the irrigation, do a little hardscaping (like a path leading up to the new garage) and replant some things to get the whole yard in shape!
The Bar
We have a wet bar with some cabinets in the corner of our basement that could be a whole lot better. This was our makeshift kitchen during our kitchen reno and we were so lucky to have it! I envision doing a lot of inexpensive DIY's down there, as it's not a place I want to invest a lot of money but that doesn't mean it can't look great!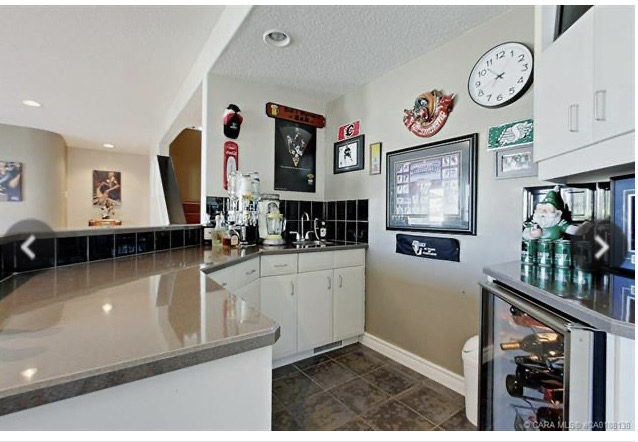 The Rec Room
I don't know what to call the big room in our basement that is connected to the wet bar and the theatre room, maybe the rec room? Right now we have some leftover furniture down there, a game table, and not much else. I think this room could be really great but it will involve fixing up some of those Facebook finds and maybe a few more things to make that room a lot more cohesive. I do want to consider it in conjunction with the wet bar and theatre room!
The Workout Room
We have a small room that used to be our guest room that we have shoved all our workout equipment into like our treadmill and a few weights. This room is super low on the priority list, I can't see ever really wanting to do much with it but eventually, if I run out of projects maybe I'll tackle it!
The Rest
Eventually, we want to replace our basement carpet and I'm always thinking about adding a little wallpaper or painting something. Once we move some things to our rear garage, I would really like to get our front attached garage really organized to function better as a workshop.
There is always something else to tweak, I'm sure there will be a hundred little projects that pop up along the way too!
If you've followed along this far, thanks for being on this renovation journey with me! Here is to another good year!
You Might Also Like: