One Room Challenge Fall 2020 – Week 3 – How to Install a Planked Ceiling
If you have clicked over from the One Room Challenge Website, welcome! I'm glad you are here! I am an interior designer and serial DIY'er based in Red Deer, Alberta, Canada! You can catch up on my One Room Challenge project in the last week's posts here:
Be sure to follow along on Instagram for more behind the scenes, and subscribe to the blog at the bottom of this post so you don't miss the weekly updates!
(This post contains affiliate links for your convenience. As an Amazon Associate, I earn from qualifying purchases. This is at no cost to you but helps support my blog, Thank you!!)
If you read my previous One Room Challenge posts you might remember The Monstrosity – the drywalled light structure that previously dominated our dining room. Once that was removed we were left with a gaping ceiling hole. Rather than try and patch the drywall and match the ceiling texture, we opted to install a planked ceiling to add some interest! This solution was the perfect mix of form + function and I couldn't wait to start getting some boards up there to patch the ugly hole!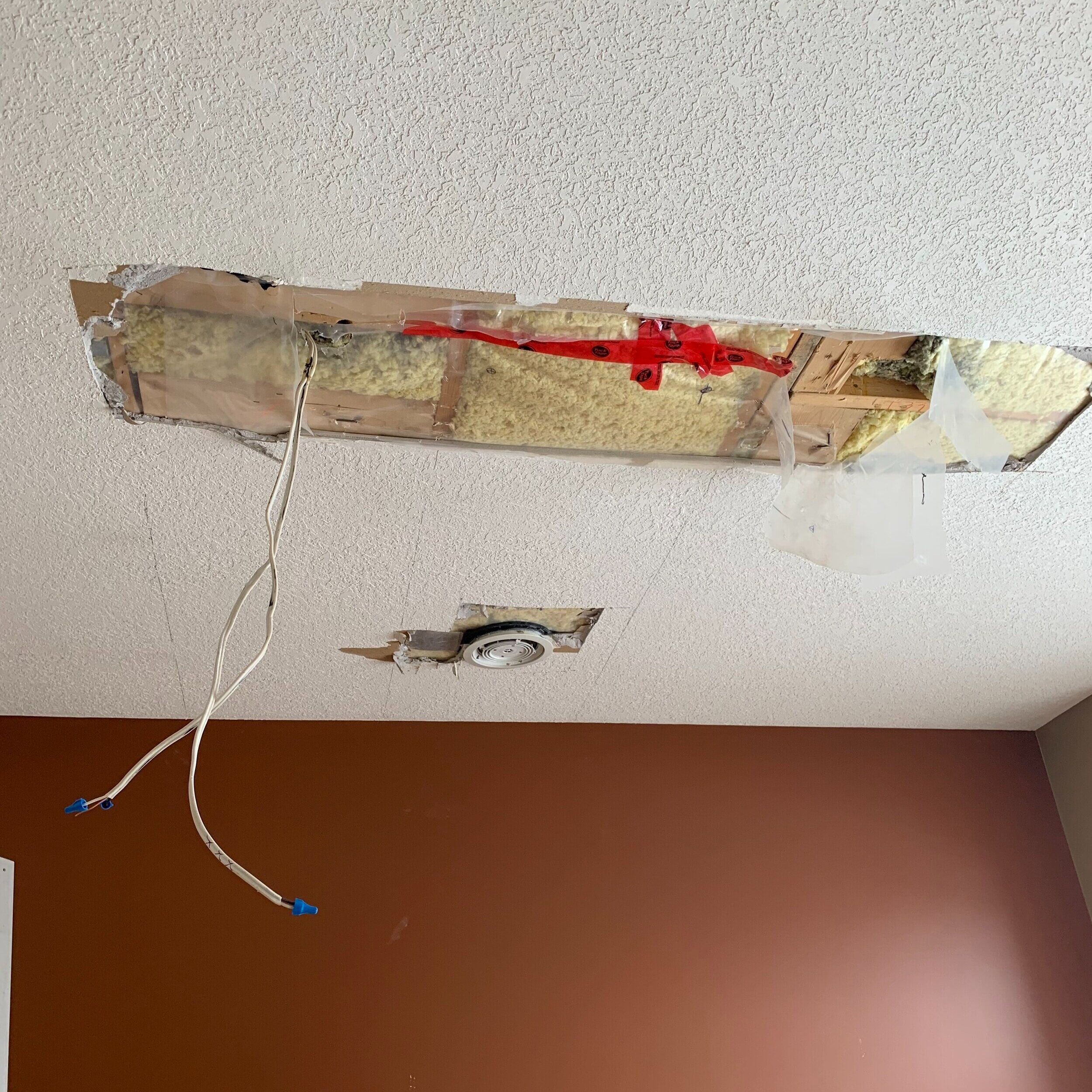 If you were following along on Instagram stories you might have seen the issue we encountered with the ceiling truss spacing. We discovered that the trusses in our ceiling actually changed directions in two places and we didn't have a consistent direction for our trusses. We problem solved for a bit (with the help of my handy brother in law who we always call in when we are stuck!) and determined we had two options. Option 1 would be to fur out (add strips of wood) the whole ceiling, which would give us a location to nail to. The second option (that probably is only relevant to our specific case where there were only a few trusses in a different direction) was to add a few cross braces between the trusses by way of the attic. Since my brother in law was around and he's very nimble and handy and offered to climb up into our attic we went for OPTION 2! Climbing into the attic is no one's idea of a good time. But he is a great guy and he did this for us and I sure hope he doesn't get lung cancer from breathing in all that insulation dust because we need him for future projects.
So if you have a normal ceiling with trusses or joists all going in the same direction this is actually a fairly easy project and once we got started we finished in a few hours. I wrote out a bit of a tutorial for you here! Happy planking!!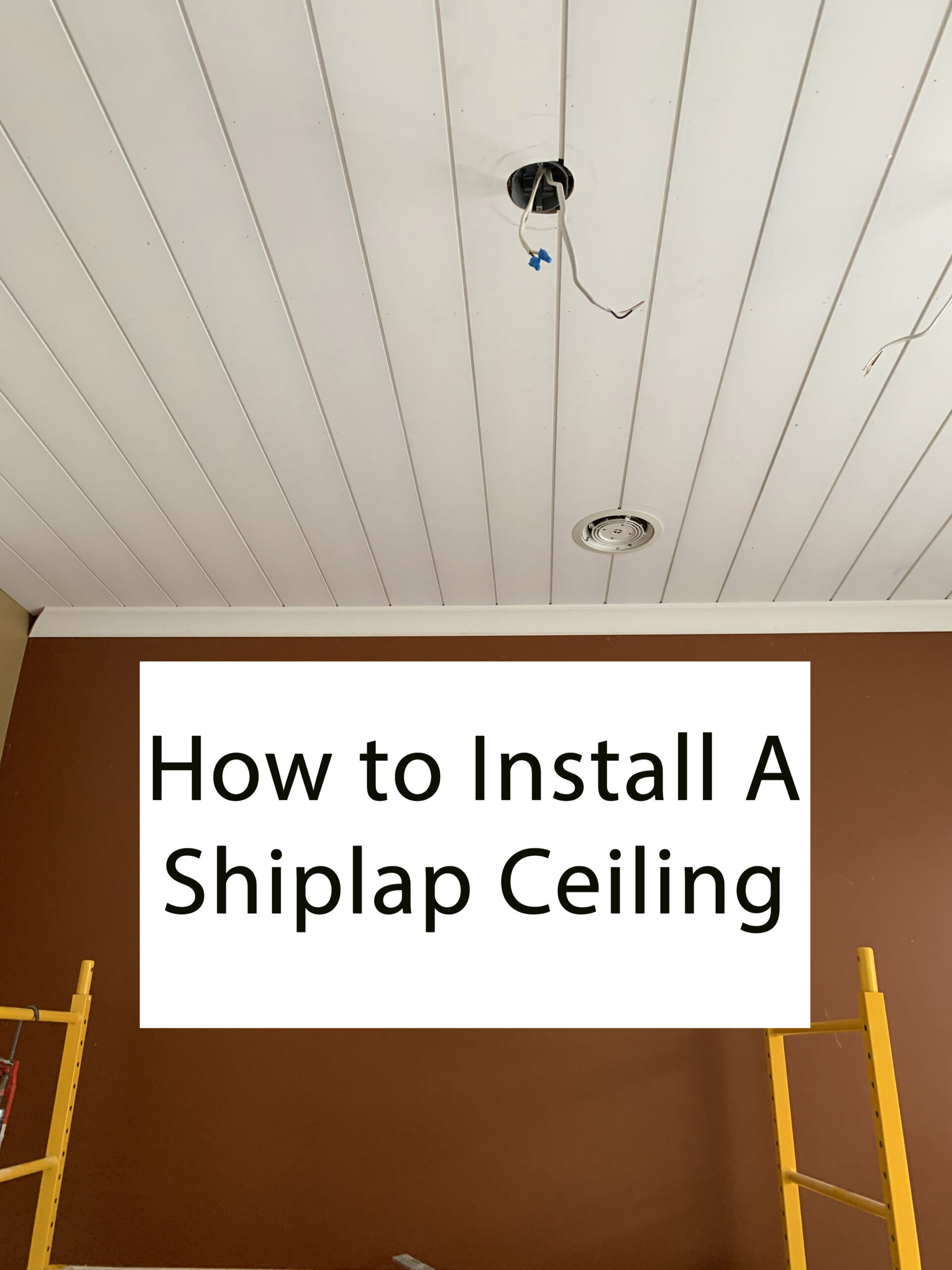 How to Plank a Ceiling
Tools and materials required:
Stud Finder

Saw (mitre saw works best for quick square cuts)

Finish Nail Gun (We have one that works with a compressor but there are some awesome battery operated ones out there!)

No More Nails (or another construction adhesive)

Planks (we used shiplap because it is the only material I could find in our town that came in long enough lengths to span the whole ceiling and I didn't want to have joints. I would have preferred tongue and groove/ V-Groove to be honest, as I prefer the more detailed, less square look of the grooves, but living where I live we have to compromise sometimes!)

Jigsaw if you have any obstacles like vents, lights, cutouts, etc. to cut around

Circular saw or table saw for cutting the last board
The first step would be to mark out all of your trusses (or joists) in the ceiling using a stud finder. Running your planks perpendicular to the trusses (or joists, if your room has another floor above it) is the easiest thing to do as you have nailing spots every couple of feet to secure your planks.
If you want to add planks that go the same way as your existing ceiling joists or trusses, you will need to fur out the ceiling as I described above by adding thin strips of wood perpendicular to your joists to use as nailers. But if you mark out your joists or trusses, and they all go the same direction, and you want your planks to go the opposite direction – you are golden, proceed to step two!
The next part, actually putting up the planks, is easy peasy.
Measure and mark the length of your plank. In our case we are adding crown moulding so we weren't that careful to get the length perfect, but if you aren't adding crown you want this to be pretty close. Without crown moulding, you would caulk the line between the plank and the wall.

Add construction adhesive – we like No More Nails.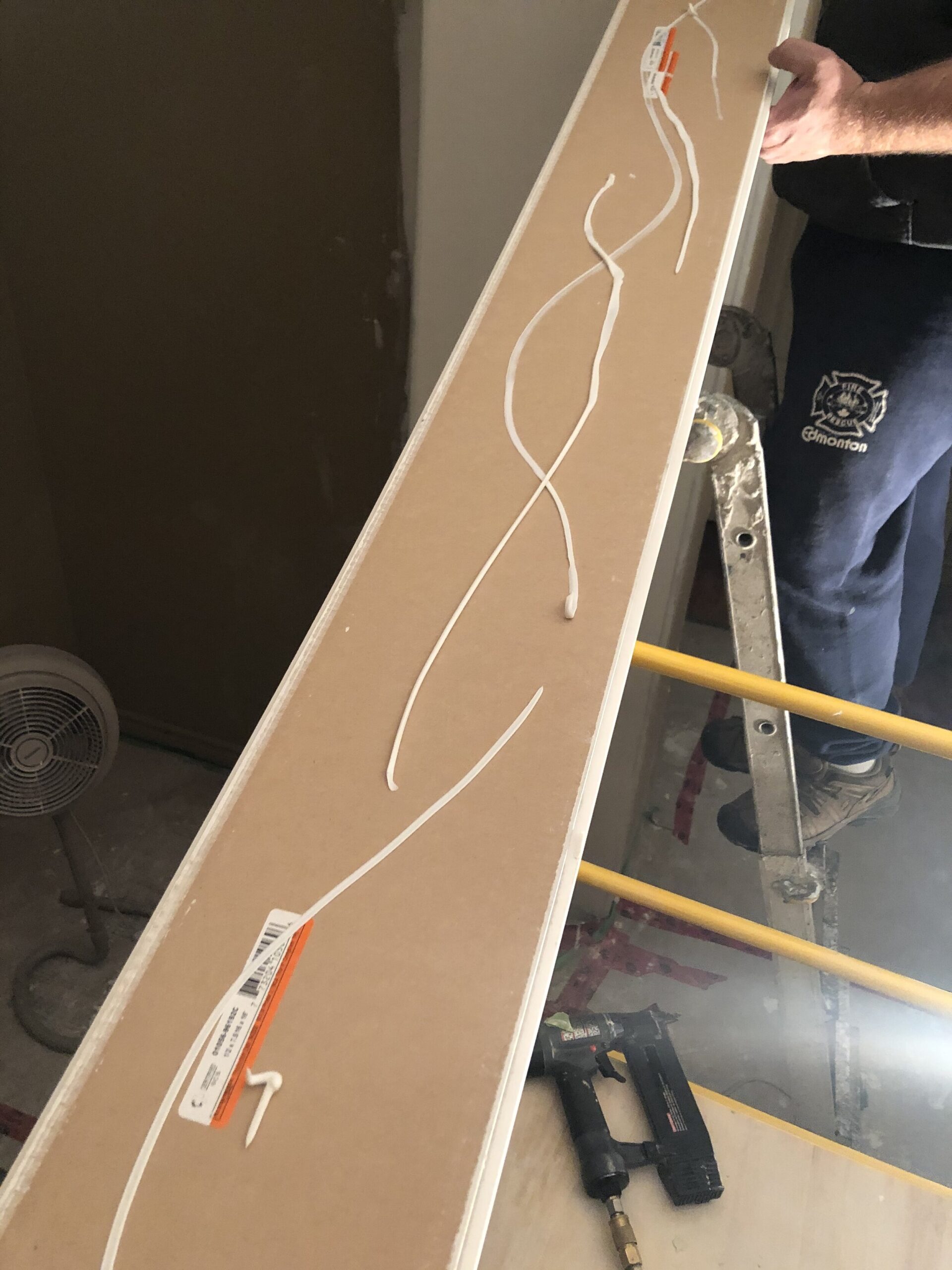 3) Nail the plank in place, adding a couple of nails in line with the joist/ truss lines you have marked all over the ceiling. You can do shiplap on a wall by only nailing into the groove and they sort of "lock" in place on the opposite side, but since this was going on the ceiling we thought it would be better to add them right to the front face and patch the holes from the nails before we paint. We do not want the sky to fall, these planks are reasonably heavy.
4) Add the next plank, (and the next…) they overlap slightly and fit into one another to keep the gap consistent, as long as you push them tight together they will stay straight.
5) If you come across any obstacles (lights, vents, etc) I found what worked best was to cut out a template from cardboard the size of the obstacle, hold the plank in place while someone traces the size of the obstacle onto the plank and then cut out the hole in the plank with a jigsaw. On the first light box we encountered I just sort of winged the hole size and it didn't turn out great, so I made the template and the next hole was perfect!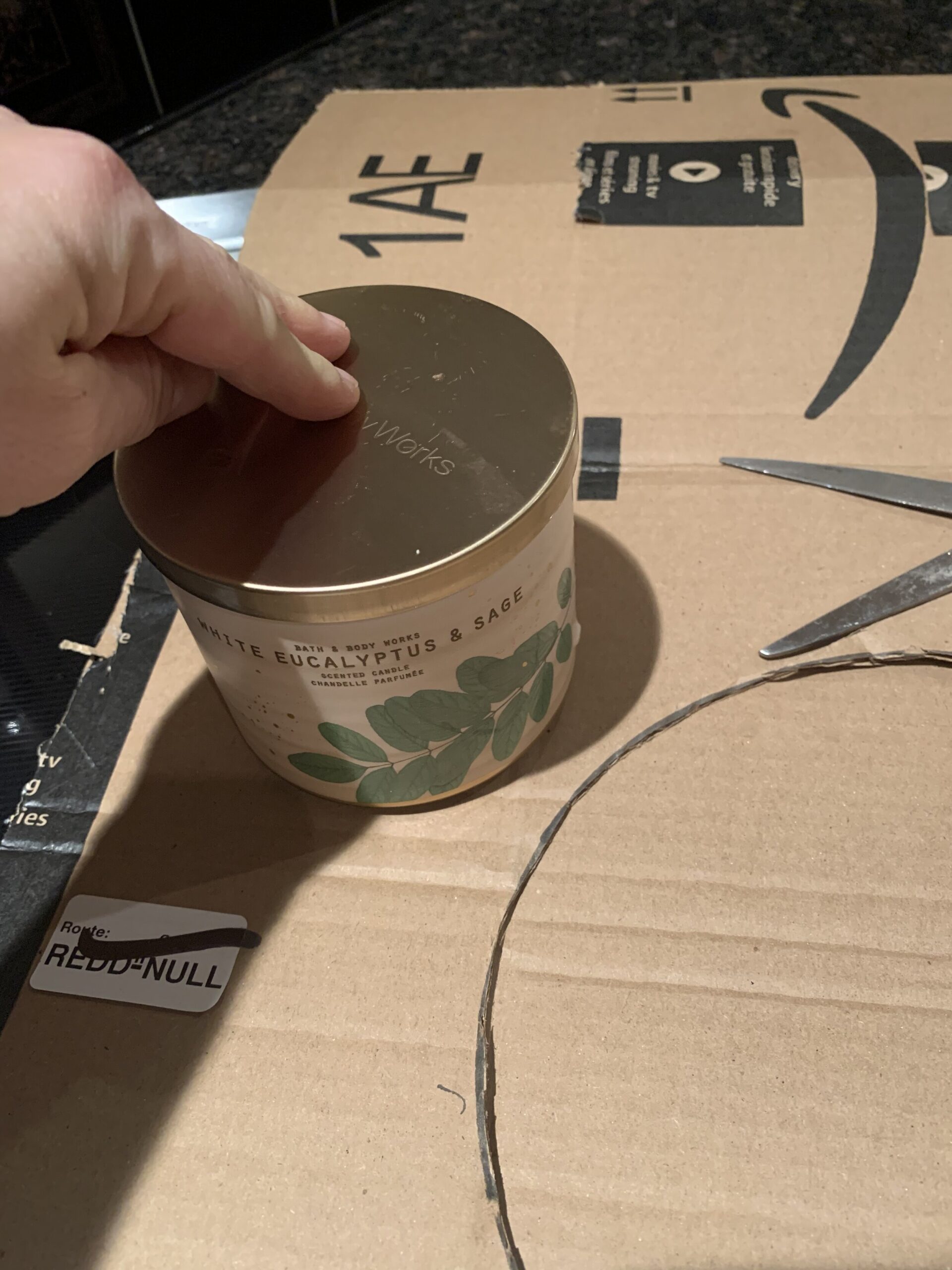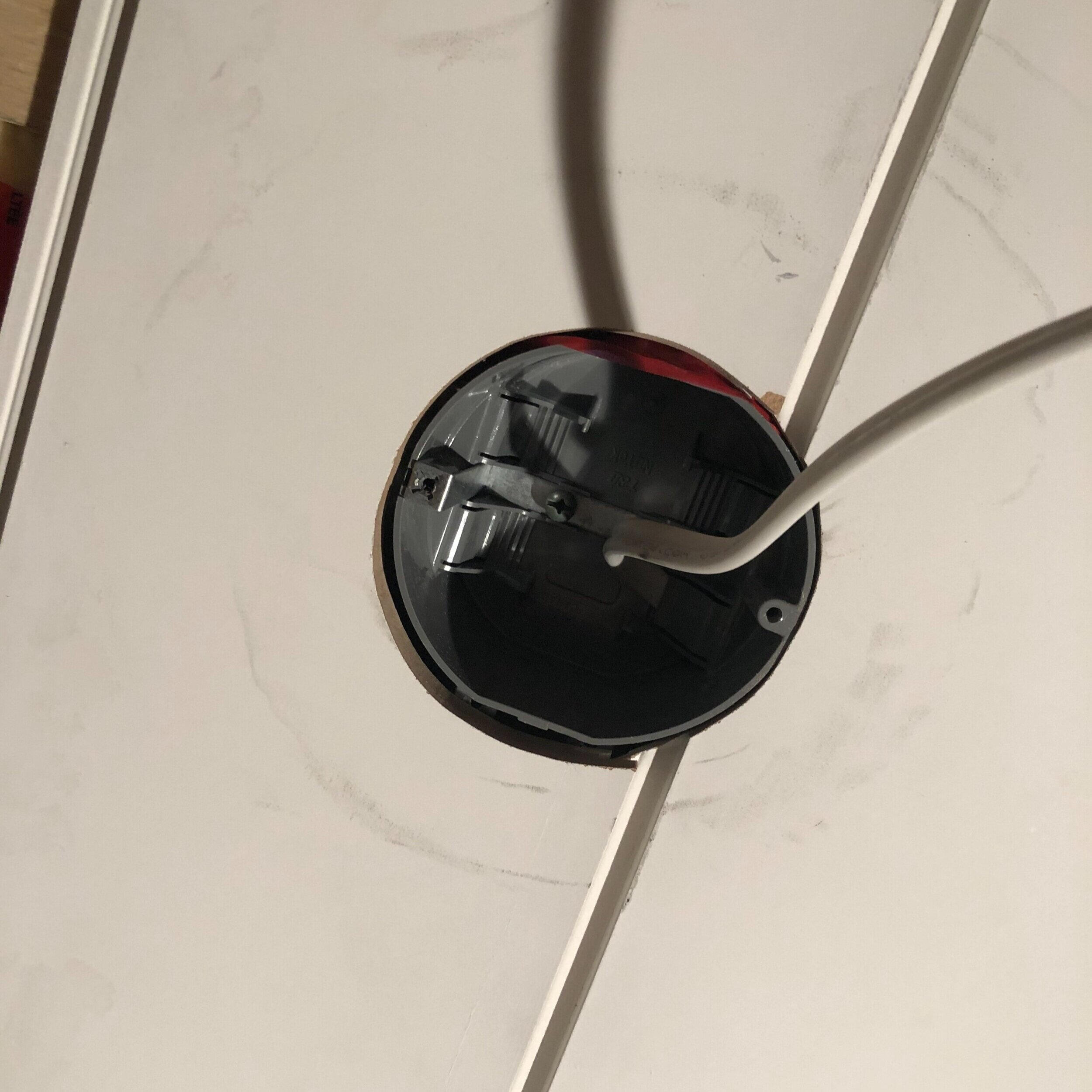 That's it! When you get to the end you may have a long cut to make along the wall as it's unlikely that you will end on a full plank. You can do this cut by measuring from your second last plank to the wall (check both sides in case your room isn't perfectly square!). Once you have this measurement, cut along the length of the board to fit. A table saw works great for a long cut like this but you can also clamp a straight edge along the length of the board and cut that with a circular saw, or even freehand it if you are covering it with crown moulding, as we are, and don't need the cut to be perfect.
Once the ceiling is up you are going to want to fill all the nail holes with wood filler, sand and paint. Painting the ceiling I do not anticipate to be a fun task so I will keep you posted on that. I am considering using my sprayer which likely means a paint shower for me, that should be some fun Instagram content for next week!!
I just wanted to give a HUGE thank you to the generous brands I have partnered with who provided sponsored items for this makeover. I'm so grateful that they saw enough potential in me and my little blog. I hope to do their fabulous products justice in the coming days!!
That's all for today – be sure to check back next week (or subscribe!) where I will have some more progress to show you . If you want to catch some sneak peeks follow me on Instagram (@erinzubotdesign), I'll be sharing a lot of behind the scenes there. Also, check out the other designers HERE or click the ORC Logo below, there is a great lineup of both featured and guest participants and there is a lot to catch up on. See you next week!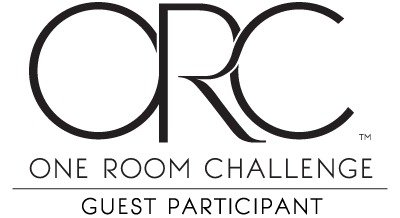 SHOP THIS POST:
Click directly on the image to be redirected. Links may be affiliate links, which means if you purchase through this link I may receive a small commission, at no cost to you. Thank you!