Best Budget Curtains for a High-End Look
One of the very first things I generally tell design clients is "add some curtains!" (Right after I say, you need a rug… but that's a post for another day!) Curtains add so much softness to a space and even if you don't NEED curtains for privacy or function, that doesn't mean you shouldn't have them for a well-designed room! Curtains can be expensive though, so what are some tips for the best budget curtains?
All curtains are not created equal. There is a huge difference between designer drapery and that panel you grabbed off the shelf at Walmart. When shopping for curtain panels you don't want to pay a small fortune for curtains, I get it. Custom curtains are so luxurious and honestly a great option if you have the means. However, there are affordable options out there and a few tips and tricks that you can use to make those new window treatments look more high-end.
This post may contain affiliate links. That means if you purchase anything from these links I earn a small commission, at no extra cost to you! This helps support my blog, so thank you!
Table of Contents
How to hang curtains for a custom look
HIGH AND WIDE!! If you get nothing else from this post, please hear that, high and wide! If you hang your curtain rod right at the top of your window and the width of your window, no matter what you use to adorn your windows those are going to look like cheap curtains. You really must hang the rod both HIGH and WIDE.
Hang it high – so my rule of thumb is generally to hang within about 4 – 6″ of the ceiling. That is going to vary depending on if there is crown moulding installed or not and the space between the window and the ceiling but it is a good place to start.
Hang it wide – depending on the room and the space you have, and the curtains you are hanging, the amount you extend the rod past the window will vary but I usually go at least 8″(or more, if your curtains are really full). My personal preference is to make sure that when my drapery is open, it will stack fully on the side of the window and not block any of the glass itself (and therefore doesn't block too much light, either!)
Why do we hang it high and wide? The curtains look more luxurious and the window looks bigger, it is as simple as that. In this simple graphic, you can see how this same size window looks so much bigger when the perfect curtains are hung wide and high.
How long should the curtains be? As far as the length, my opinion is that drapes should hang about 1/2″ to 1″ from the floor. There are some people who like to puddle on the floor and that looks great too. In my house, that is just a recipe to grab dust and animal hair and I prefer that my drapes don't touch the ground. Not only does that keep them cleaner, but also the ripples and folds hang more uniformly.
Whatever you do, don't hang your drapes too high! If they are more than about 1″ from the ground they are just going to look wrong. (Exception being if they are intentionally short curtains like over a banquette or a cafe curtain, of course).
Tip: When hanging curtains, to get them at the right height, hang your curtains on the rod and hold them up on the wall and mark the location the rod needs to go for the drapes to fall at the perfect height. In my experience, trying to just measure and mark for the perfect height never seems to work out just right, as the distance that the curtain hangs down from the rod varies depending on your rings, your rod, etc.
How wide should my panels be?
This is another thing that a lot of people get wrong when buying new curtains. They often just buy a single panel for each side, off the rack. A single curtain panel width can vary BUT they are usually around 50″ wide.
If you look at a window that has been adorned in custom drapery, you will often see that the drapes are very full, it looks like a lot more fabric than the standard 50″ panels provide, and that is because usually there IS a lot more fabric there.
So how much fabric do you need for proper fullness? Well, as an absolute minimum, there should be enough fabric so that when the curtain is closed, there are still some nice ripples and folds. (So if you ordered the curtains the same width as the window and closed them, you can imagine that the fabric would be flat. And that doesn't look very designerly!)
When in doubt… err on the side of MORE. If you have a curtain with a heavy drape or a thick lining, you might be able to get away with a little less because they have a bit more bulk.
But wait – if we are talking about budget curtains then how can we get curtains in different sizes to properly cover the window? In the past, I have doubled and tripled up on my window panels to get the fullness I needed. For my living room curtains, I took three pairs of Ikea Sanela velvet drapes (for a total of 6 panels) and sewed them together for a total width of 150″ on each side (a total of 300″) for my 116 inch large window. (Once I added the pleats, the width of the panels was much narrower).
Curtains (modified like this) – Rod (similar) – Rings – Sectional – Rug – Ottoman (similar) – Kilim Pillows (similar)
As a rule of thumb, your curtains should be a MINIMUM of 1.5x the width of your window (2x or more is even better!). So if you have a 100″ wide window, you need at least 150″ of fabric to properly cover the window (that would be two panels at 75″ each).
If you are going to do what I did and stack window panels together, then sewing them together is nice, but not entirely necessary if you don't plan on opening and closing them. If you have other ways to control natural light and privacy (like blinds) and just want the curtains for softness, you really can't tell if the panels are hung next to each other and not sewn together.
What type of header should I get?
The header styles change and go in and out of fashion, and there are some header styles that really just scream off the rack. I would steer clear of a rod pocket, Grommets, and tab tops when deciding on header type if you want your curtains to look more custom.
More traditional header styles are certainly coming back in style in recent years such as different forms of pleating. I have a few different posts on how to do your own pleats, like this one on how to pinch pleat Ikea curtains and this one about how to make your own pleated curtains or this one on how to make your own curtains from scratch.
When I buy off-the-rack curtains, I am always looking for a heading style that allows me to either do a single pleat or pinch pleat with a hook and ring. The hook and ring are what really make the off-the-rack curtain look more custom.
In order to do that you need to find curtains with pleater tape on the top or be willing to add one yourself (or sew pleats yourself). A couple of budget-friendly sources that have pleater tape installed on their curtains are Ikea and H&M. Some of their curtains also come in extra long lengths which is important if you have high ceilings.
If you really don't want to do any sort of pleat, then back tabs create a nice simple ripple fold and can be used for a simple hanging solution. However, these are not easy to move on the rod so should only be used if they are not intended to open and close much. Even if I want a simple ripple fold, I generally still try to use rings but don't pleat them.
What fabric type looks best?
If you are ordering custom curtains from an interior designer, chances are they are using a high-end fabric at a high price point. However that doesn't mean that there aren't great options for window treatments at a great price too, but the drape and weight and kind of fabric really do matter.
In my experience, heavy-weight fabrics like velvet blackout curtains are usually heavy enough to provide a good drape. I have used the Ikea Ritva curtains in several houses now because they also drape very nicely and at super affordable prices for long lengths and have a bit of faux linen textured look. Natural fibres like linen panels will also generally have a nice drape.
When I am looking for curtains online that I haven't had the opportunity to try myself, I often look at reviews and how people have styled them in their own homes to see how they drape. At the bottom of this post, I have rounded up a few different ones that I have used or seen used that I think would drape nicely.
The other thing that helps an off-the-rack curtain look more high-end is the lining. A lining is great because they help protect your curtains from fading, they have a uniform look from the street side, and they provide a bit more fullness to the fabric, again helping with making them look more substantial and expensive. The liner also helps with additional privacy, energy efficiency and light blocking, if you need it. It is hard to find budget friendly drapes that come with lining, but they are out there!
In my guest bedroom I used these very gauzy drapes from H&M and they also fall really nicely. I do wish I would have bought a second set so they were a little bit fuller, though!
In my primary bedroom, my mom made me some curtains using quilting fabric with black out lining. These panels are exceptionally skinny, but so are my windows in there! In that case, the heavy weight lining really helped the lightweight cotton have some good weight to them, so adding lining to even basic fabrics is a good way to improve the drape.
Are there any other tips to make my drapes look high-end?
Now you have hung your drapes high and wide, double or tripled the width so you have lots of fullness, and hung them with hooks and rings at the perfect height 1/2″ off the ground (hemming if needed), are you done? HAHA you wish!! No, my friends, you still have one very important step. Or rather, two.
First of all, your curtains are bound to be a little wrinkly so give them a good steaming. This is going to take a long time if you have as much fabric as I told you to get, there will be a lot of curtains to steam, but I promise it is worth it. Once the wrinkles are all gone, it's time to train.
Training is the process of carefully folding the curtain panels into uniform folds and then loosely tying them like this for a few days. I usually tie them near the top, in the middle, and at the bottom. This helps the panels fall nicely and not balloon out at the bottom and lose their shape as you go down the curtain. This makes a huge difference and all curtains, just like a new puppy, benefit from a little training!!
Semi-Custom Window Treatments
Recently I had a very good experience ordering curtains that are semi-custom and it's worth mentioning here because they are SO GOOD and a fraction the price of custom.
The hardest part about finding the right window treatments on a budget is finding the right sizes and header types. I have 10′ ceilings on my main floor so finding extra long off-the-rack panels is very difficult. If you have ever priced out custom curtains, you know how expensive those can be. Thousands!
I found these best-selling curtains on Amazon from TwoPages and I've heard a lot of buzz about them on Instagram, and when they reached out to me to try some of their curtains I couldn't resist. They have a ton of different colors to choose from and so many customization options that you really do end up with a very custom high end look. They are the best curtains I've found without doing custom.
I recently put these up in my dining nook and opted for extra wide panels so I would really have the luxe and full look of custom panels. I went with 100″ wide panels on my patio door and 84″ wide panels on the smaller window. I chose the Liz Polyester Linen in Sand Beige with a privacy liner in their pinch pleat style.
A few tips when ordering these. If you order directly from the Two Pages website you can customize the length and width. (And you can use the code Erin15 to get 15% off, too!) When deciding your width, determine the length from the bottom of your rod to the floor and subtract about an inch and a half to allow some space for the rings at the top and at the bottom so they don't drag on the floor. (I didn't do that and as a result, have to raise my rod a bit).
The width of the panels shown on the website with the pleating is the finished width with the pleats accounted for. For example, with a 100″ wide curtain, when closed they will still have some folds from the pleats and be 100″ wide.
When fully open, miy lined 100″ wide panels are about 21″ wide and the 84″ panels are about 18″ wide, so make sure you have enough wall space next to your window for these to open and stack without blocking any light, and that you have a rod that is long enough.
You are also going to need a pretty high quality rod for these as they are really heavy!
I recently changed out my beige curtains in my dining nook for some from the Sara Le collection from Two Pages. They are stunning! I did a few things differently this time. I opted for no lining and memory training so the curtains would stay in perfect little folds no matter how much we manipulated them. Without the lining they are not quite as full, so keep that in mind. These are each 84″ wide x 110″ long and I got the colour Stone.
I hope that this guide helps you find the right curtains for your window! I have also rounded up some of my favourite stylish curtains below that meet the criteria I mentioned. I also rounded up a few rods and rings.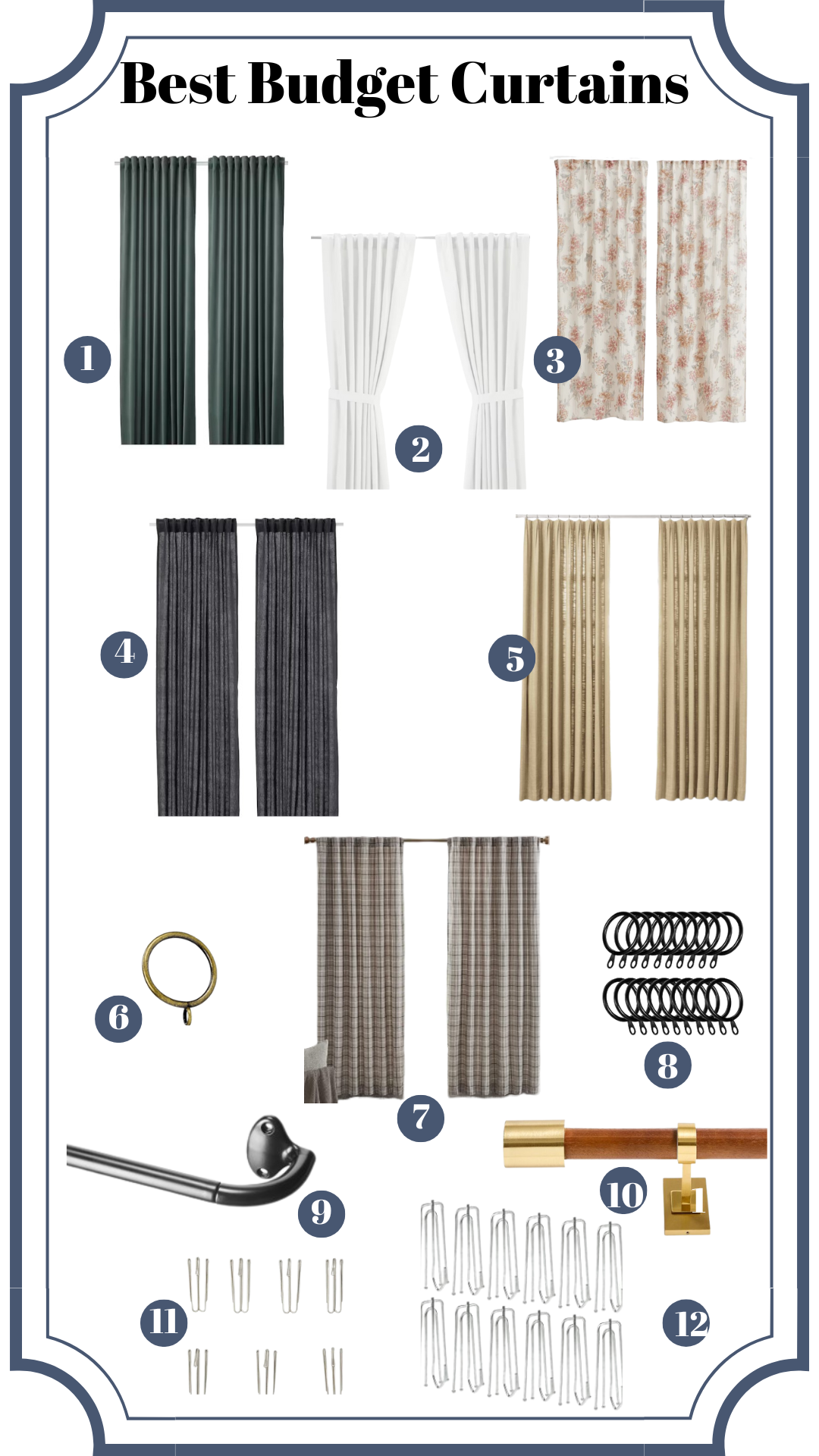 1 – Ikea Sanela – I used these in my living room and have recommended them to others. They have a really nice drape and weight and are really nice if you are looking for a velvet. They no longer carry my exact colour but they have some other nice colours now.
2 – Ikea Ritva – I have used these so many times I've lost count. They are really, really affordable and a nice off-white linen look. They have a nice light to medium weight and are slightly sheer. For best results, add more panels to make them look more full.
3 – H&M Sheer Florals – I have these in my guest room and they are a nice, lightweight sheer. They are not super substantial so you might want to buy a second set. They are always sold out at H&M but they are restocked occasionally so check back!
4 – Ikea Dytag – I haven't used these personally but they are a great price for 100% linen curtains. These are lightweight and gauzy as well.
5 – Twopages Curtains – These are the newest member of my curtain family and my favourite. The most expensive of the bunch but by far the nicest, they have a lovely drape, they have so many options to customize and a ton of available colours.
6 – Curtain Rings Brass – I've used these rings a few times before, they are a good basic ring with a loop on the bottom so your can attach your hook to them.
7 – Plaid flannel like curtains – These curtains don't have the pleating tape on the back but they look nice enough that I would be willing to either hang using the tabs or add my own pleating tape. I love the plaid and I think these would be so nice in like a basement or office or boys' room.
8 – Curtain Rings, Black – the same basic rings I've used but in black.
9 – French Return Rod – I've used this style of rod many times, I love the detail on the end how they curve around and they look very minimal when installed. They are made for blackout curtains (so they can return to the wall) but I used them other places too.
10 – Wood and Brass Rod – I often get asked about my curtain rod and I made mine, but this brass and wood one from West Elm is super similar!
11 – Single Pleat Hooks – these are the kind of hooks you want if you are going to single pleat your curtains (like in my bedroom). They also sell these at Ikea.
12 – Triple Pinch Pleat Hooks – if you want to triple pinch pleat you can achieve that with these hooks if your curtains have pleating tape on them – you can a tutorial on how to do that here.
You Might Also Like: