The Unplanned Room Makeover – The Hallway!
As we were working on removing the drywalled ledges and adding the box moulding throughout the main floor (if you missed it, check this post for the reveal!) there was one little space that unexpectedly tagged along in the makeover madness, the hallway! When we decided to add in all the box trim EVERYWHERE, the hallway started to look pretty sweet. Once it was painted with contrasting paint on the trim and doorways, I was like, hey there hallway! You are a room of your own! So I decided to treat it as such and give it a little glow up.
Unfortunately, I didn't think to take any before photos, because as I said, this was sort of unplanned. I didn't really think of the hallway as a "room", but I absolutely should have! To paint you an accurate before picture, imagine the most boring of boring hallways and that's what it was. I have this screenshot of a walkthrough video tour I did for Instagram and that's all! But it gives you an idea of what the space looked like before. A blank slate. Brown walls. Weird speckled trim, and dated hardware.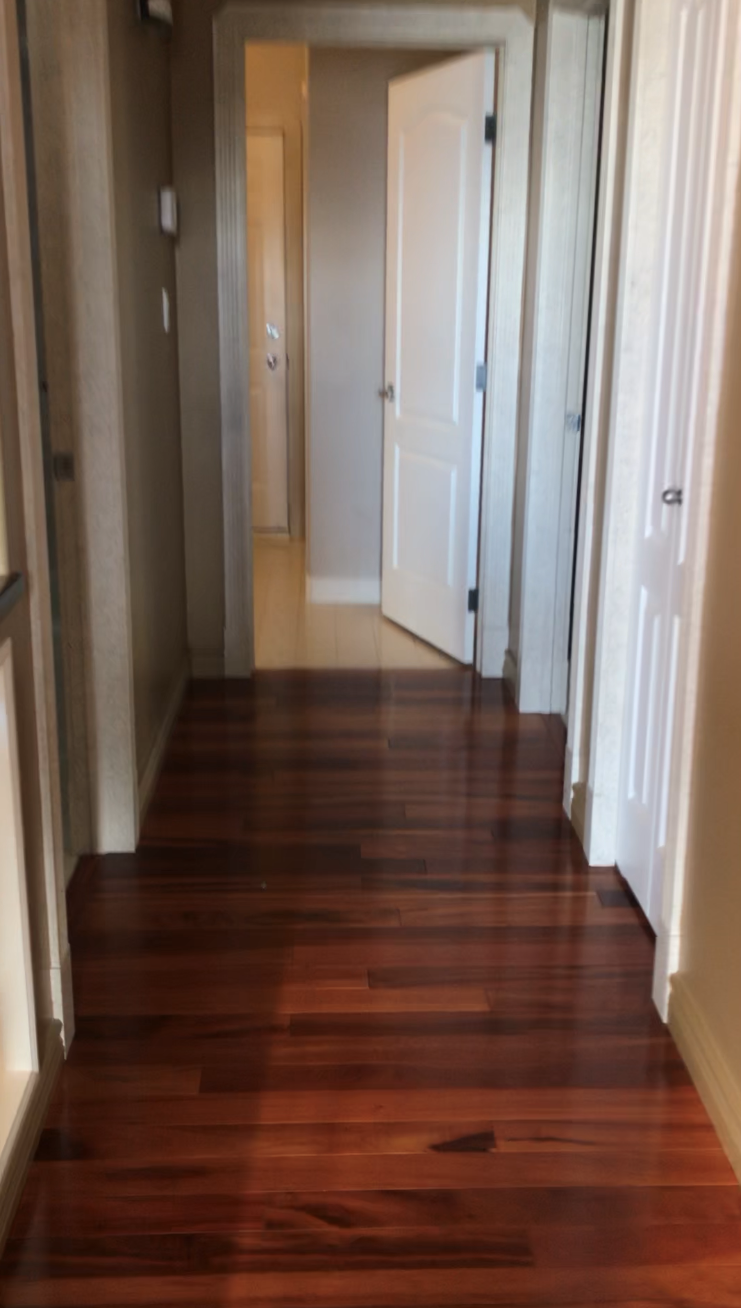 It became apparent that this hallway really deserved its own mini-makeover when we started replacing the door trim and adding box moulding and I started to see how much character a boring old hallway could have! Even just changing out the sconces made a huge difference!
This post may contain affiliate links. That means if you purchase anything from these links I earn a small commission, at no extra cost to you! This helps support my blog, so thank you!
One thing that gives the hallway a lot of personality is all the doorways, and I love how the contrasting colour on the trim and doors is really shown off in this hall as a result. But one thing became clear as the hallway started to get its finishing touches, and that was that the hardware needed updating. It physically PAINED me to put those old ugly knobs back onto these doors after we had worked so hard on them!
I contacted Emtek to see if they would like to partner with me to replace the old hardware, and I was so thrilled when they agreed. In this house, I'm leaning really traditional for most of my finishes and I wanted the hardware to be a reflection of that, something that would feel right at home in an old house and can be best friends with the 100-year-old fireplace mantel. (If you missed the fireplace mantel reveal, you can catch up on that here!) I ended up choosing these porcelain ebony knobs with antique brass rectangular rosette and I couldn't be happier with my choice! They are so classic looking, heavy and substantial. The knobs are porcelain and the backplate and other hardware are solid brass, the quality is apparent before you even open the box based on the sheer weight of these things. They are easily the nicest door hardware we've ever owned and to say I love them is an understatement.
In an afternoon, I replaced all the doorknobs in this hallway. Replacing door hardware is such an easy way to update your home! And don't forget about the hinges! If you are thinking of replacing your door hardware there are a few terms to know and I'll quickly go through them so you can order hardware that fits your existing doors:
Backset – this is the distance from the center of the existing doorknob hole and the edge of the door. Usually, this is 2 ⅜" or 2 ¾", make sure you order the right one!

Right hand or left hand – applicable for lever-style doorknobs only. I tried to explain this with words but we all know it's much easier to understand this type of thing using a picture, so I grabbed this from Emtek's website or you can check it out here.
Hinges – there are several types of hinges with different corner radius, different screw hole locations and number of screws. It is easiest to replace hinges with the same kind so to determine what type of hinge you have you should first measure the hinge length (mine were 3 ½"). Then the number of screw holes. After that, the radius. I found this cool graphic doing a quick Pinterest search that shows how you can tell two common radius' using coins. Basically, a 5/8″ radius hinge has a corner shaped like a quarter, and a 1/4″ radius is shaped more like a dime.
Those are the main things you need to know to order the correct replacement hardware! If you need more information about ordering the correct hardware for your doors and the specific terms, I found Emtek's GLOSSARY to be very handy.
I chose a coordinating antique brass pocket door hardware for the recently installed pocket door in the bedroom. We have yet to paint this door, but it's nice to have a locking door here! The mechanism on this pocket door privacy lock is so cool, it is such an upgrade from the pocket door hardware that we have had in the past that never seems to catch! This one easily catches and locks without a struggle, what a luxury!
For the door between the garage and the house, I thought maybe the porcelain knob was a little too dainty (at least for the garage side) so I went with the Norwich knob with the rectangular rosette and a coordinating deadbolt. I love this combination too, and could have happily chosen these on the interior door and been very happy! We also replaced all the hinges to match, don't forget that detail!
I decided I also wanted a longer runner in the hallway, the one I had here was from my old kitchen and it was not really wide enough or long enough for this space, plus it was feeling a little lacklustre. I have always loved this runner from Rejuvenation, but shipping to Canada is quite expensive from that company and it was out of stock, so I set out on Etsy to find something else. I was thinking vintage, but then I came across this:
Which is a pretty convincing knock-off of the rejuvenation runner of my dreams. It was also a way better price and shipping was free (although I did end up paying $30 in duty at the border) it was way more affordable. Now I know in the Rejuvenation version the black parts are wool and the rest is jute, and this one is all jute. But other than that, it's a dead ringer for a lot less, I received it in less than a week and I love how it plays off the other black accents in here!
So what do you think? Here is a little satisfying before and afters and a few more close-ups! It is these types of details that really make a space come alive, don't you think?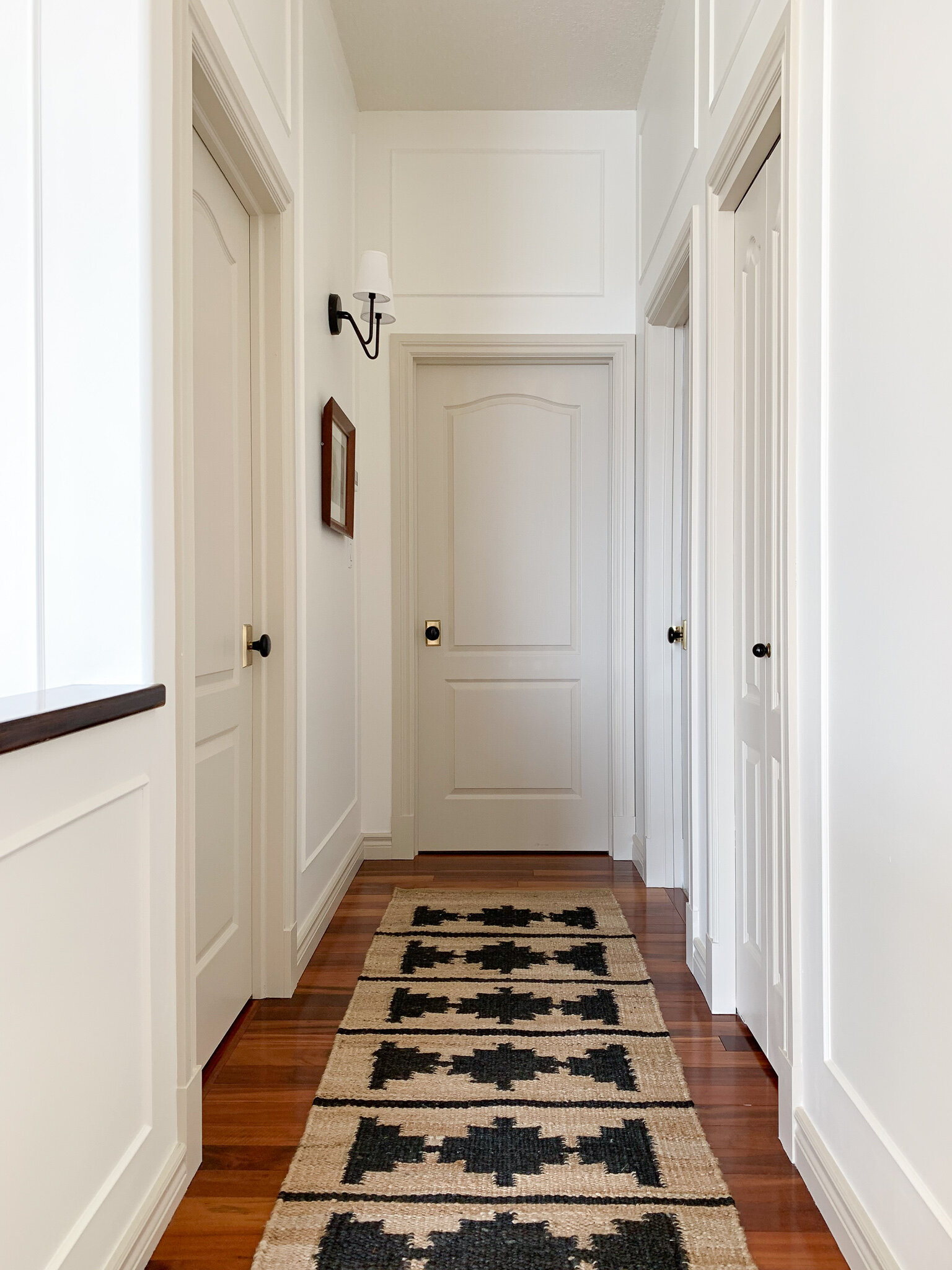 Sources: (Emtek Hardware is available through special order via many retailers, see their website for a location near you!)
Porcelain and Brass Doorknobs (Emtek Ebony Knob with Rectangular Rosette in Antique Brass)
Brass Doorknobs (Emtek Norwich Knob with Rectangular Rosette in Antique Brass) (Also available on Wayfair Here)
Paint: Walls Valspar Swiss Coffee, Trim Benjamin Moore Edgecomb Grey
You might also like: