It has been a long process but I'm happy to report that we officially have TWO totally complete rooms in the house. I've been working hard on the finishing details (curtains, art, styling!) for the past couple of weeks and I'm finally ready to call the living room done!
This post may contain affiliate links. That means if you purchase anything from these links I earn a small commission, at no extra cost to you! This helps support my blog, so thank you!
Before Photos
Before we get into the after photos, let's take a walk down memory lane and see how far we've come, shall we? Here are a few before shots – the listing photos, and then a few of how it looked right after we moved in and just dropped furniture in here. (And removed the shutters, I took those off almost right away!)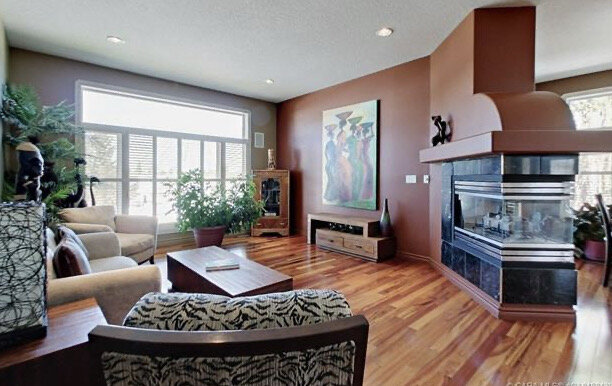 So what have we done? Well, the biggest and most obvious change is the fireplace. We removed the old angled three-sided fireplace that previously jutted out between the living room and the dining room (and made a good living room floor plan impossible!) and added a new electric fireplace on the opposite wall. You can read all about that project in THIS post.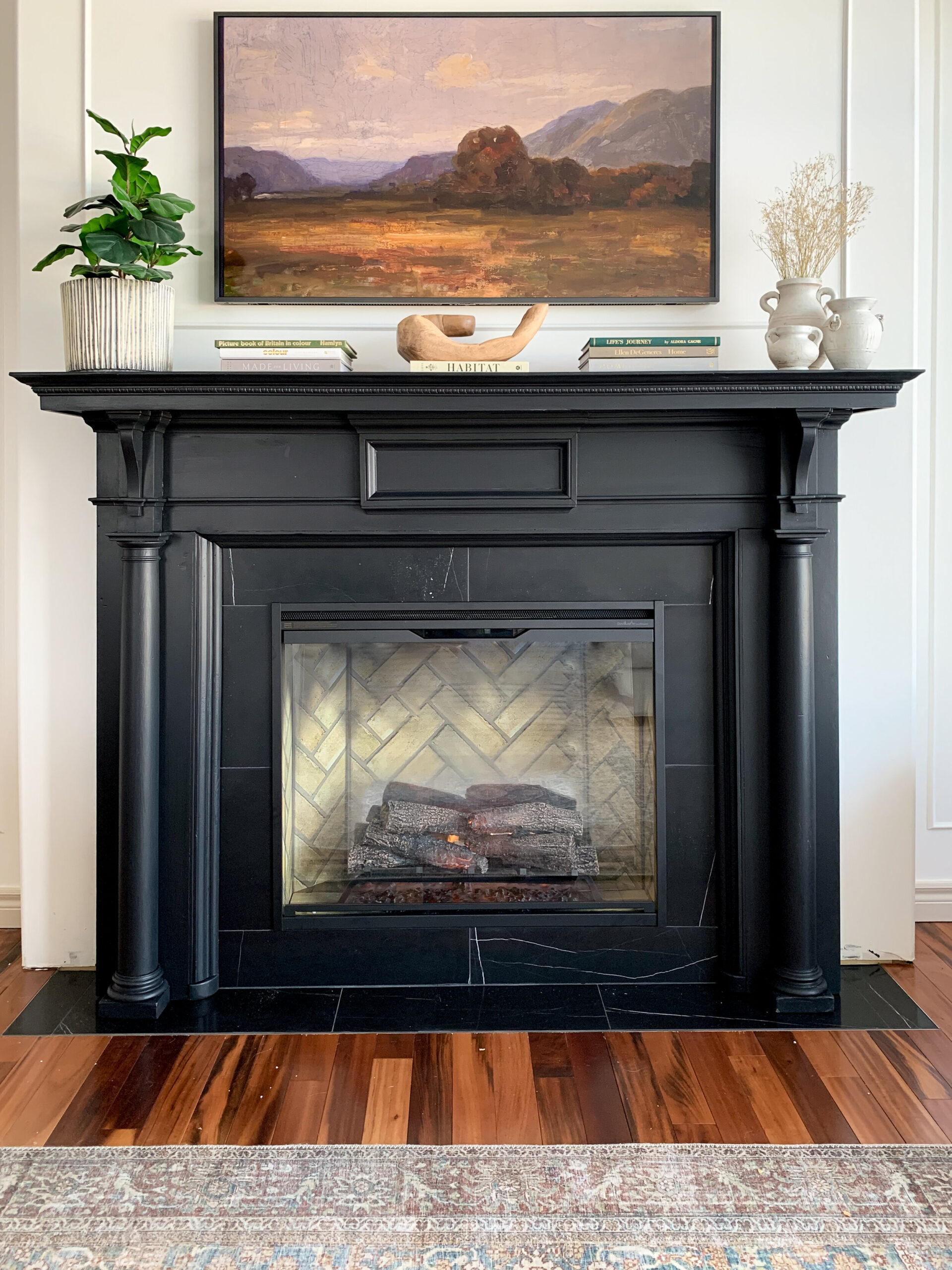 We also added box moulding all throughout the house to give the space some character and to accentuate the high ceilings. Once that was done the whole main floor was painted Valspar Swiss Coffee, with Benjamin Moore Edgecomb grey as the trim colour. You can read more about that in this post.
The windows in this house are all nice and big, and we love that about them. However, there really was a huge expanse of glass that felt very modern to me. I wanted to add something to make them feel a little more traditional… but I couldn't put my finger on what, until one day I came across a company called "New Panes". They make faux window panes for glass, and once I saw them I knew that was one way to add instant character. I added them to the top parts of the window only and I love how it looks! It makes the layout of the window glass, with the big window at the top, look intentional.
The living room was feeling a little neutral and white right after painting, so I knew I needed to bring in some contrast with colour and some darker elements. The fireplace and art helped with that, but one thing that really helped the room feel finished is the curtains! I always always always include curtains in my designs, if possible! They are a must to add some colour, pattern, interest, softness, texture – it's a no-brainer for me.
I love the look of custom curtains but I don't love the price. So I decided to give some Ikea curtains a little upgrade. The first thing I did is buy three sets (6 panels!) so that my curtains would be nice and full and be fully operational since these are the only window coverings we will have on the window. Then I sewed them together (3 per side) added triple pinch pleat hooks, a little stitch to pinch pleat them, and WOW do they look fabulous. So full and rich!
I needed an extra-long rod for my big window and really wanted something solid that wouldn't sag under the weight of my curtains or have telescoping bits that the rings would get stuck on when we opened or closed them. I found some solid wood curtain poles on clearance at my local Fabricland and I DIY'ed a wood curtain rod out using them along with some hardware from Amazon, that I spray painted gold.
I hung a gallery wall using frames and art I already had and a few new downloads (see this post for more on that.) Other than that, the rest of what went into this space were things we already had, for the most part. I always try as much as possible to work with what I have if I can and in this case, I think it turned out alright!
So without further ado…. The living room!
And because I know we all love a before and after shot, here you go!
Sources:
Ottoman (mine was a DIY – but modelled after this one)
Pillows (similar, most are from this shop)
Chair (Vintage)
Black end table (similar) or this one
You might also like: