How to Hang a Rug over a TV
In this tutorial, I'll show you how easy it is to hang a rug on the wall over a TV! Why would you do this? In order to disguise the TV, of course! A TV is something almost all of us have, but not all of us think it should be a feature in our rooms. So how do you have both a beautiful room and a TV? Put a rug on it! (Ha! If you know me at all, "put a rug on it" is basically my motto.) This is a quick and easy DIY you can do in less than an hour and goes a long way towards hiding that unsightly TV! Here is how you do it!
This post may contain affiliate links. That means if you purchase anything from these links I earn a small commission, at no extra cost to you! This helps support my blog, so thank you!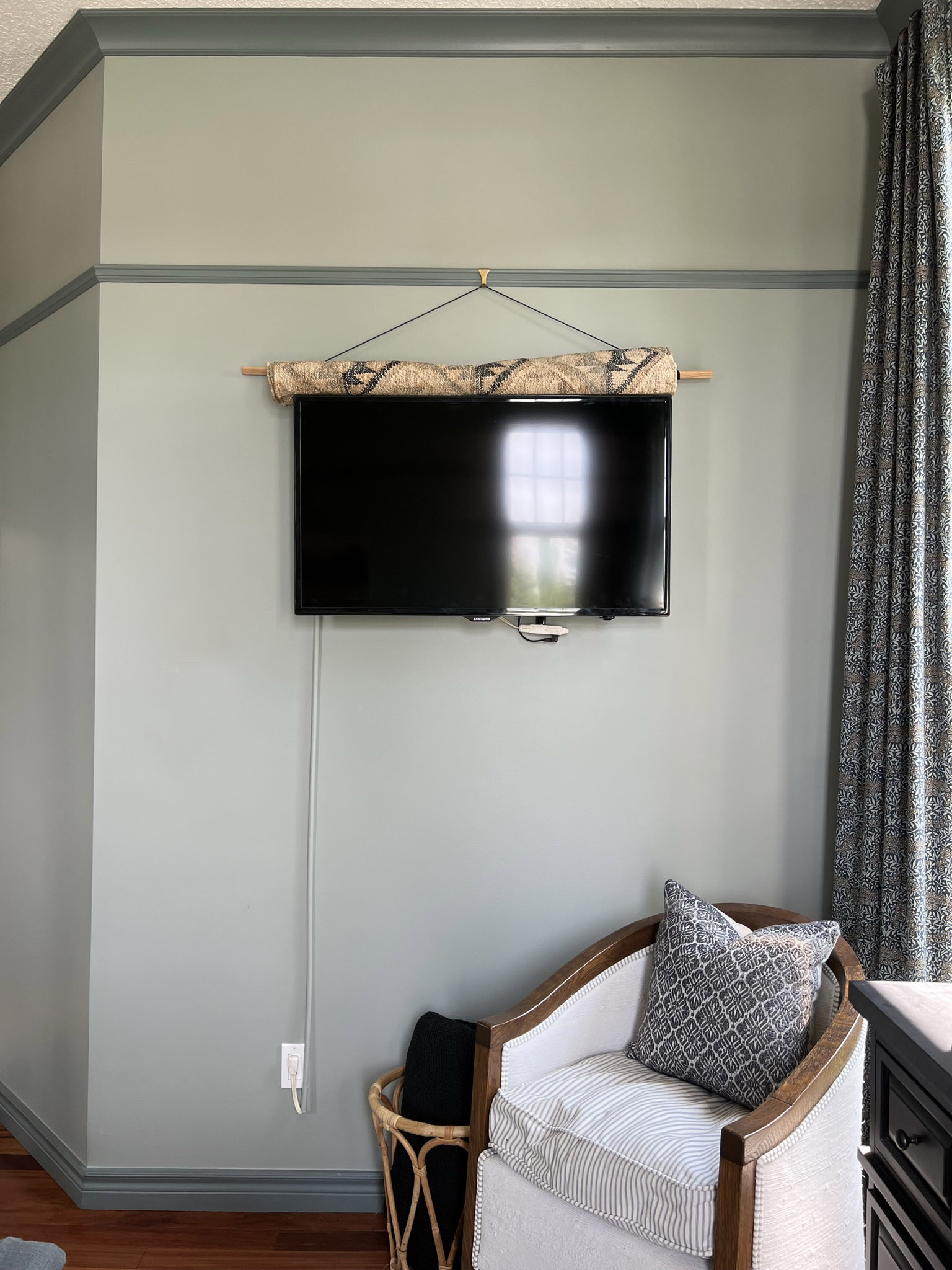 I used this trick in our bedroom where we have an older TV. If you missed the bedroom reveal post you can catch that here!
Table of Contents
Materials:
The Rug – what type of rug to use to hang over a TV?
The rug you choose should be at least as wide as the TV and a good scale for the room. My TV is 36″ inches and my rug is an 40″ x 60″ size rug, so it's just barely wide enough to cover my TV. Whatever rug you choose, it needs to be the right width in order to hang it over the TV and fully disguise it.
I think that a lightweight kilim or other flatweave is best for this trick, something that is not too thick or heavy, so it can easily be rolled up and placed on top of the TV when you want to watch it.
Here are a few rugs I think would work great for this. Choose something that would be complementary to your room and act as art!

Dowel or Wood
I used a piece of scrap wood I had in my garage, but any sturdy piece of wood will do for this. I recommend about a 1″ wide by about 1/2″ piece or a 1/2″ dowel. You can stain or paint the wood if you like to match the room, I left mine unfinished. This wood will show so I would choose a nice piece of wood, this one would work great!
String
I used some black string I had on hand, but any medium-duty string would likely work for this.
Tools:
Staples! That's all. I used a heavy-duty stapler I've had for years similar to this one.
Method for Hanging your Rug over your TV:
Cut the wood to size. The wood dowel or piece you are using should be about 6″ longer than the rug you are hanging on it to allow room to attach the string, with a few inches on either end.
Staple the rug onto the Wood, centering it on the wood piece, leaving an equal amount on either end of the dowel or wood sticking out. I really don't believe that staples will hurt most rugs if you are planning to use the rug as an actual rug again at some point in the future. If you are worried about that, you could also attach the rug to the dowel or wood piece using double-sided carpet tape. Fold the rug over the dowel or wood piece so the staples go into the back side.
Attach a string to the wood by tying a quick knot, then loop the string around several times until it feels secure and tie a second knot. Repeat for the other side.
Hang it up! I have a picture rail trim in my bedroom so I just hung mine from that. If you don't have that, you can also hang it from any wall hook – just be sure to center the hook over the TV and at the right height so that the top of the rug hits about 8-10″ inches over the top of the TV, and make sure the hook is strongly anchored into the wall (you will need to hit a stud or use some heavy-duty drywall anchors that are rated to handle the weight of your rug).
That's all there is to it!
---
Alternative Method: If you think the idea of using the string is too casual, you could also nail the top wood piece directly on the wall. This would keep the wood straight all the time when rolling it up or down, just make sure it's secured into a couple of studs as the movement or rolling and unrolling the rug often is bound to put a little extra stress on those attachments. Also, since this would keep the wood piece tight against the wall, I would try to hang it a little bit higher, depending on the thickness of your TV.
---
FAQ's about hanging a rug over your TV:
How does the rug over the TV look from the side?
From the side, you can see the TV. Depending on how your room is laid out, you may not really notice it, if looking at the TV from the side is not a common viewpoint in your room. Also, our TV is older and has a pretty deep profile, so it's sort of the worst-case scenario – and it doesn't bother me one bit The area behind is pretty dark.
2. Is it annoying to roll it up and down?
That depends on the person! It's super easy to flip it down, but a tad more annoying to roll it up. It annoys me less than my husband since a) it was my idea and b) I'm usually rolling it down and he's usually rolling it up! It only takes a minute to do, however, so if it's important to you to have the TV hidden then I don't think you will mind. (And if you are reading this blog post I'm thinking finding a way to disguise your TV is important to you!)
3. Will the rug be ruined if I hang it on the wall?
No! The staples could be removed and the rug reused somewhere else, this is not permanent! You have nothing to lose!
4. Is this the best way to hang a rug on the wall?
I think this is the easiest, most DIY-friendly way you can hang a rug on the wall, but it is a pretty casual look. If you want to use a rug as art (and not just a television cover) this would work for that too. Some other ways you could hang a rug on the wall include:
Put the rug inside a frame (for small rugs or vintage remnants)
Mount it on a wood frame. Deb at Seeking Lavender Lane did an amazing project with a huge rug, hanging it on a wall with a frame, check that out here!
You could also mount the rug on the wall using the dowel and wood method that I outlined above, but instead of using string, just nail the wood directly into the wall.
What are some other ways to disguise a TV?
I'm always looking for ways to disguise a TV when working on a room design. Here are a few more ideas on how you could disguise or camouflage your TV:
Samsung Frame TV: In my living room, we have a TV front and center over our mantel and it's in the main area of our home, so in there, I decided to splurge on a Samsung Frame TV. If you don't know what a Frame TV is, it's a TV that displays art on the screen when it's off. It is quite realistic and it's a great alternative. You can even get custom frames for your Samsung Frame TV, making it look even more like art.
One-way mirror: Another great way to hide a TV is by putting it behind a one-way mirror – when it's on, you can see it, and when it's off, it looks like a mirror!
Camouflage it: Another thing that is quite effective in camouflaging a TV is to paint the wall behind it black. When the TV is off, it just blends into the background creating much less of a focal point for itself.
Make it a feature: In our last house, I put a gallery wall all around the kid's TV in their game room, which didn't really hide the TV but made the TV a part of a bigger, more interesting art installation and therefore made is less of a focal point.
Whatever way you do it, whether you hang a rug over your TV like I did, or use some other method to camouflage your TV, I think it's something worth thinking about when designing a room where a TV is necessary.
How to Hang a Rug over a TV
Simple directions on how to easily hide away your TV by hanging a rug on the wall!
Materials
Lightweight rug of choice (Size slightly wider than your TV)
Dowel or piece of wood, wider than your rug
Heavy duty string
Hook and hardware to hang hook
Tools
Heavy Duty Stapler
Saw to cut wood (or have Hardware store cut this to size for you before you leave the store!)
Instructions
1. Cut your wood piece to be about 6" longer than the width of your rug.
2. Place your Rug on the floor face down, and place the wood piece on top of it at the top of the rug. Line it up evenly and roll the top of the rug over the wood.
2. Staple the rug onto the wood, putting lots of staples in until the wood is securely attached to the rug.
3. Tie the string securely to one end of the wood, wrapping around many times. Leave a little slack (as much as you need to hang your rug at the height you want) and tie the other end of the string to the other side.
4. Hang on a hook or nail above the TV. Ensure that the hook or nail is in a stud or a heavy-duty drywall anchor if a stud is not available.
5. To use, roll the rug up and tuck it at the top of the TV. When you turn the TV off, unroll the rug and hide it away!
You Might Also Like: