Curtain Track as a Ceiling Mounted Shower Curtain Rod
The first time I tried a ceiling-mounted curtain track I was kind of hooked. The ease of operation for a curtain track compared to almost any other type of curtain rod is unmatched! There is a reason you see them in every hotel room, they just WORK. So when I was working on my guest bathroom for the One Room Challenge and I was looking for a nice shower rod, I decided to try a curtain track as a ceiling mounted shower curtain rod instead – what a game changer!
This post may contain affiliate links. That means if you purchase anything from these links I earn a small commission, at no extra cost to you! This helps support my blog, so thank you!
I have since swapped out the rusty old tension rod in the kid's bathroom for a ceiling curtain track too and they are two happy teens.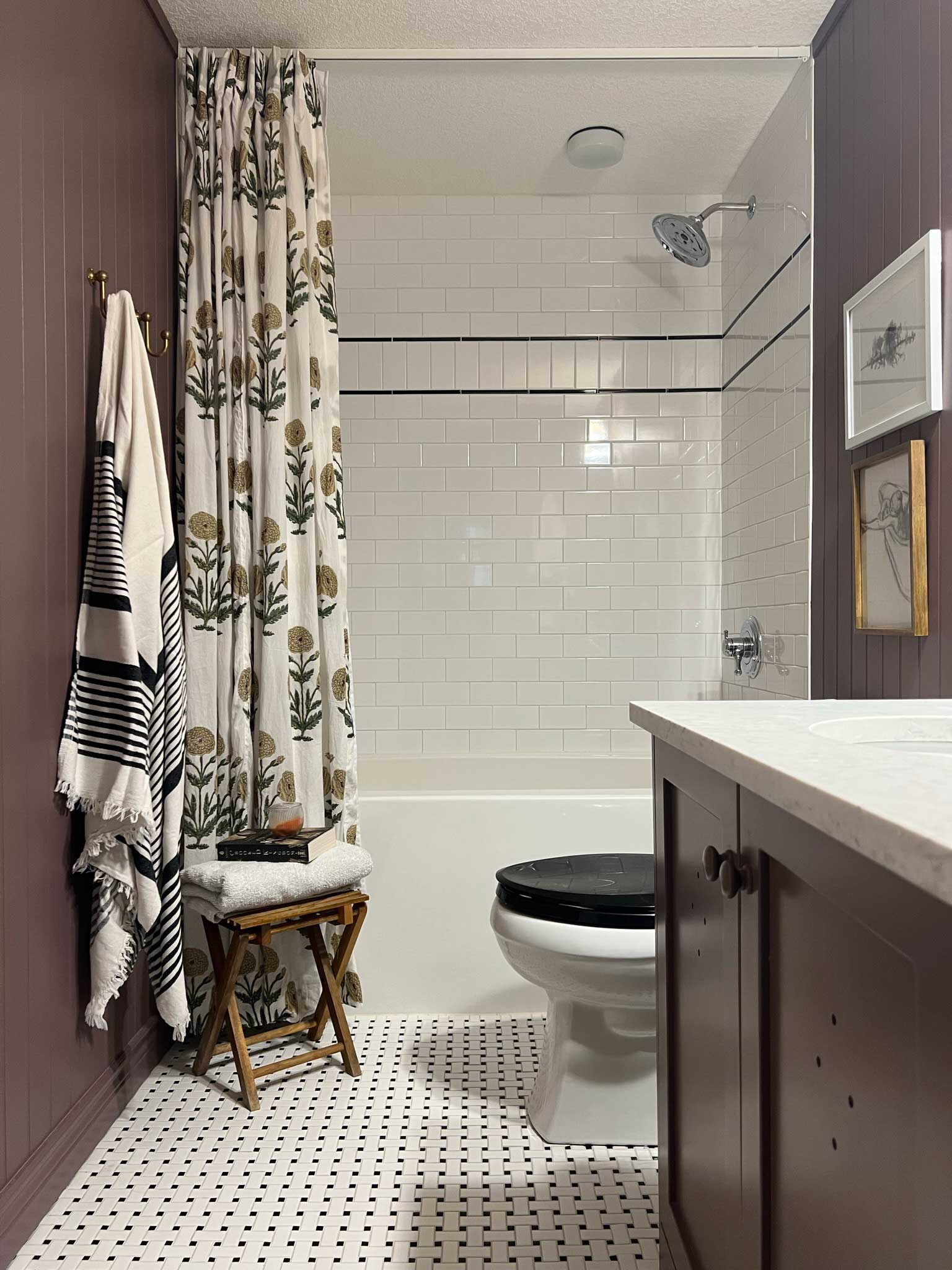 There are a couple of things to consider if you are planning on using these types of curtain tracks for a shower curtain, so read on if you want to find out what those might be!
Table of Contents
What is a Curtain Track?
A curtain track is like track rails that mount to your ceiling (or walls, with wall brackets) and have little rollers inside that slide along the inner channel. The track is generally made out of aluminum and the rollers that slide inside are usually metal or plastic. You might think of those hospital curtains that they use as room dividers. They can be flexible and have 90 degree bends (or any kind of bend, really) or they can also be straight.
​Why use a Curtain Track instead of Tension Rods
If you have ever had a "Rust-Free" shower rod you know that they rarely stay rust-free. Eventually, with normal wear, they start to build up with rust and the rings don't move well anymore and you start to have a lot of trouble pulling the shower curtain.
The rails I've used in my home were made up of aluminum and plastic and they just don't have those rust issues. After a couple of years of heavy use, they still roll just as easy as they ever did!
Even if you don't have rust issues if you use a shower track instead of a rod, it glides so much smoother than a rod with shower rings and it also is very small and not super noticeable.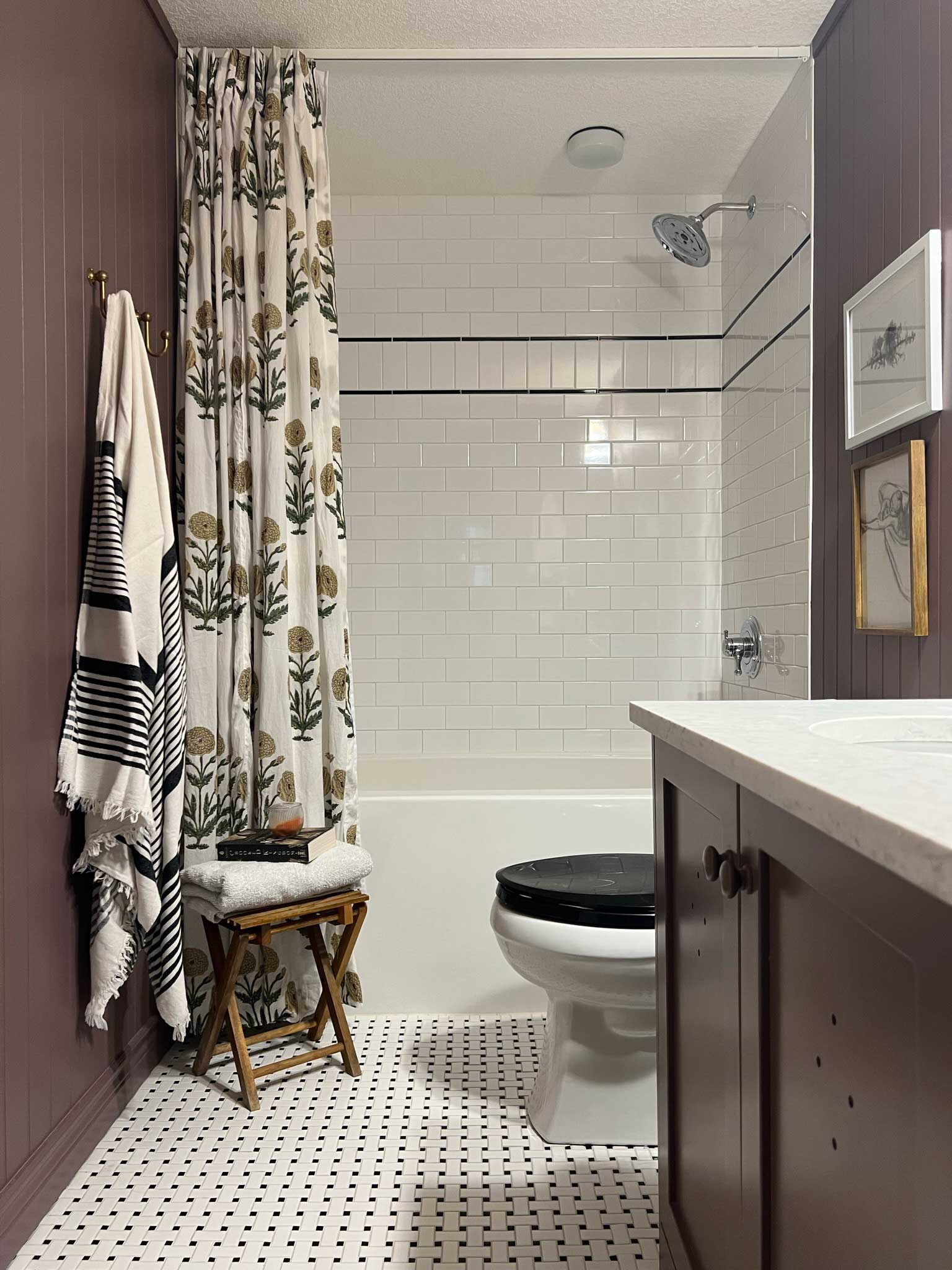 ​What Do I need to know before I use a Curtain Track as a ceiling-mounted Curtain Rod?
Lighting
First of all, if you are mounting any curtain rod right up to the ceiling using ceiling supports (or even a rod that is mounted close to the ceiling) you are going to block out most of the light that might be coming from the rest of the bathroom.
Before you decide to proceed with this, make sure you have enough light inside your shower so that when the curtain is drawn you can still read your shampoo bottle. The first time we installed a ceiling mounted rod in our guest bathroom, we didn't have a light in the shower area but we did have a fan. I swapped out the fan for one with an integrated LED light. That worked out perfectly.
In the kids' shower, they already had a light over the shower so I didn't have to make any modifications.
If you have a window in the shower that might work as enough light most of the time. You might have to consider a lighter color shower curtain that will allow some light through as well if you shower outside of daylight hours.
Ventilation
When I first talked about this on my Instagram page I had quite a number of people concerned with ventilation and the potential problem of mould and mildew build up. With the track systems that mount directly to the ceiling, there is very little room for hot humid air to escape into the rest of the room. There is a lot less space than there would be with a regular shower curtain that leaves a space up top.
Where I live, it is very dry and humidity is not really something that we have to deal with, so this might be different depending on where you live, but we really do not have any issues with mould, mildew, or excess humidity build up. After we use our shower, we leave our curtain open and the fan on for 10 or 15 minutes to allow the steam to dissipate and we have not had any concerns at all.
What if I don't have a light or I'm worried about ventilation, can I still use a track?
To see if a ceiling mount will work for you without committing to the installation of curtain tracks, place a tension rod right up close to the ceiling and shower with it like that for a while. If there are issues with ventilation or light, maybe this won't work for your space.
One way to still use a track and use the light or ventilation from the main part of a bathroom would be to install the curtain on a short chain that hangs down a bit from the ceiling, creating a space. You would still have the benefit of the ease of use of the shower tracks.
Where do I get an extra-long shower curtain?
So here's my little secret. You don't need a shower curtain for this. Regular shower curtains are almost always about 72″ long and so won't work for this type of installation. However, the only part that needs to be waterproof is the curtain liner, so as long as you get yourself a long curtain liner you can use any curtain you want!! Mind blowing, I know!
​This is the shower curtain liner that I bought, they do have long curtain liners for shower stalls too.
In both of my bathrooms I did a custom shower curtain (one that I made (and I have a tutorial on it here!), one that my mom made for me). A shower curtain is a super easy sewing project, so easy that I actually did one myself and wrote a tutorial on that here!
But if you aren't into sewing, you can also use any curtain pair as long as you can figure out a way to hang it. One easy way would be to use a grommet kit to install grommets in any off-the-shelf curtain (no sew!). Another way would be to add curtain hooks like these and just stick them right through the top hem of the curtains. That is actually how I hung the curtains in our media room where I also used a curtain track!
If you are using regular curtains as a shower curtain, you will probably want to sew them together as well so you have a single, wide curtain. Or you can use iron-on hemming tape to attach them together, even easier!

If you just want to buy one that is ready made, you can get shower curtains made to order on Etsy or here are a few long ones I found:

How to install the curtain track
The curtain tracks I have used are this one from Amazon and this one from Ikea (the VIDGA). They both do the job really well. I think the Amazon one is definitely more heavy duty and the prices are not that different as you need two VIDGA's to span a normal 60″ bathtub. The Ikea one, however, is a lot more dainty and maybe less noticeable on the ceiling in my kid's bathroom due to its white finish.
I chose a rigid, straight shower curtain track instead of one of the ones that bend. However, one of the flexible tracks would be great for around a claw foot tub or in a corner shower where you wanted the curtain to go around a bend.
​For the straight rods, all I did was cut the track to size. The tracks come in different sizes, if you buy one from IKEA you will need to buy two to piece them together (don't worry, they do that easily and still function well!). The one from Amazon was 6′ long and so for most bathtubs, a single rod is all you need.
I cut the rod to the length of my bathtub on my mitre saw. If you don't have a mitre saw, you can cut it with a hand saw like a hacksaw. Whichever one you buy, they are aluminum and cut easily. You insert all the little rollers for the track into the channel of the track and put an end cap on. The track is now ready to be installed on the ceiling.
The tracks come with ceiling supports that you install across the ceiling. For both of my showers, I only had a couple of studs that I could attach to so for the intermediate supports, I added drywall anchors to attach them to the ceiling for a little extra support. I placed them about every 12-18″ and they are super sturdy.
Once the track is installed, all you need to do is add your shower curtain! For the Ikea track, it didn't have any hooks so I added these.
For the hall bathroom track I used, it included hooks so all I had to do was slide both the liner and the curtain onto the hooks at the same time.
The Final Look
I really love how much more luxe a ceiling mounted curtain looks in a bathroom. I also love the softness that a shower curtain adds to a bathroom that can be a bunch of hard surfaces. The ceiling mounted shower curtain ticks a lot of boxes for me.
In my guest bathroom, I ended up making a bit of a valence to go in front of the shower curtain track and installed crown moulding on that was continuous with the rest of the bathroom. I wrote all about that in this post. It does a great job of hiding the track.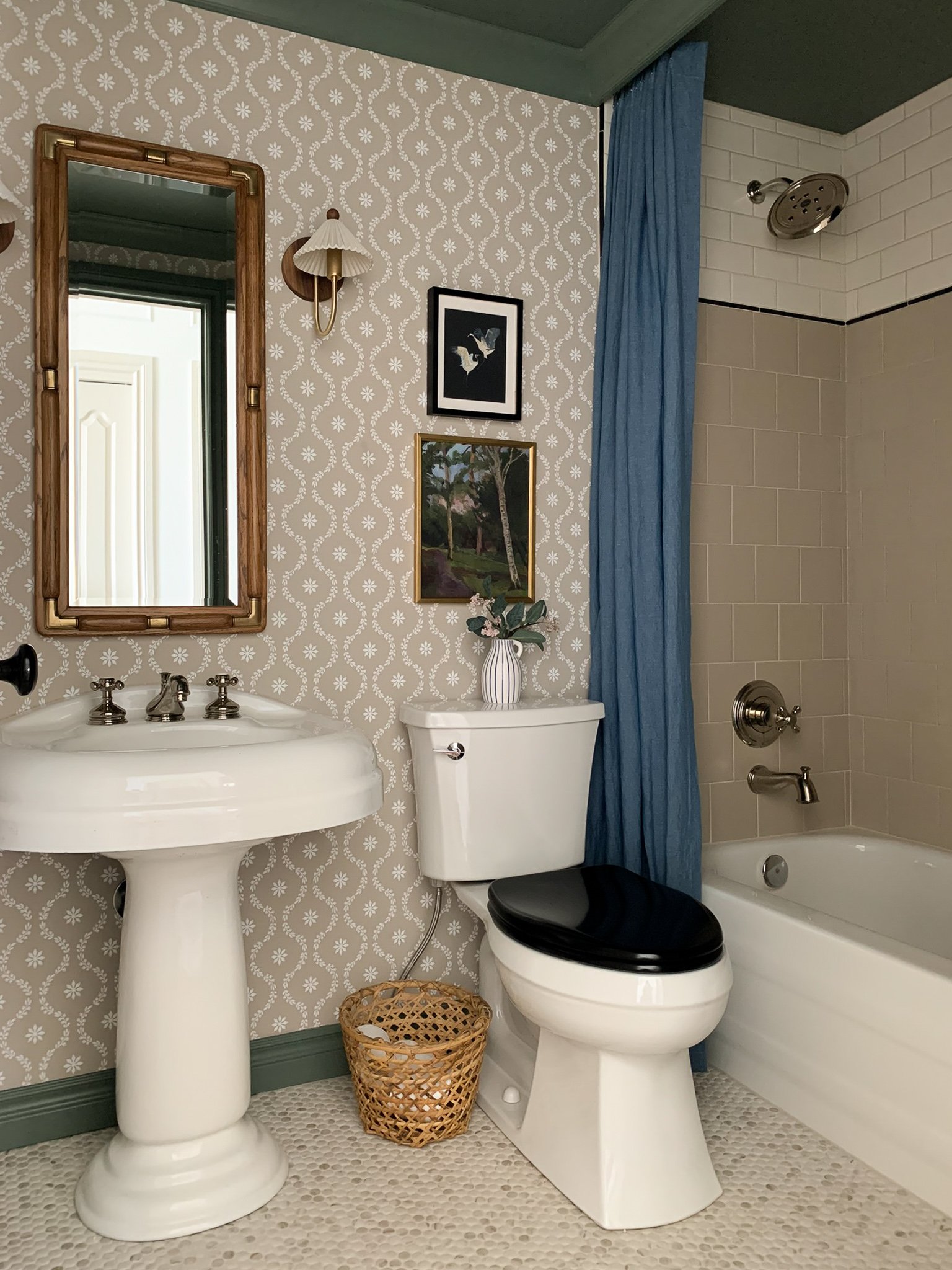 When I added it to my kids bathroom I just attached the white Ikea track to the white ceiling and it looks totally fine! It is actually a lot less noticeable than the old rod that was there before so I would say that hiding it isn't necessary.
​So what do you think? Would you try a shower curtain track?
Shop this Post:

You might also like: