One Room Challenge Spring 2022 – Week 4 – Tips and Tricks for Laying Mosaic Tile
If you've hopped over from the One Room Challenge website, welcome! We are in the thick of the renovation of our guest/hall bathroom. If you want to catch up on the plan and the progress to date, read all about it here:
This post may contain affiliate links. That means if you purchase anything from these links I earn a small commission, at no extra cost to you! This helps support my blog, so thank you!
This week, I got the floor tiled! I am so happy with my choice, it's a marble-look porcelain tile from Daltile and it's just everything I hoped it would be. I laid the tile in a few hours and grouted using the colour "biscuit" in this pre-mixed grout, which I love because it has stain-resistant properties and never requires sealing!
But let's not get ahead of ourselves – first I added this waterproofing and crack isolation membrane to the floor (after priming the plywood with this primer) to ensure that I didn't have any cracks come through in the tile due to any expansion and contraction of the plywood subfloor. I have installed mosaic floors a few times and it is relatively easy, but there are a few tips and tricks to note. This is not a complete how-to tutorial on tiling, just a few specific tips for small format mosaic tiles like penny tile. (AKA: learn from my past mistakes!!)
Tip 1:
When you have a small format tile like this mosaic penny tile, there is usually a recommended trowel size that comes with it, which you should pay attention to! For smaller tiles, you want to use a smaller trowel size (meaning, the little "teeth" on the trowel are smaller.) This means that you install less mortar, and with less mortar, you get less squishing through all those little holes. This is important because if there is mortar squishing through, you will have to clean that all up before you can grout. This usually means waiting until the mortar dries and then chipping it away with something pointy and sharp, and it's zero fun. So take my advice and don't use too much mortar on these little guys, they don't need much to stay in place, I promise!
Tip 2:
Second, choose a mortar colour that is similar in colour to your grout. Even if you are super careful, and even if you chip away any pesky mortar that squishes through the tiles after it is set, you will inevitably miss a spot or two. If the mortar and grout are close in colour it will be much less noticeable. They generally just sell mortar in white or charcoal grey, so choose accordingly! Don't use grey mortar when your grout is light coloured, and vice-versa!
Tip 3:
Mosaic tiles like penny tiles are notoriously difficult to space evenly because you can't really regulate the spaces between the sheets with much else besides your eyeballs. You could try to use some spacers but because the tiles are round, they are difficult to place accurately anyway. Be very careful that the space between the sheets are pretty uniform or else when you grout, you will see each individual sheet!
Tip 4:
If you use grout that is similar in colour to the tile it will minimize any imperfections in your spacing. Unless you are really confident in your tile laying skills, keep the grout similar in colour to your tile and no one will ever see those little bloopers.
Tip 5:
And finally… grout colour matters! Carefully consider the grout and how you want the overall space to feel when it's done. Choosing something very contrasting (think black grout on white subway tile) is very bold. Choosing something tonal (similar in colour to your tile) softens the look. When you have a tile that has a lot of variation like mine, a warmer option (like beige) is going to look a lot different at the end of the day than something cool (like grey). Consider other elements in the design and choose your grout carefully! It can make or break a tile job.
That's the end of my mosaic tile tips, now I have to psych myself up for the bigger tile job – the shower! If you haven't heard the news, I'm tiling right over my old shower tile and I've already hit a road bump or two. But I'm hoping all goes well and by this time next week, we might be showering in that bad boy. Stay tuned!
Be sure to head on over to the One Room Challenge Website and check out how the other participants are making out!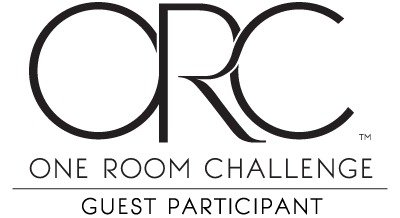 Click on the logo to be redirected to the ORC website
You Might also Like: