One Room Challenge Fall 2020 – Week 6 – Dining Room Reveal!
If you have clicked over from the One Room Challenge Website, welcome! I'm glad you are here! I am an interior designer and serial DIY'er based in Red Deer, Alberta, Canada! You can catch up on my One Room Challenge project in the last week's posts here:
Week 1/ Week 2/ Week 3/ Week 4/ Week 5
I'm so excited that this day has finally arrived – it's reveal day! Before I get to the photos, I would like to thank Linda, the founder of the One Room Challenge and the founder behind this amazing event. The event has grown to be such a big part of the online design community and I look forward to every new season! I always find some new friends and designers to keep tabs on and the inspiration is endless. As soon as I finish up with this post I plan on diving deep into the reveals that can be found here: (Click the image:)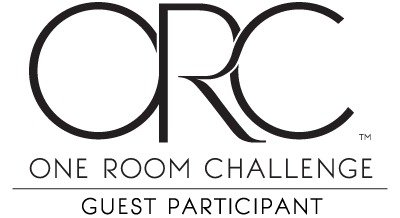 This post may contain affiliate links. That means if you purchase anything from these links I earn a small commission, at no extra cost to you! This helps support my blog, so thank you!
If you remember, we moved into this house on September 30 and on October 5, the demo began in this dining room and it's been a whirlwind since then. Remember the columns? The drywall structure that was posing as a light fixture? The eight-foot high "pass-through" to the kitchen? The speckled window trim? All gone, and good riddance to you, I say! Here's a before photo to refresh your memory:
And here is the same view today: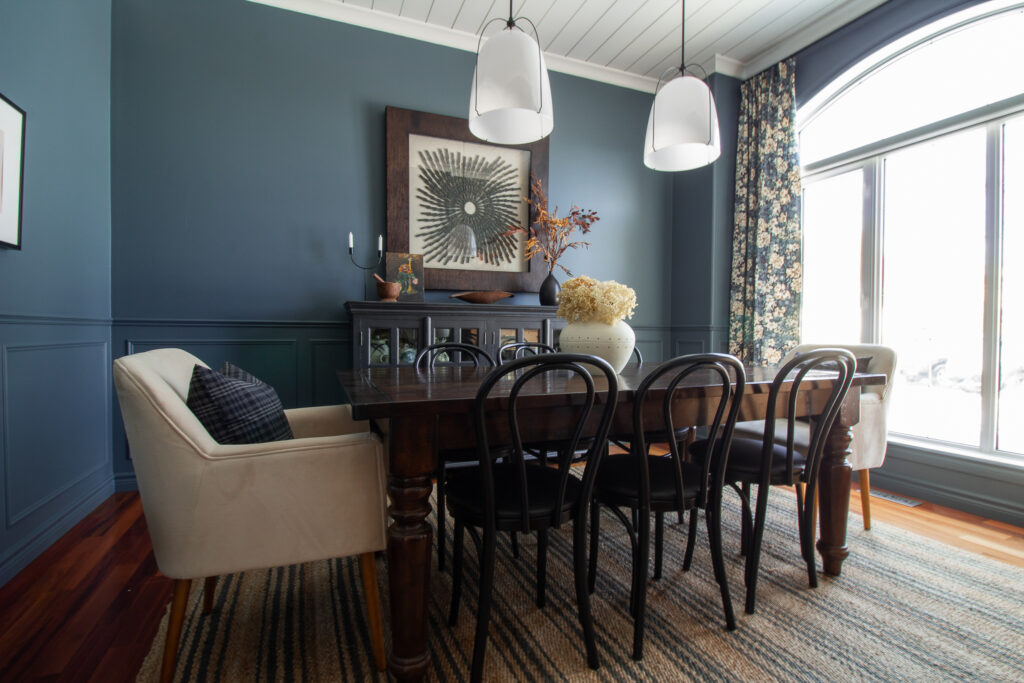 WOWSA right? I swear it's the same room. We removed columns and the drywalled light fixture, closed up an opening at the top of the wall, cased out the new arched opening and window, added chair rail and box panel moulding, added shiplap and crown moulding to the ceiling, painted, and swapped out the lighting. I largely reused all of our existing furniture with the exception of the 6 bentwood chairs that I picked up on Facebook Marketplace and made over.
For a true "Before" here are the real estate photos from the listing. This room (this whole house!) is really not my style, I like muted cool colours and vintage vibes with a hint of modern and this house had zero of those things.
Here's a few more before and after shots:
The biggest change has to be the removal of the columns. We thought about opening this up but we really didn't want to mess with the flooring, so closing up the areas where the columns were made the most sense. It also made the room more intimate and cozy which is nice for a formal dining room space. Closing this off also allowed me to isolate the room colour-wise so I could deviate from the colour for the main space. I went with Valspar Relaxed Navy and it really is just that – a chilled out, not quite too dark, greyed-out Navy that looks ultra-dark at night time but in the day has the smallest hint of green and it turned this room into a jewel box.
This room has very grand, high ceilings, and the existing mouldings were doing nothing to accentuate that feeling. Adding crown moulding and box trim wainscotting really helped bring this space to a whole new level. The planked ceiling idea was born from necessity – we had a huge hole in the ceiling to patch when the old fixture came down and I thought rather than try and patch the textured ceiling, why not make the ceiling a feature? We installed prefinished planks from Metrie and they are a dream, the quality is amazing.
When thinking about what I wanted for the design of this space, I wanted to try a moody patterned curtain. I found this fabric called "Deni Ink" from Calico Corners and I knew it was the one. I ordered a swatch and I was so thrilled with how it looked with my existing rug, I decided to use it as my inspiration piece. Painting the walls a deep blue just made sense to keep with the moody vibe, and then after that I kept everything else neutral, working with the colours in the curtain fabric. Lots of black, white, wood and tan, so the colour wouldn't overwhelm the space. The existing flooring is really very warm and the old red/ brown walls were much too similar to the tones in the floor, it felt like the inside of an oven. Cooling things down with a lot of cool blue was just the ticket to balance out those warm floors and my existing wood furniture.
I talked a little about the marketplace chair makeover in this post, but these chairs were a pretty easy fix. A little glue, some spray paint and new faux leather seats and they are looking like new again. My husband thought that some of these were beyond repair, I'm so glad I was able to breathe new life into these vintage beauties!
The black hutch I had painted a soft blue-grey in my last house, but I knew that wouldn't fly with the new colour scheme. A quick coat of paint was all this needed and now it fits right in again.
I'm so thrilled with the lighting from Rejuvenation – they were the big splurge item for this room and they really are a statement in here, the jewelry that pops against the dark walls.
There is a little alcove just inside the room that was itching for a little piece of furniture. My sister ended up giving me this antique buffet she was getting rid of and it fit like a glove! I love how the lighter wood tone mixes with the darker woods in the space and it looks just fantastic against the blue walls. This piece is going to be very functional too, it will work great as a little bar area and storage for table linens (and allllll the booze!). The piece has a short mirror on the back so I had trouble hanging art over it, until I tried mixing up a few little pieces for a fun little gallery. Bingo!
Other art in the room were pieces I already had. I went with one large piece over the hutch to keep things less cluttered over on that side of the room, since the hutch itself is full of my pottery collection. Virtually all of the styling pieces in the room are vintage, antique, or thrifted, or just things I've had for a long time. Since this is the first room in this house I've styled, I had a pretty big stash to choose from!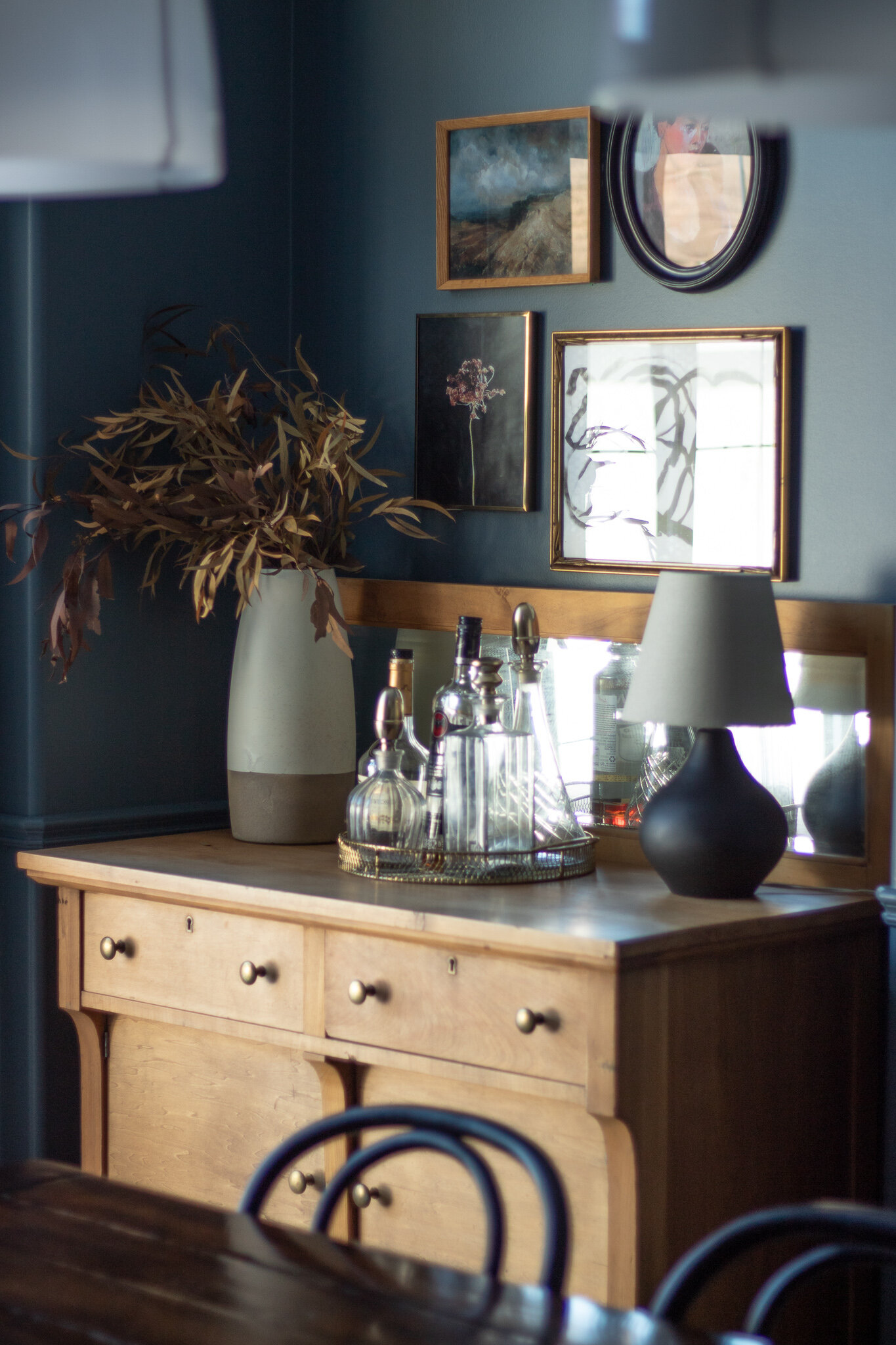 I am so happy with how this room turned out, let me tell you it is my favourite room in the house now. I just want to hang out in there all day long. It is really giving me the itch to get going on more renos in this house, now that I've set the tone!
Make sure you check out the other participants, there are some pretty amazing transformations this season (as always) and I can't wait to see what everyone else did!
Sources:
I've compiled a source list below. Much of the furniture we already had or was vintage so where possible I linked similar sources instead.
Curtain Fabric: Calico Corners (gifted)
Curtain Rod – Amazon
Curtain Rings, Hooks, Pleating Tape – Ikea
Ceiling Planks – Metrie (via Windsor Plywood), Similar
Paint – Valspar Relaxed Navy
Pendants – Rejuvenation
Rug – Rugs USA
Table – Pottery Barn (Old), Similar, Similar, Similar
Chairs – Vintage, Similar, Similar
End Chairs – Old, Pier One (RIP!) – Similar
Hutch – Old, Similar
If there is anything I missed in my source round up let me know and I'll add it! I'd love to know what you think, drop me a comment below!
(This post may contain affiliate links for your convenience. I earn from qualifying purchases. This is at no cost to you but helps support my blog, Thank you!!)