Bathroom Remodel Checklist and Guide!
Before I start any project, there is a whole lot of planning behind the scenes. It usually starts with a Pinterest board of my dreams and it ends with a very detailed spreadsheet! Today, I've put together a bathroom remodel checklist as a guide to help you plan your ultimate bathroom renovation!
This post may contain affiliate links. That means if you purchase anything from these links I earn a small commission, at no extra cost to you! This helps support my blog, so thank you!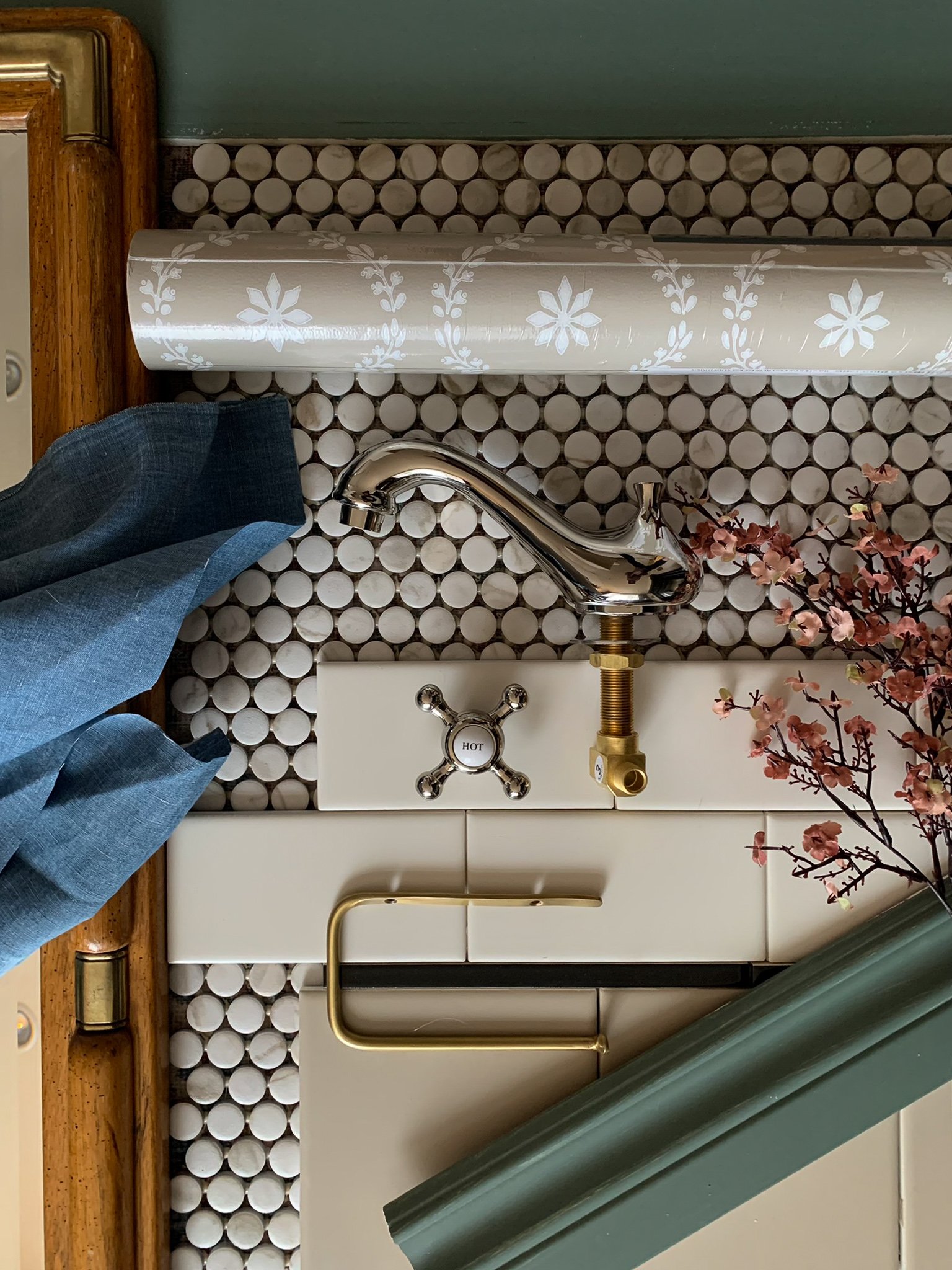 Table of Contents
The Planning Phase of a Bathroom Remodel
We have been building and renovating homes our whole lives, and my husband is a general contractor, so we have a good idea of what is required now before we get into any project. We could probably throw together a ballpark list pretty quickly at this point, but I never do that. I think the planning phase of any remodelling project is the most important part.
We are working up to our large ensuite renovation. This is the third (and final) bathroom we will be renovating in this house, and because it's the largest, it's also going to be the most luxe and involved. The first bathroom we did was the kid's bathroom and the second one was the guest bathroom.
First, I'm going to walk you through the steps of the planning phase and try to point out things that you might want to think about before starting your bathroom remodel project. Then, I will follow up with a handy bathroom remodel checklist you can use when working on your bathroom renovation project.
The Layout
The first thing you should consider when planning is to consider the bathroom layout. Is the room large enough? What are the pain points in the room? Do you wish you had a walk-in shower instead of a tub? Does the door swing into the back of the toilet? Is there enough storage space?
At this point, I think it's great to just make a list of things you would like to have in the renovated space (in a perfect world).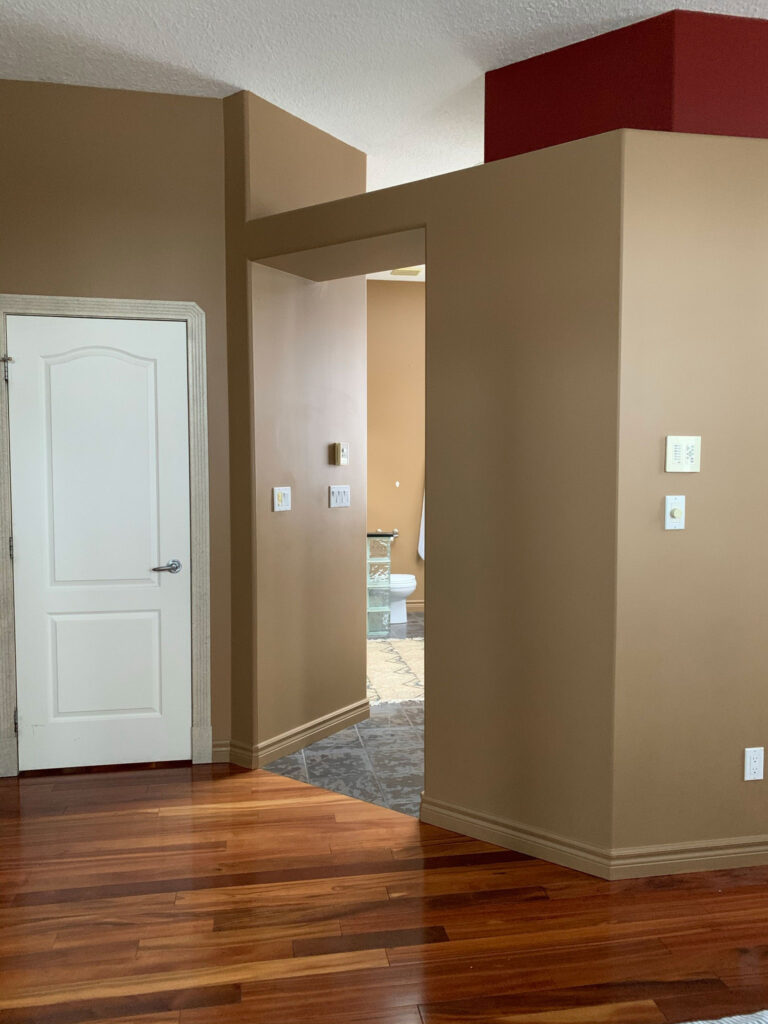 Once you have that list, look at your existing bathroom and try to see what might be done to make improvements to meet your wish list. If a large shower is important to you but you don't have much space, would you sacrifice a bathtub in order to have a luxurious shower? If you would like a double vanity, do you have enough room to fit that into the size of the space as it is? Is there a closet or any wasted space in an adjacent room that you can carve out a bit of new space to add to your bathroom?
If you have trouble envisioning changes beyond what is currently there, your best bet might be to hire an interior designer or architect to give you some space planning options. A bathroom designer might give you ideas you haven't even considered!
In our bathroom, for the most part, is a very large room but the room is quite square and it has some significant obstacles that we had to work around. We have a large skylight in the ceiling and a large window on one wall, which makes the placement of any new walls or the location of the vanity or shower, which ultimately you probably don't want in front of a window, more difficult.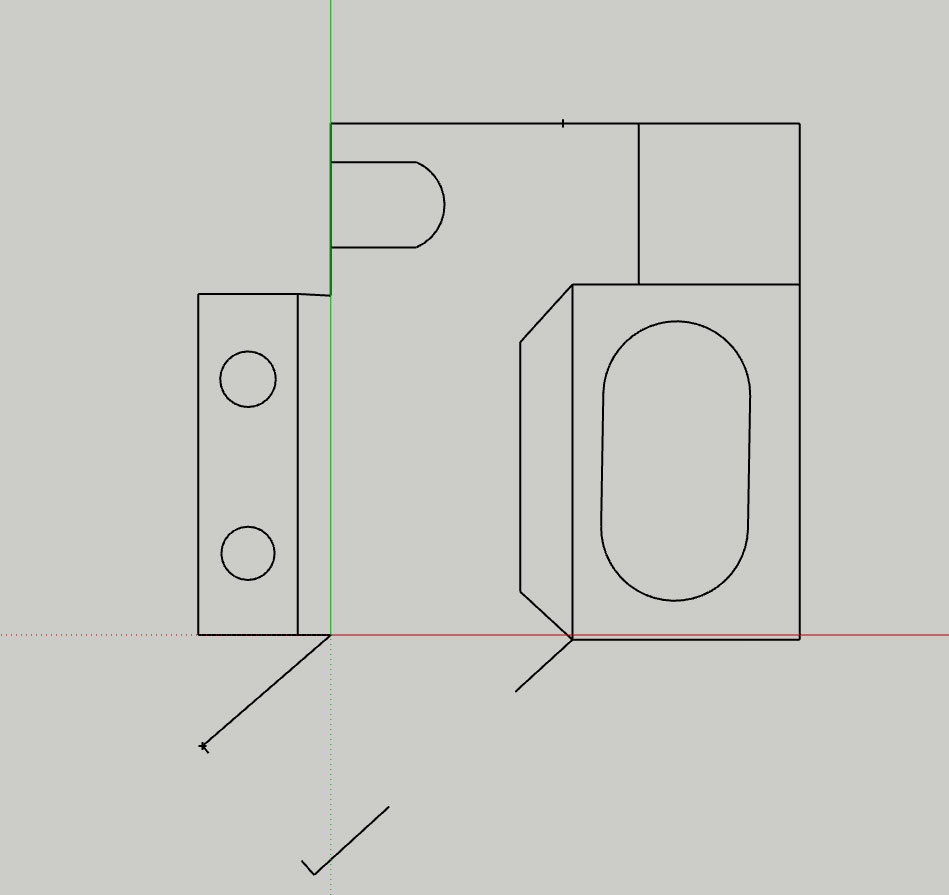 We decided early on that we really really wanted a separate toilet room and a larger shower but those obstacles I talked about above really made it difficult to figure out. In the end, we figured out how to squeeze in the things we wanted to the existing layout without making too many drastic changes to the plumbing. You can see in the before and after floor plan below what we are planning!
Don't forget to consider natural light. If your bathroom doesn't have a lot of it, would it be worth it to you for the additional cost to add a window or a skylight? Can you add enough artificial light to make the space functional enough? Good lighting is so important to any bathroom design. In my guest bathroom, I installed two fairly low-light sconces and it ended up being too dim for that space, so it's not something I want to do again in the next bathroom makeover.
Make a Design Plan – Choose Some Finishes
Once you have determined the layout, it's time for the dreaming! I generally keep Pinterest boards and saved Instagram images in folders separated by room types, so all I have to do to see what kind of room I love is open up my "Bathrooms" Pinterest board.
I think it is a great idea when you are gearing up for any renovation to really try to nail down what you like. You may not be able to incorporate everything from your dream bathroom, but you will be able to bring in small design touches here and there to make even a small bathroom feel like the bathroom of your dreams. Make a mood board of your finishes to make sure you are happy with how it all works together.
At this point, I think it's helpful to make a list of things you would really like to have. Just some general items like "marble tile," "nickel sconces," or "statement mirror". You don't have to splurge on each of those items but it might help you decide what to splurge on, and also what is the most important to you if budget cuts need to happen!
Make a Renovation Checklist and Budget
Now that you have a layout and an idea of the design, it's time to put together a list of everything you need to complete your renovation. I've included a printable list at the end of this post so that you can print this off and fill it out, as you need it.
This is also a good time to either speak with a general contractor (if you are using one) or an electrician and a plumber and obtain some quotes.
When talking with an electrician, think about not only where you might want lighting fixtures, but also plug-ins and switches. Let your electrician know all of the changes you will need. Some special considerations might be adding a plug-in inside your vanity for hair tools, a plug near the toilet for a fancy toilet seat, or overhead for wall lighting changes.
When speaking with the plumber, it is helpful if you have all of your fixtures picked out and can communicate any layout changes as well as changes in things like valves behind the wall that might be more intrusive to replace.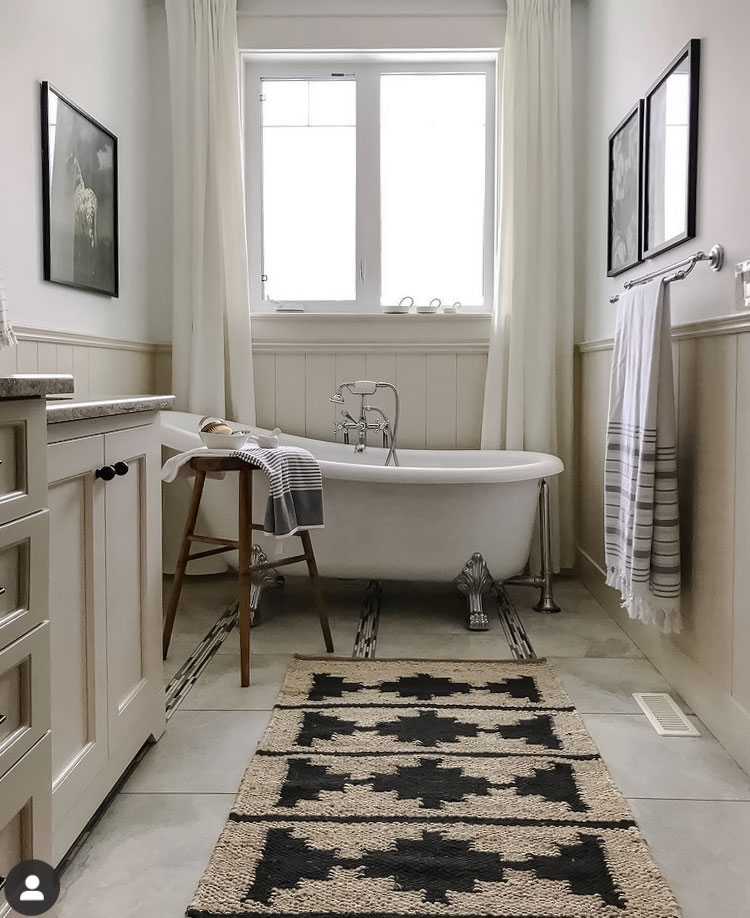 What I like to do when I'm sticking with a budget (because who doesn't have a budget!) is start out this list with some generic ballpark allowances for each item. If I don't know off the top of my head what something might cost, I do a little google-research to get a rough cost and try to include a little cushion. Then as I make final choices and the quotes start rolling in, I refine the numbers.
CLICK HERE FOR THE FREE PRINTABLE PDF DOWNLOAD OF THE BATHROOM REMODEL CHECKLIST!
Building Materials/ Contractors
Permit Fees
Demolition (dump fees, garbage bin fees, etc.)
Electrical changes (cost from electrician's quote or if DIY, include materials like wiring, electrical boxes, heated flooring materials, thermostats, etc.)
Framing (if any new framing is required, or removing walls, etc.)
Plumbing (cost from plumber's quote or if DIY, include rough-in materials like pipes, new lines and fittings)
Drywall
Paint
Caulk
Shower/ bathtub waterproofing
Tile Installation Supplies (thin set, grout, spacers, trowels, sponges, etc)
Floor underlayment (Kerdi)
Electrical
Light Fixtures
Bathroom Fan
Underfloor Heating
Switches, plugs, cover plates
Bathtub
Tub
Tub Drain
Tub spout (for Shower/Bath combos)
Freestanding Tub Filler (deck mount or floor mount)
Freestanding Tub Filler Rough ins
Shower
Shower pan/ base
Shower Drain
Shower Head
Shower Control Valves
Shower control valve rough-ins
Tile (shower or tub walls)
Additional sprayers/ body sprayers etc and their rough-in valves
Tile (shower floors)
Shower door or shower glass
Shower curtain and rod
Vanity Area
Faucet(s)
Sink(s)
Vanity
Vanity Hardware
Sink Drain
Countertop
Mirror(s)
General
Tile or Flooring
Toilet
Tile (Bathroom walls)
Other wall treatments (shiplap, etc.)
Door(s) (pocket door, entry door etc)
Finishing Touches
Moulding (baseboards, crown moulding, etc).
Window Treatments
Art/ Decor
Medicine Cabinet(s)
Towel Holder(s) and/or hooks
Toilet Paper Holder
Wallpaper
Door hardware (knob/hinges)
Art/ Decor
Once you add it all up, if it's not within your budget, go back a few steps and look at where you can save. Less expensive finishes, maybe reworking your existing vanity instead of buying a new vanity, or reworking some of the layout changes.
You can CLICK HERE for the Free Printable of my Bathroom Renovation Checklist!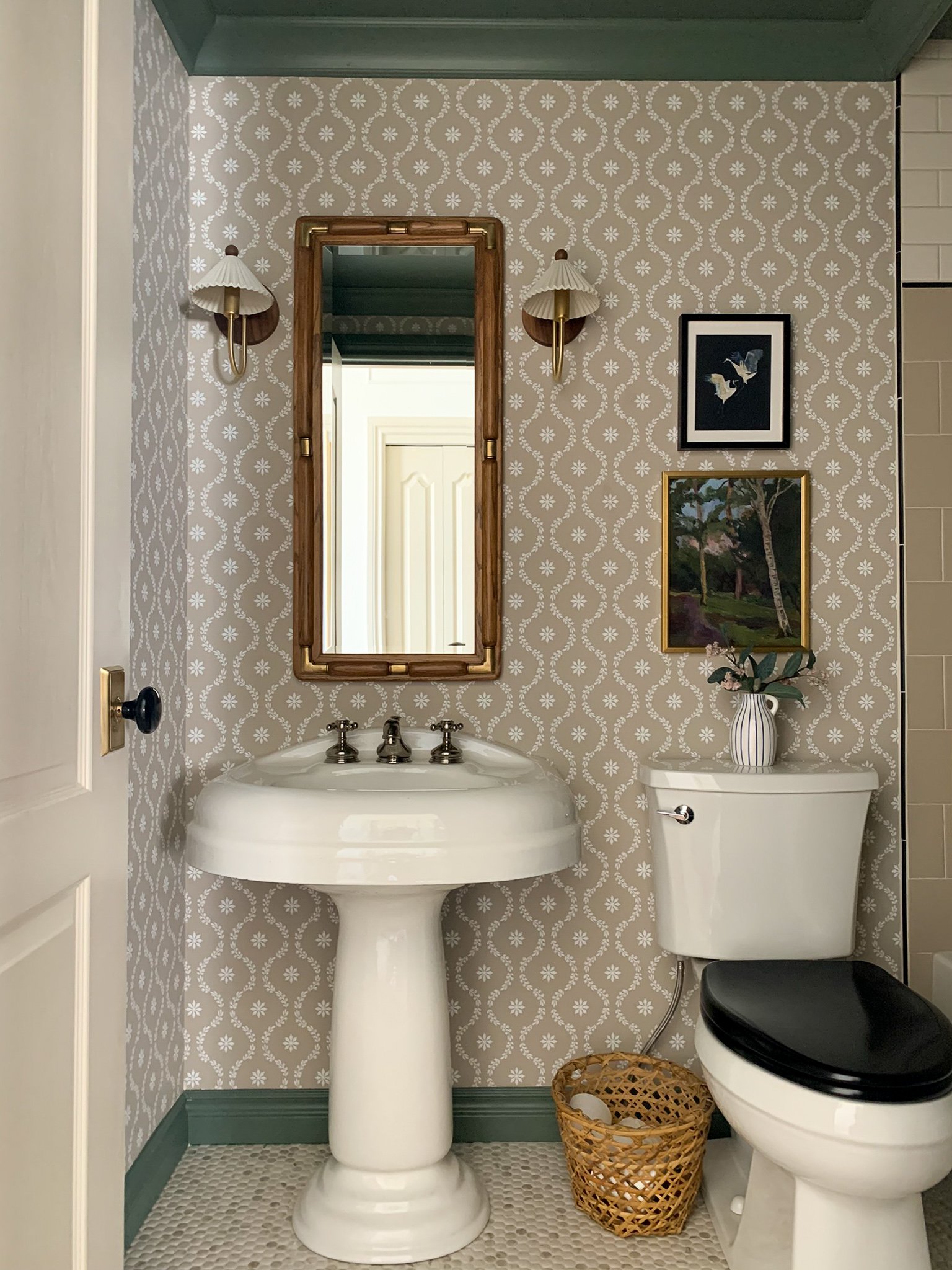 Order Everything
Once you are happy with the budget and the layout, it's time to start ordering! Some items can have long lead times and it's best to get everything on site before you even lift a sledgehammer. Some special order items might take 6 – 8 weeks after you order before they arrive, or even longer. There are some things you can ultimately do a bit later, but if you are hiring someone especially you are going to want to make sure they have everything they need to get things done without a delay. A reputable contractor will likely insist on this because coming back over and over to do little bits of the project as pieces come in is not very efficient. Once Contractors move on to another project it can be very hard for them to try to come back!
Here are a few things to consider when ordering items for a bathroom renovation that can easily be overlooked:
Bathroom Fixture Rough ins – Ordering bathroom fixtures is actually quite complicated and if you are not confident, have your plumber look over your selections to make sure you have all the bits and pieces you need. For example, for whatever shower control you choose you will need the corresponding valve that goes behind the wall. Each plumbing brand has its own valves so this is really important that you get the one that corresponds to your fixtures. Also, when you order a lot of faucets and shower controls they are often sold without the handles. This is because there are sometimes different handle options for the same fixtures. So make sure you are ordering all the pieces you need!
Waterproofing – figuring out your tile is one thing but the most important part of any tile system is the waterproofing. You want to make sure that your shower at a minimum is properly waterproofed. There are several different systems for waterproofing so it is a good idea to look into that and determine how you are going to do it. I went over how I waterproofed our kid's shower walls in our kid's bathtub surround in this post, and I will likely use this system again for our ensuite. You may also want to consider waterproofing the floor, which might add a bit of thickness to your floor system, too.
Vanities and Custom Stone Counters – Custom vanities will require more lead time so get an estimate for delivery from your supplier. Also, if you are going the custom vanity route you will likely be working with a separate company to install the countertop. If it is stone, they will need to template it after the vanity goes in and then fabricate it, so be aware of that lead time when planning your schedule. In my area it's 3 – 4 weeks between countertop templating and countertop installation, so it's super important to try to get the vanity in as soon as possible!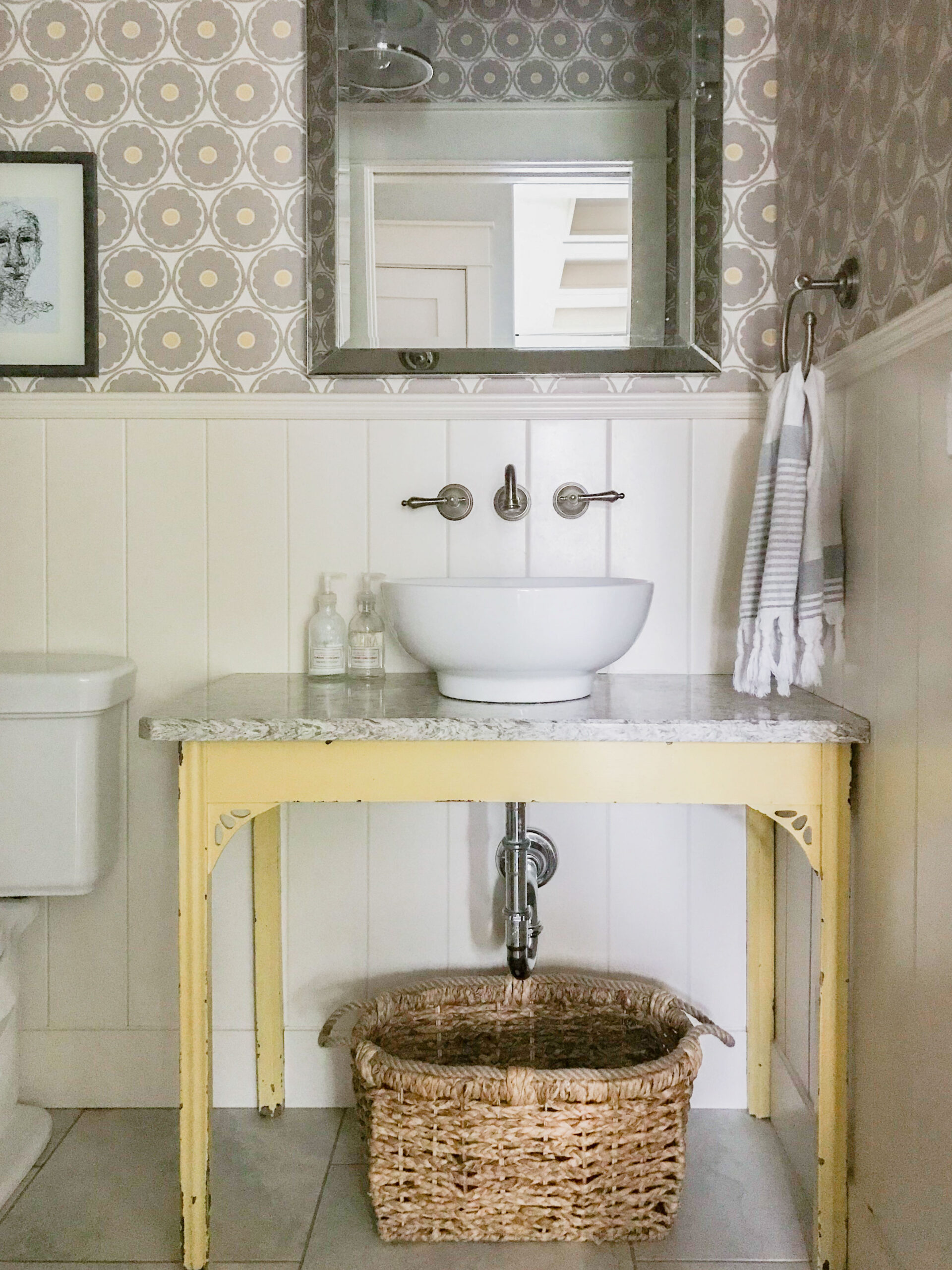 Plan the Schedule
Once everything has been ordered, you can make yourself a project timeline based on when supplies will arrive. To be safe, you can wait until you have everything on site, or at the very least a solid delivery date for key items. Here is a general order of things I use when planning my schedule. Some things can be moved around a little bit too but this is a guideline!
Demolition
Framing changes, if any
Electrical Changes, if needed.
Plumbing Rough ins
Drywall
Waterproofing
Paint 1st coat
Vanity Install (can be before or after finished flooring, depending on your design)
Countertop templating
Install Tub, if using (may need to install after tiling floor if it is a freestanding tub)
Tile shower or Tub surround
Tile floor
Install countertop
Install plumbing fixtures
Install baseboards/ moulding
2nd coat of paint
Install Lighting
install mirrors, hardware
Styling
If you are DIY'ing it like we do, we look at our personal schedule and try to realistically think of how long it will take us to do something and schedule it in to our weekends. Then we line up any trades based on that!
Bathrooms are one of the smallest rooms in the house but they can cost so much money! It is very important to know what you are getting into with your bath remodel. There are a lot of moving parts to a big project like this but if you are organized you can avoid unexpected costs (to some degree) and your bathroom renovation has a much better chance of running smoothly.
I've been behind the scenes working on the planning of my bathroom for quite a long time and I'm so excited that demo day is almost here! Follow along with me on Instagram or here on the blog as we tackle this huge project, DIY style!
You might also like: