How to Decorate a Bedroom with High Ceilings
Our bedroom has 10′ tall ceilings and in our last house, we had a valued ceiling and it was probably 14′ high in the middle! Although a high ceiling can feel luxurious, that extra ceiling height can also make it difficult to know how to decorate. I'll let you know a few tips and tricks I've used to show you how to decorate a bedroom with high ceilings!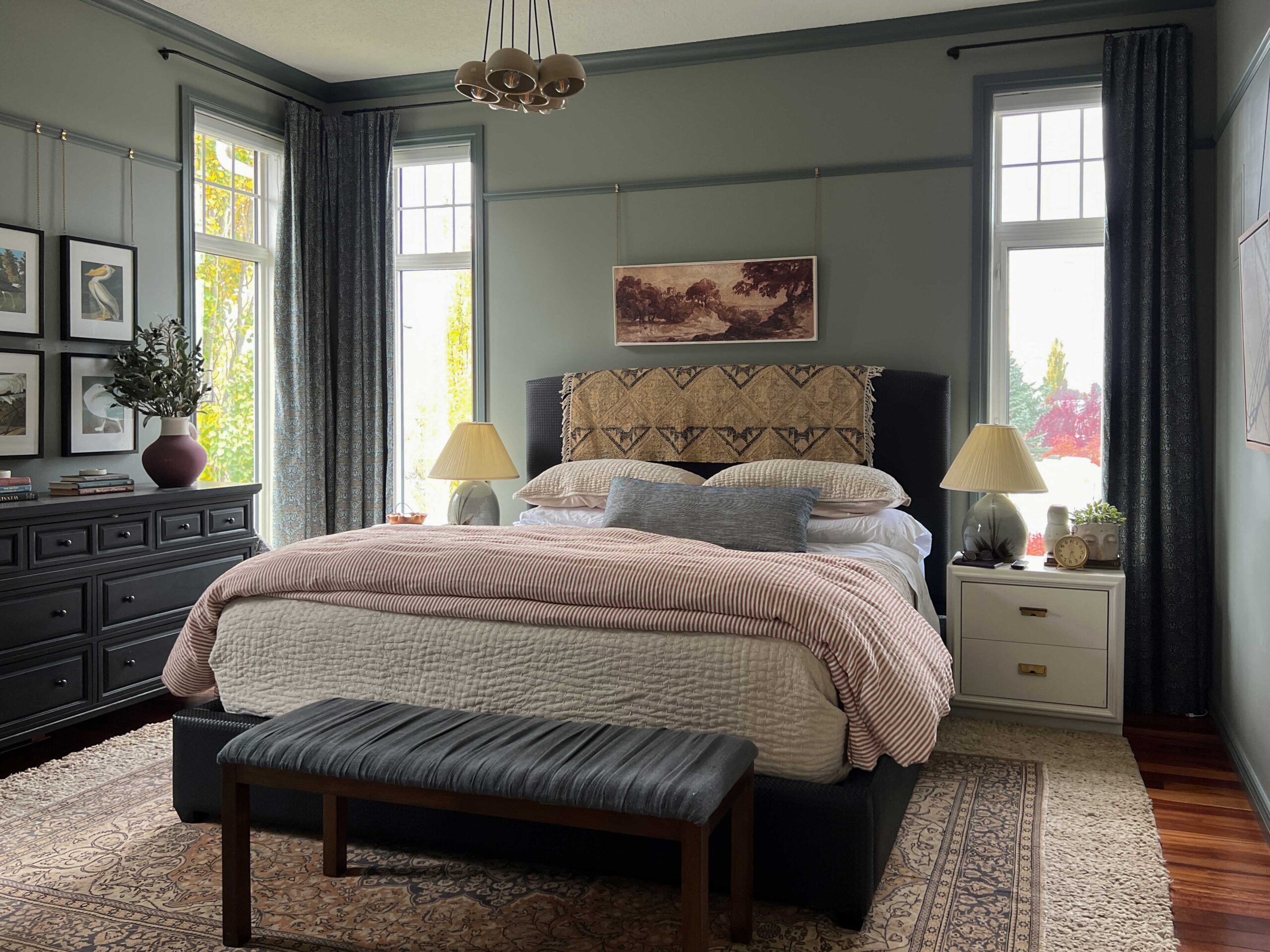 This post may contain affiliate links. That means if you purchase anything from these links I earn a small commission, at no extra cost to you! This helps support my blog, so thank you!
Table of Contents
Most of the issue with a tall ceiling is that there is just so much real estate above the eye level that is very difficult to know what to do up there. It's too high for art usually, and there is nothing to break up the wall space between the level of your eye and the ceiling above it.
#1 Add some interest to your ceiling through architectural features
The first tip for dealing with those soaring ceilings is to make them a bit of a focal point by adding something to the ceiling itself. A high ceiling is a perfect opportunity to add something really special to draw that eye up and make people really notice the ceiling. That will make it feel like an architectural design feature instead of an afterthought.
In our last house, we had a sloped ceiling (or vaulted ceiling) in our primary bedroom and I really wanted to make a feature out of it. We added board and batten-style trim details on the ceiling and it added a ton of character to the space.
The ceiling became a focal point and the higher ceilings were something you noticed right away. (That house was a craftsman style so the detail we added there was very appropriate to the design style of the home. (Something you should keep in mind when adding any architectural details).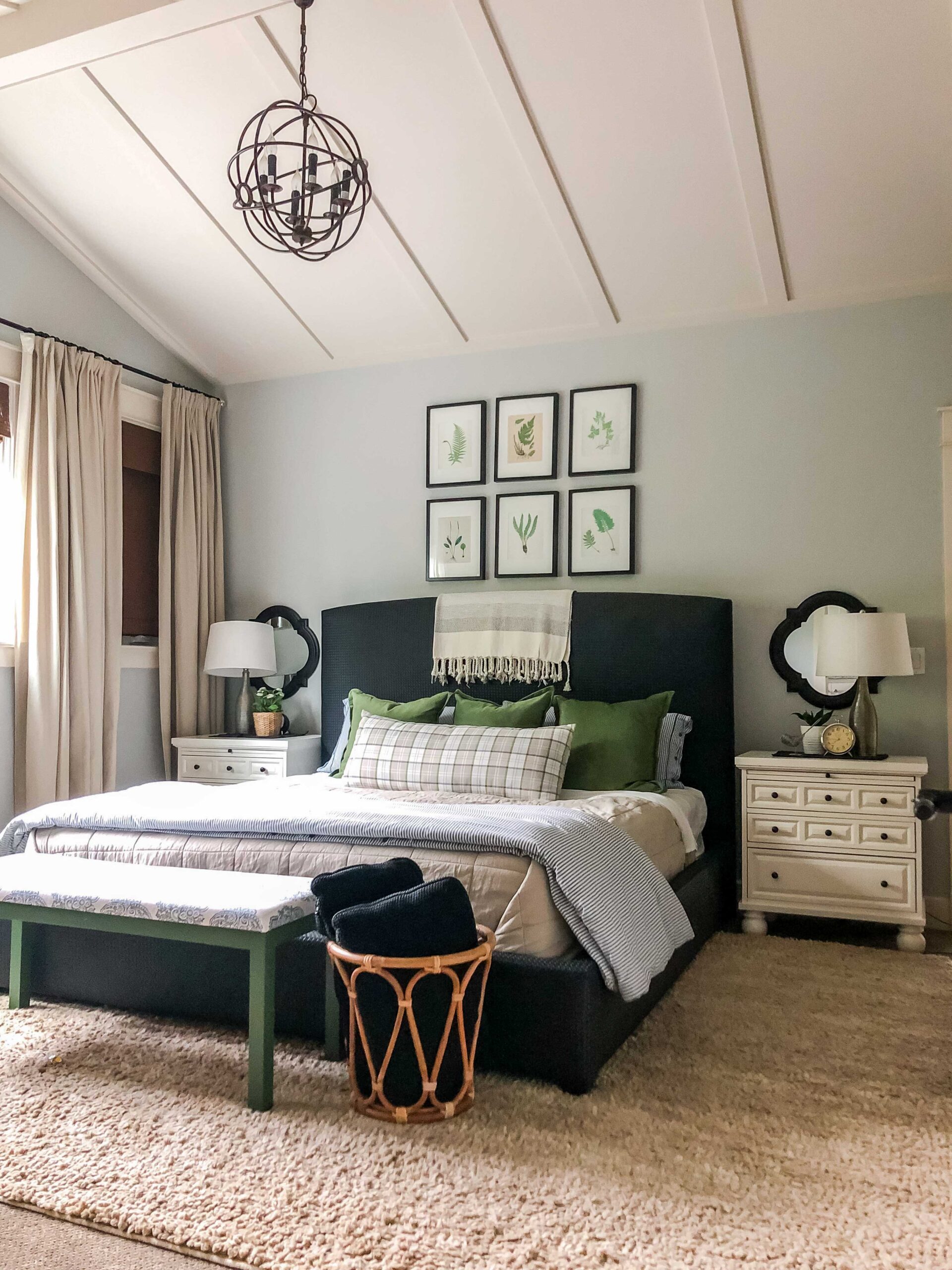 Adding detail to the ceiling in tall rooms is a great way to trick the eye into feeling like that ceiling is a little lower. The added detail on the ceiling helps bring the feel of the ceiling down a little and the overall scale of the room feels a lot more cozy.
There are a ton of different details that can be added to a ceiling to add interest. I love the way Jenna Sue Design added wooden beams across this sloped ceiling to bring the height of the ceiling down, both visually and physically.
In our last house, we added a tray ceiling to our living room which really brought the ceiling down visually (and physically too!). This looks great in a bedroom.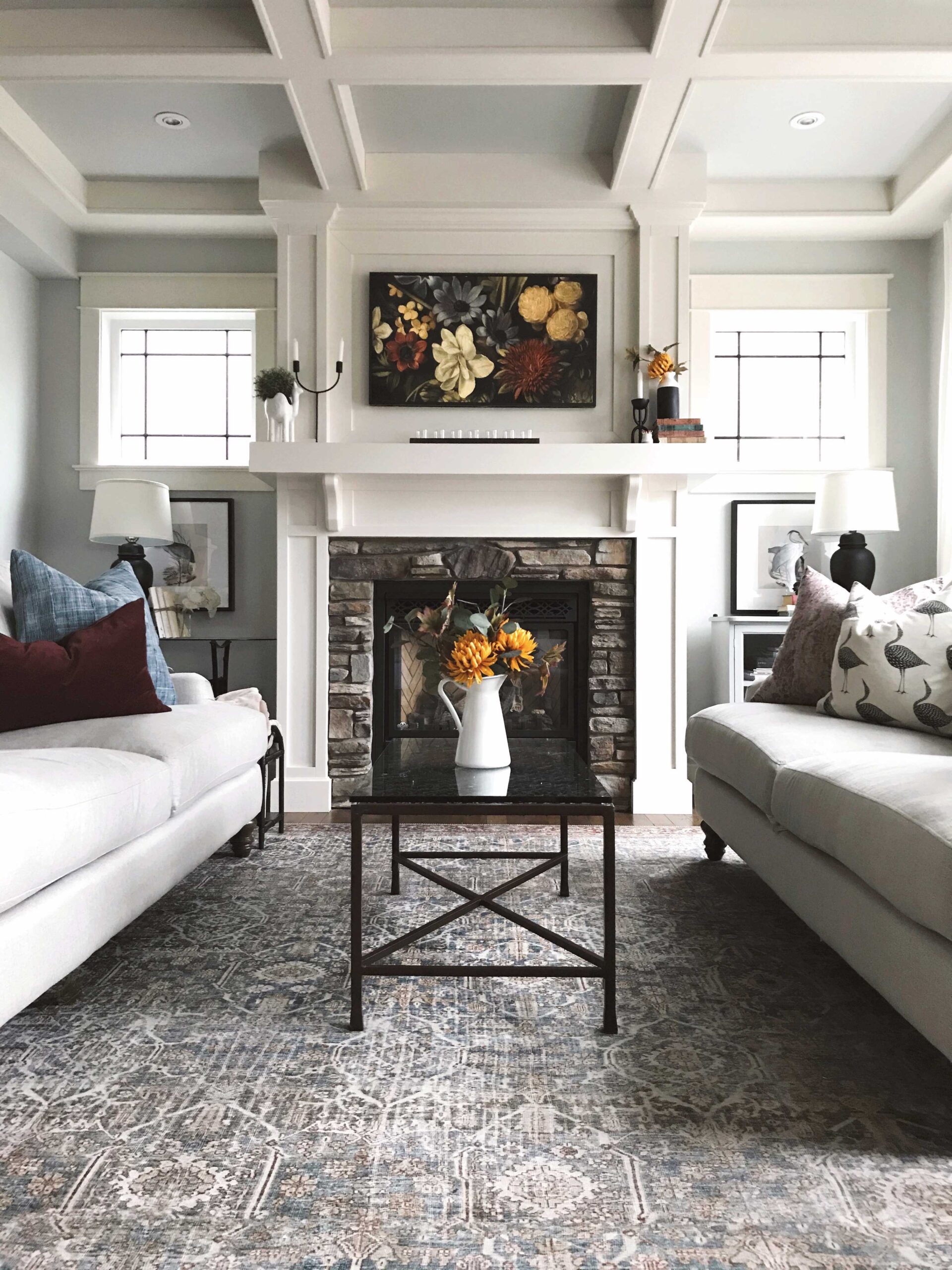 In our dining room, we added shiplap to the ceiling to add some interest (and to cover up a large hole we had in there, but that is a story for another day!) You can read all about how to do that here!
We saw a TON of super interesting tall ceilings in Europe, it is a classic way of dealing with a tall ceiling. You never saw a 14′ tall ceiling in a classic old home that was just painted white and flat! There was always some kind of detail up there.
#2 – Paint the Ceiling
If adding architectural detail isn't something you are interested in, try painting the ceiling a bold color! Natalie, an interior designer from Home Ec-Op is the queen of this look. Check out her Instagram page here. She often deals with historic homes with tall ceilings and she loves to bring in a funky colorful vibe by using bright colors on the ceiling to modernize a space.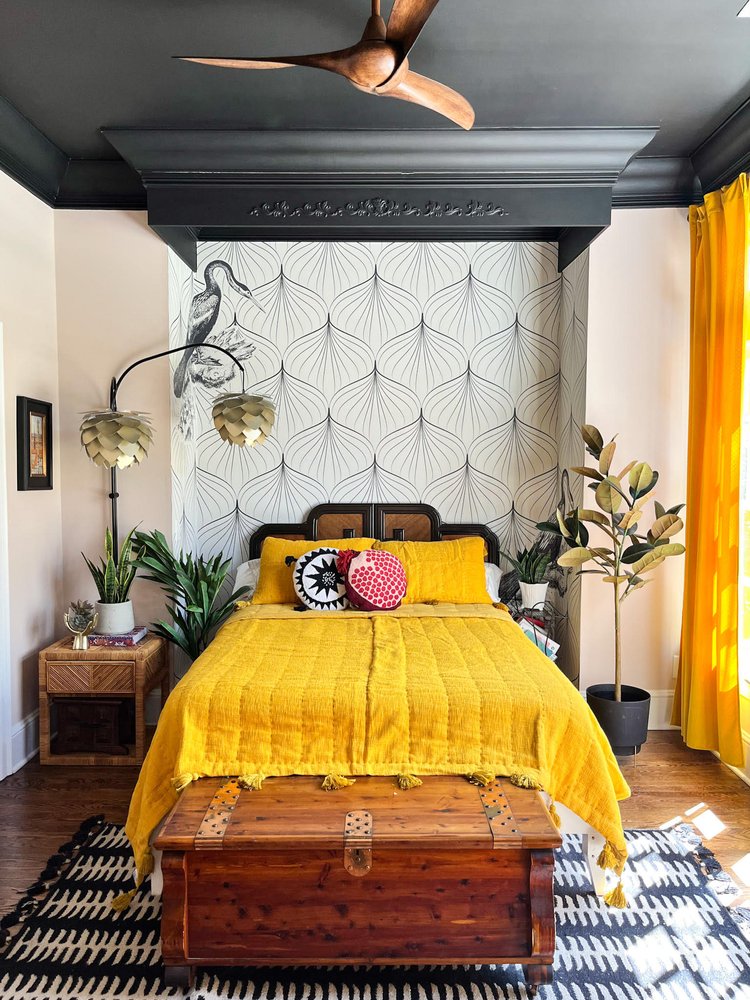 You don't have to use bold colours if that is not your thing, you can use any colour you want to paint your ceiling. Painting it a different colour as the walls will also bring your eye up. If the ceiling colour is darker than the wall colour, it will feel visually heavy and make the oversized room feel a little more cozy.
If you paint the ceiling a contrasting colour, I think it always looks better if you also have some crown moulding to bring the colour down just a bit to the walls. For a more modern take on this look, just paint the colour down the wall a little bit and add a crisp paint line!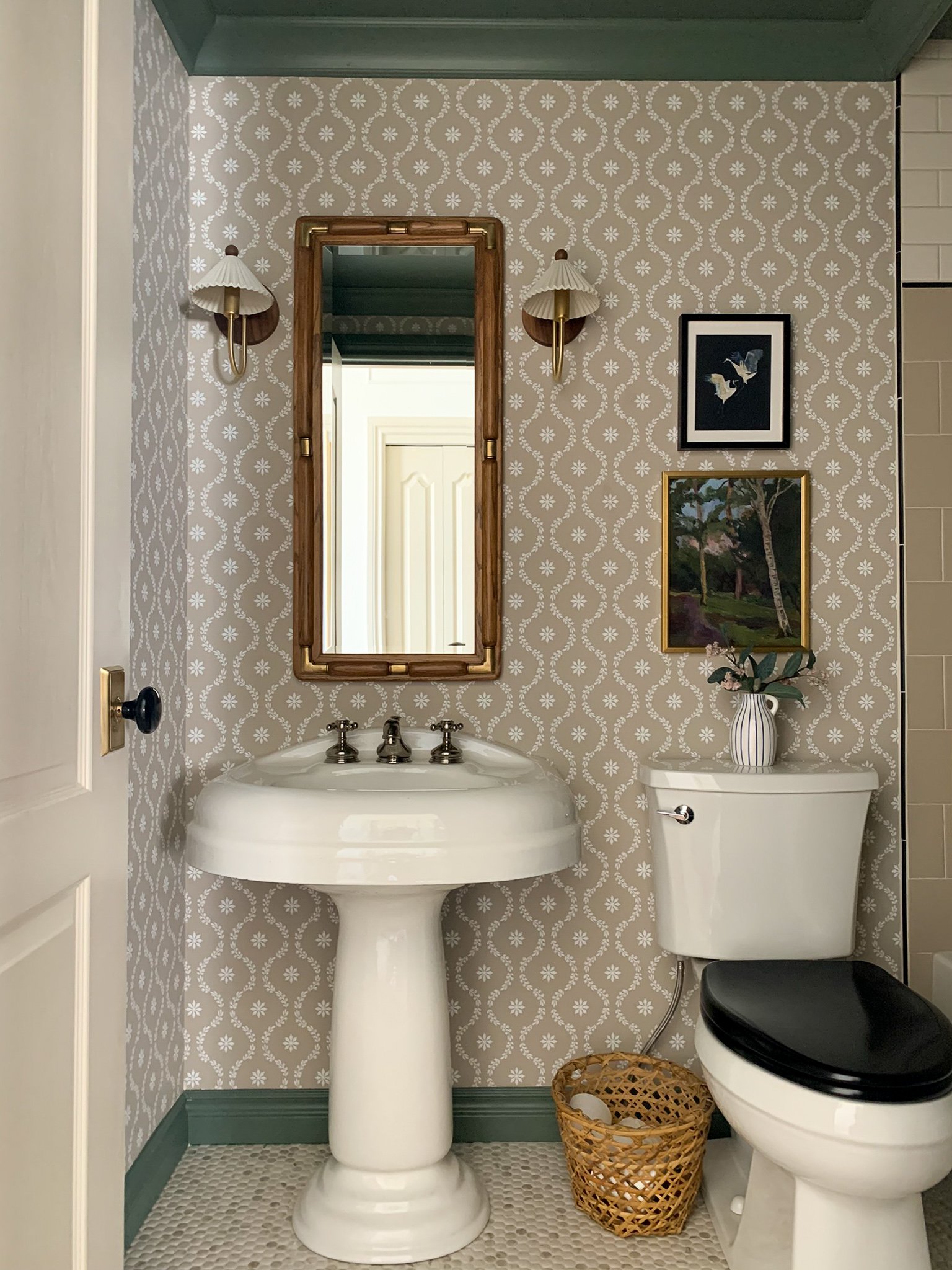 #3 – Hang Curtains to the Ceiling
One surefire way to bring the eye up and add interest is with curtains! Even if your windows don't extend all the way up to the ceiling, make sure that your window treatments do! Having curtains hung just below the ceiling really helps fill so much of that vertical space.
My number one tip for dealing with tall ceilings in a bedroom is to add curtains right to the ceiling. If you do nothing else, do that!!!
In our bedroom, we have four large windows that are tall and skinny, and I flanked those each with a tall curtain panel.
My rule of thumb for curtains is 4 – 6″ below the ceiling or the bottom of the crown moulding. Make sure your curtains are long enough, that extra height does a great job of filling that vertical space!
#4 – At Appropriately Sized Art
Art should always be hung at eye level (58 – 60″ from the floor) but if you want to hang it higher, you can do this by installing a gallery wall or a series of art that has its center at around 60″. As long as the center of the art grouping is at eye level, you can hang the individual pieces higher or lower. That would help fill up some of that negative space up high.
(I did this in my living room with 10′ ceilings, allowing me to hang art much higher than I normally would.)
In our bedroom, we installed a picture rail moulding near the top of the room that also helped add some interest to the high walls. Installing the picture rail moulding meant that I could still have my art at the proper height for viewing, but above the art, there was still some interesting detail with the chains and the picture rail itself.
If you don't have a tall headboard, you can have the same effect by hanging large pieces of art over your bed to bring the scale up a little vertically. You can get away with having art above a headboard hung higher than the normal art height since it is over a piece of furniture, which grounds it.
Using larger scale art also means that the top of the art is hung a lot higher, since the center of the art stays at 60″. For example if you use a 24″ tall piece of art and hang it so the center is at 60″, the top of that art will be at 72″. If you hung a 42″ tall piece of art centring it still at 60″, the top will be at 81″.
#5 – Appropriate Furniture and Lighting
The furniture you choose should be appropriately sized for the room size horizontally, but the vertical height can also be considered. A tall ceiling can handle a tall headboard, for example.
If you are thinking of a tall piece of furniture like an armoire, look for one that is really tall. You can add vertical height to an armoire by adding something decorative like baskets or a stack of blankets which helps the piece be a little taller as well.
Make sure the light fixture you choose is appropriately sized, too. You can handle much bigger light fixtures with a cathedral ceiling than low ceilings. Choose a chandelier that will drop down slightly rather than a flush mount or something that you don't notice high up on the ceiling. A statement light fixture is a great opportunity to bring attention to those tall soaring ceilings and fill up that negative space!
I hope this gives you some ideas for how to deal with this difficult decorating dilemma. If you have a tall ceiling, it is a blessing, not a curse! No one ever walked into a house and said, "Wow, look at these low ceilings"!! If you have the privilege to have such a thing in your home, take the time to call attention to them, the way they deserve!
You might also like: