How To Pick Kitchen Hardware – The Ultimate Guide 
I often get asked how to pick kitchen hardware and how to decide! There are so many options out there, it is difficult to know what to do as the options can be overwhelming. I really have a lot of thoughts on kitchen cabinet hardware and hardware in general, I went down quite a rabbit hole during my own kitchen design. I decided to put together the ultimate guide on how to choose cabinet hardware if you are struggling with this so you can make an informed decision.
This post may contain affiliate links. That means if you purchase anything from these links I earn a small commission, at no extra cost to you! This helps support my blog, so thank you!
Table of Contents
How to Pick Kitchen Hardware for Your Kitchen Style
The first thing you are going to want to ask yourself is what is the style of your kitchen? More contemporary kitchens are going to require more clean lines and streamlined modern hardware, and more traditional style kitchens might have a more traditional hardware style.
Keep in mind, however, that this is not a strict rule! I think that traditional kitchens can mix in some modern design elements to keep the design feeling fresh, too! However, I have not really seen a modern kitchen pull off traditional hardware… so I do not really think it works the other way around.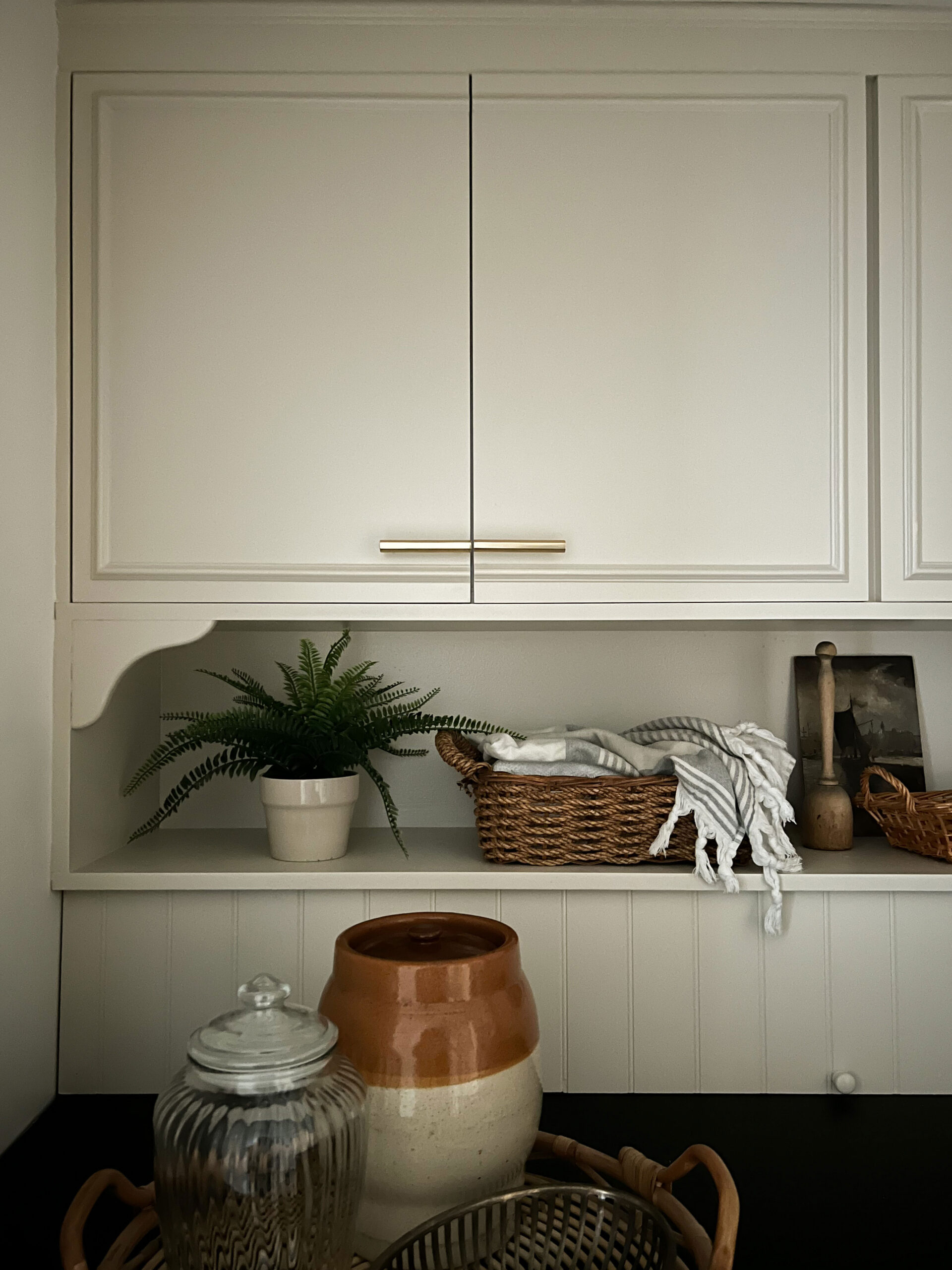 If you are planning a kitchen you most likely have a few dream kitchens that you love. You may or may not have noticed the hardware, but take a really close look at what they are using! Do you like what they used, the placement, the style? Is there a kitchen you don't love but maybe it has killer hardware? Keep an eye out for those details to narrow down a look you love.
In general, a modern kitchen should have hardware that has a more contemporary look. Hidden pulls, finger pulls, simple shapes with very little detail, very straight, oversized long pulls with simple flat front drawers. Here are a few examples of some modern pulls:
In a traditional or modern traditional, I would not choose anything too contemporary (like the hidden pulls) but it is ok to still keep it simple. Also look to hardware that has a little more curve to it, and a few more details. If you are really trying to nail the historical hardware style, look for something that has a very traditional shape that has been around a long time like cup pulls or bin pulls..
How to Pick your Kitchen Hardware – Should All Your Hardware in a Kitchen Be The Same?
If you have a look around my kitchen you will see that I chose two different styles (even different materials!) for my hardware – I went with a painted knob and a very traditional brass handle, so clearly I don't think they all need to be the same!
Choosing a combination of knobs and pulls is always a safe choice. In general, knobs are placed on doors and pulls are placed on drawers, but that is not a strict rule. I have two knobs on some of my cabinet drawers and a pull on others. I also have a latch under my kitchen sink!
When I was choosing the type of hardware for my kitchen I looked at a lot of kitchens and how they placed the hardware and decided what I liked best. It is really about personal preference more than anything! I really liked a mix of styles and decided to go a little crazy and mix brass and wood hardware.
Here is the thing… cabinet hardware is such an easy thing to change down the road so don't feel like you are tied to your choices until the end of time. The only thing that you should consider that is a more permanent choice is the size and placement, as changing the number of drill holes is a much bigger deal.
How to Pick your Kitchen Hardware – Should All Your Hardware Be The Same Size?
All the knobs in a kitchen should be the same size, but the drawer pulls are a different story. For a wider drawer or larger cabinet, you should choose a hardware size that fits the size of the door. For larger drawers, a good rule of thumb is to use longer pulls. Things like appliances or large trash pull-outs should have a larger handle, not only because it looks proportionally better but also because it is something that is a bit heavier to pull out and using a large handle is easier.
For our skinny drawers, I chose two knobs instead of a longer handle. I wouldn't recommend this for very large and heavy drawers but for my skinny drawers, I think they look great and are a much better choice of hardware for my traditional kitchen than a long handle would have been.
How to Choose Cabinet Hardware Finishes
Choosing the right finish for the look of your kitchen is important! Here are the different options that are popular choices today and where they are used:
1) Brass and gold – brass has been back for quite a few years already and it shows no sign of going anywhere. My personal choice for anything gold or brass is to use REAL BRASS. Gold finishes that are not real brass can tend to look a little cheap at times. Even if the gold finish is really good, each manufacturer of a gold product has its own take on the brass look, so if you are trying to incorporate other gold finishes in the room it will be very difficult to make it look cohesive.
If you are choosing brass, I have two personal favourites: unlacquered brass and antique brass.
Unlacquered brass is untreated, raw brass that will patina over time. It will obtain its own antiqued finish after a few years that can be shined up easily with a little Brasso or Barkeeper's friend.
Antique brass is aged already and then a lacquer is put on top to stop the aging process and freeze the finish in time. This is a nice finish for someone that wants that aged brass time-worn feel of unlacquered brass but wants the look to stay consistent over the years. Be warned, however, that different companies take their aging to different levels so if you are using aged brass it is a good idea to stay with the same manufacturer if possible.
Lacquered brass is a shiny finish that won't age. Brushed brass is also lacquered but the surface of the brass has been sanded a bit to provide a more dull finish.
I would use unlacquered brass or antique brass in a casual, or more rustic setting.
I would use lacquered brass in a more formal traditional home or something more contemporary. Satin brass works for either one!
2) Polished Nickel and Chrome – Polished nickel and chrome are both on the rise in fixtures as well as hardware. If you are wondering the difference between these two, polished nickel is a little more warm feeling and chrome a little cooler toned, but they are super similar.
Shiny silver hardware like this feels a little more formal and would be a good choice for a very traditional space, or if used in a very simple shape, a modern setting.
3) Oil-rubbed Bronze – Oil-rubbed bronze hardware was a popular choice a few years ago but it has taken a back seat to black in recent years. I haven't seen a lot of oil-rubbed bronze being used lately, but I'm sure as with all things design, it will resurface over time.
4) Black-black hardware has been popular for the last few years but it is definitely being used less and less. Black feels very contemporary and can feel quite stark when paired with light-coloured cabinets, but I still think they have their place when used tastefully.
Avoid pairing black hardware with white cabinets. I would still choose black hardware on a dark wood finish or a dark cabinet where you wanted the hardware to recede into the background a little and would be appropriate in a modern kitchen or a traditional one, depending on the shape.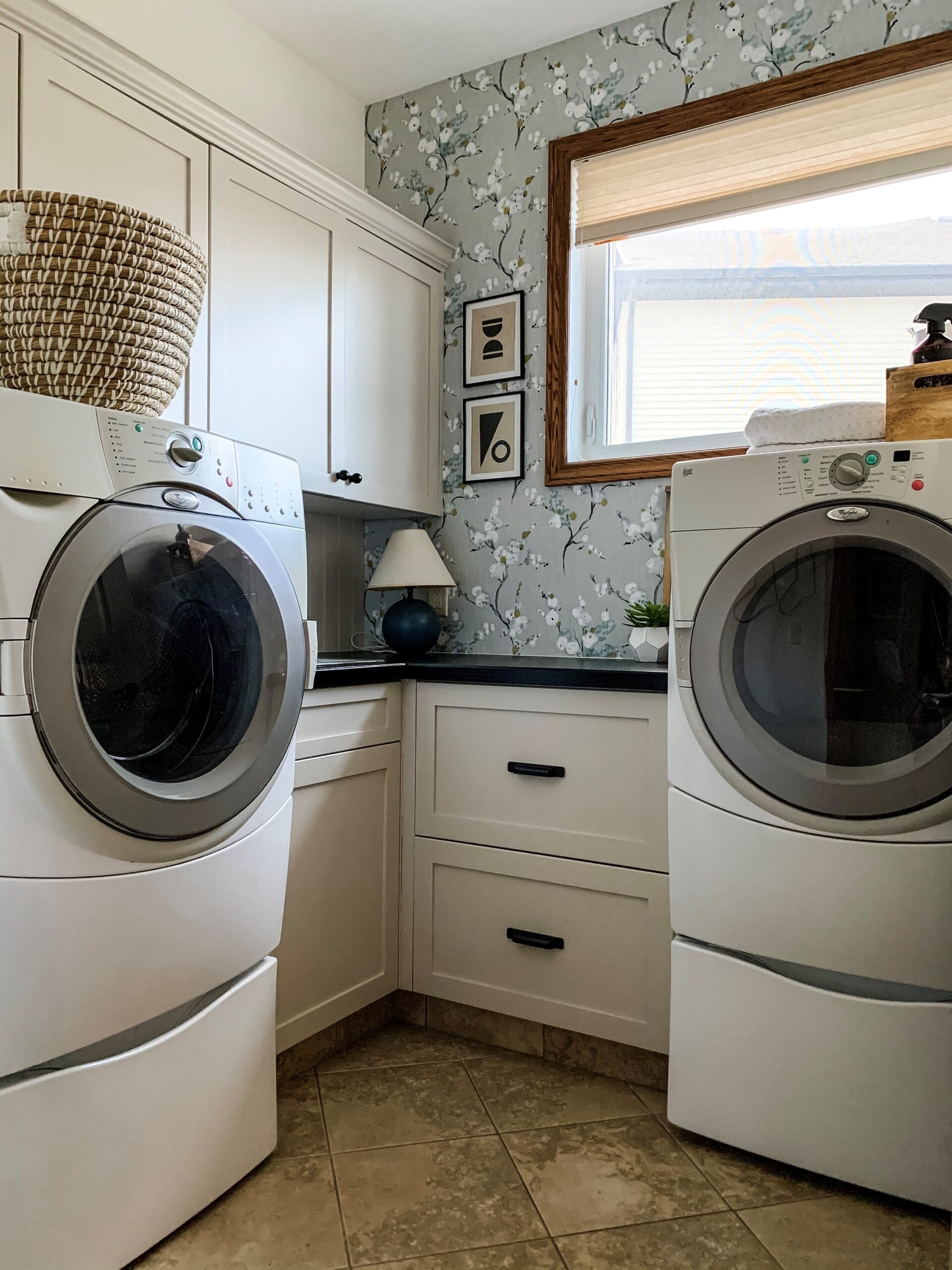 5) Painted knobs – I LOVE a painted knob and I have them all over my house! With a painted cabinet, having the knobs match makes them feel very casual and a little bit English country. Painted knobs are not a style that works everywhere (only on painted cabinets) but they are quite charming when done right. I think they are a great choice for a casual, English country style. The bonus is they are very inexpensive!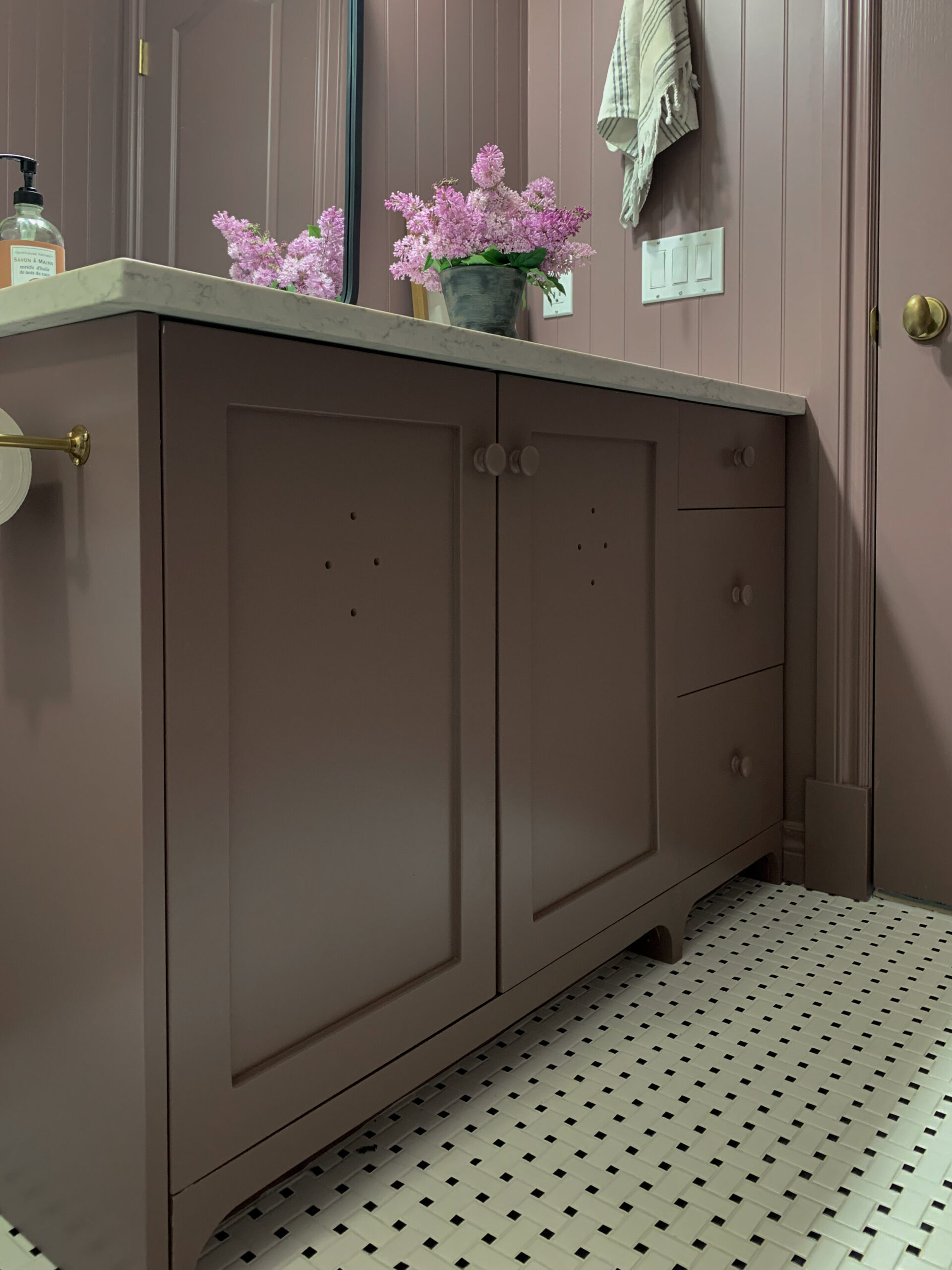 6) The others – this is obviously not an exhaustive list and there are other types of hardware like iron, copper, ceramic, stained wood, etc. there are some wonderful options out there these days and some really beautiful and unique hardware so look around!
Mixing Metals
You should not mix metals within your hardware but it's totally fine to mix metals within the room. If you have chosen brass hardware, feel free to mix it up by choosing different shapes of cabinet knobs and cabinet pulls but keep them in the same finish.
You might think that I broke my own rule with my kitchen where I chose brass hardware mixed with painted wood knobs, but here is why I think it works. The painted wood knobs do not actually introduce another finish, they are actually an extension of the cabinets and are painted the same colour. Had I painted the knobs another colour or used a different finish, that wouldn't have worked at all.
If you want to incorporate another metal, think about doing that in something like the plumbing fixtures. In both my ensuite and my kitchen I used a silver finish (chrome or polished nickel) for my fixtures paired with brass.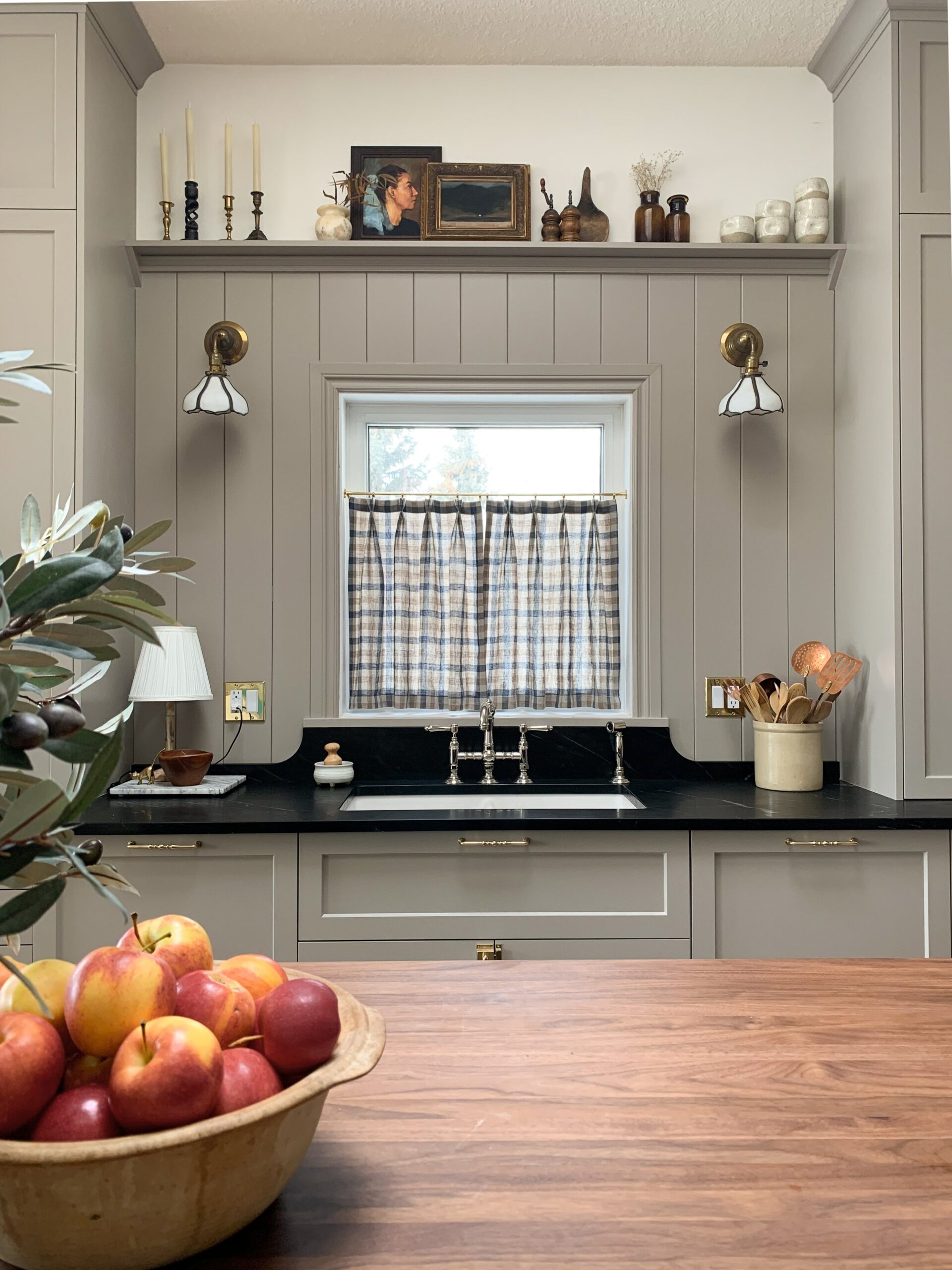 If you are going to mix metals, try to stick to a cool metal and a warm metal, in general. Examples of warm tones are Brass and copper. Examples of cool-toned metals are silver (chrome and nickel) and black. I've used brass and silver (chrome faucet or nickel faucet) in both my kitchen and ensuite and I think that combination is a great option if you want to mix metals.
Knobs Versus Pulls
First of all, what am I talking about when I say knob or pull? A knob is a single small piece of hardware with a single hole, whereas a pull is more of a bar that extends between two holes.
In years past using pulls on upper cabinets was quite common, but lately, I've mainly seen knobs used on upper cabinets.
On lower cabinets and drawers, it is more common to use a pull. A pull is a little easier to use when opening a heavy drawer and means that the drawer pulls out more evenly. A popular style I have seen a lot of lately is two knobs on wider drawers instead of a pull.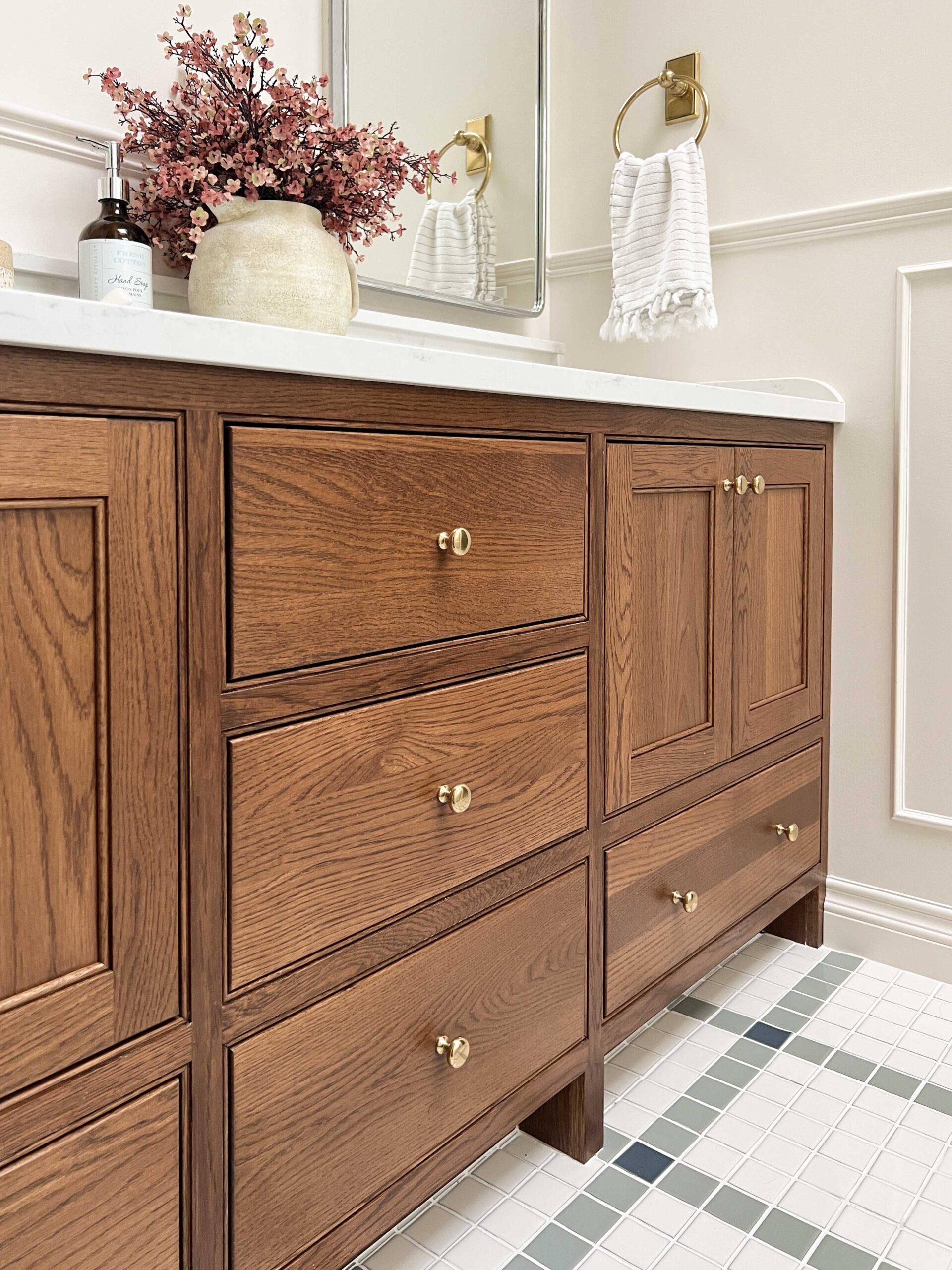 Hardware Placement
Once you have decided what you want (knob or pull, size, finish) and it comes time to install the hardware… where do you put it? There are a lot of different options and the best practice is to look at a bunch of photos to see what your personal preference is.
For a knob on something like a shaker door, putting the knob in line with the line of the shaker is a traditional look that always looks good.
You can also place the knob in the center of the shaker, or for a more modern look, a few inches higher.
For drawer pulls, you can place the pulls at the top of the drawer (that is my preference) or in the middle.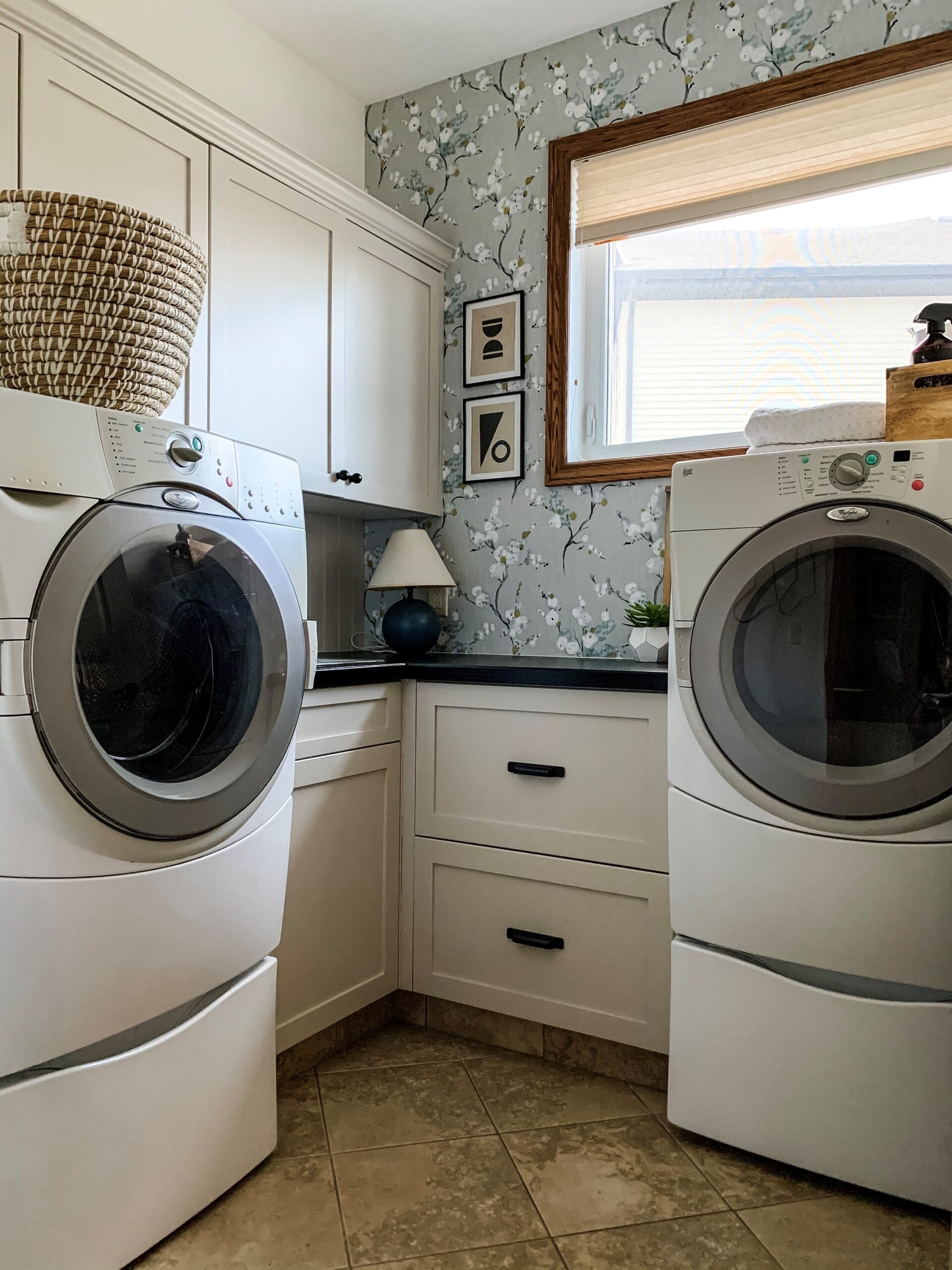 If you are placing two knobs on a long drawer, I like to place the knobs about 1/2 the width of the cabinet apart. So for example, if your drawer width is 24″ the knobs would be 12″ apart.
It is best to play around a little with the placement and use some painter's tape to mark it out because once you drill the holes there is no going back!
Also, consider unique hardware placements to mix things up! In my laundry room, I placed some modern bar pulls horizontally across two doors so they looked like a single continuous pull.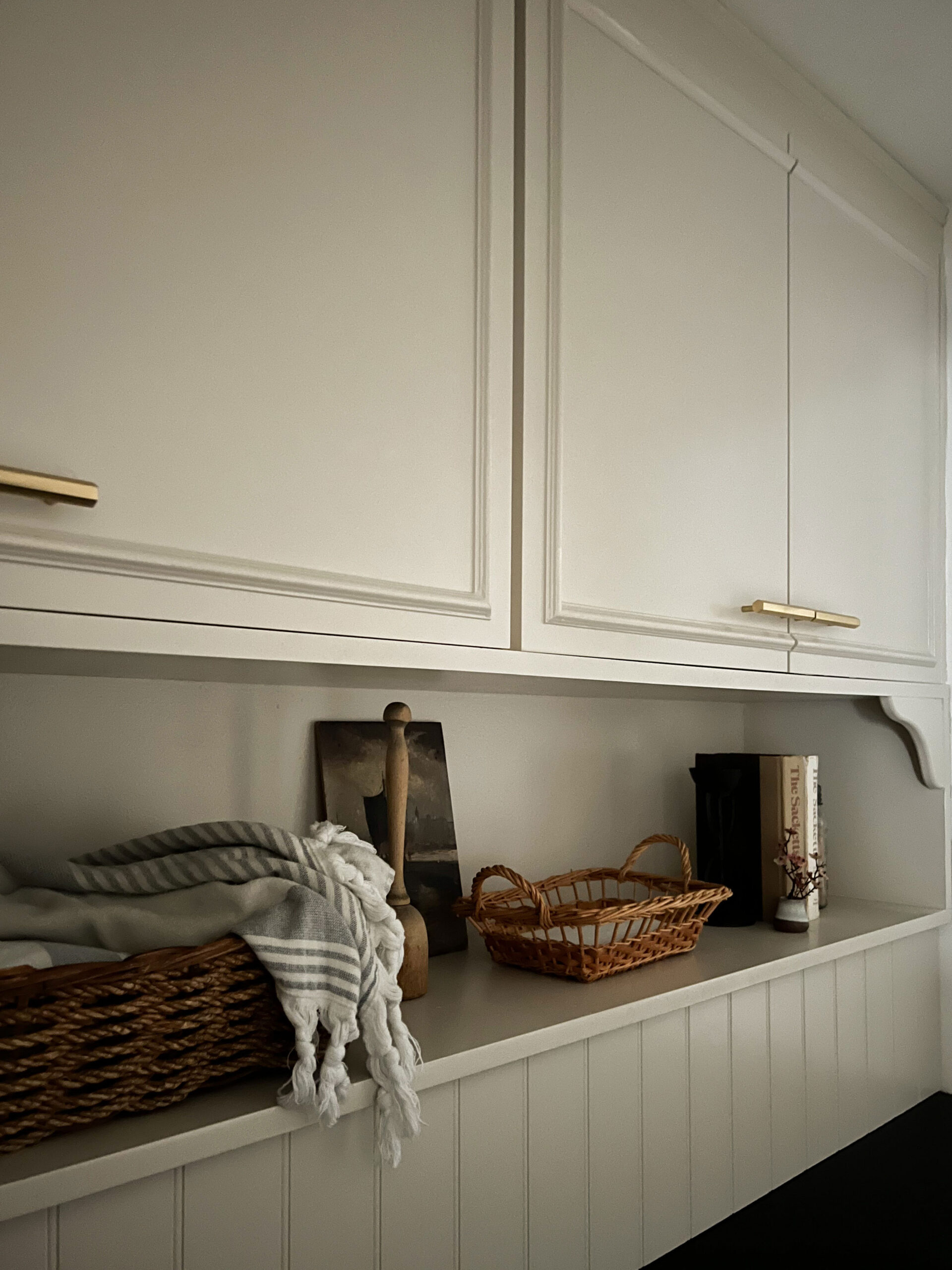 In my mudroom, I had three doors and rather than have knobs or pulls placed on the side of each door and have it look asymmetrical, I placed the hardware on the bottom so that the doors all look the same.
Changing Existing Hardware
If you are changing existing hardware and aren't repainting or otherwise changing the cabinets, you are going to be limited to hardware that fits in your existing holes. However, new hardware is such an easy update for even the most dated of kitchens. Often, the hardware finish or style is dating the cabinets much more than the cabinets themselves.
If you are painting your kitchen, consider the hardware holes and if you want to move or change the sizes. Filling in holes in cabinets before painting is an easy thing to do and really opens up the options for hardware!
Where to Buy Hardware
Most of the hardware in my house is either from Emtek or Rejuvenation. I personally feel like having good-quality hardware is really worth the expenditure and in the overall cost of a reno, the cost of hardware is relatively small even when you splurge a little.
Hardware is like jewelry for your home and you touch it every day. If it is cheap it might wear, it will feel light on the hand and it is really something that you notice.
Etsy has some wonderful sellers that make good quality hardware at great prices too.
I've rounded up some hardware that I love and either have in my home or I would in a heartbeat below!
1 – 2 – 3 – 4 – 5 – 6 – 7 – 8 – 9 – 10 – 11 – 12 13
I hope this guide on how to choose kitchen hardware is helpful when making hardware choices in your own home!
You Might Also Like: